I'm an apple shape. Being an apple means you store most of your fat in your belly, making you more susceptible to heart attacks and strokes. Yikes! You can't breeze through a checkout line these days without finding magazine headlines strategically placed at eyeball level promising to annihilate your belly fat. Similar "cures" pop up on the Internet, TV, or are heard on the radio.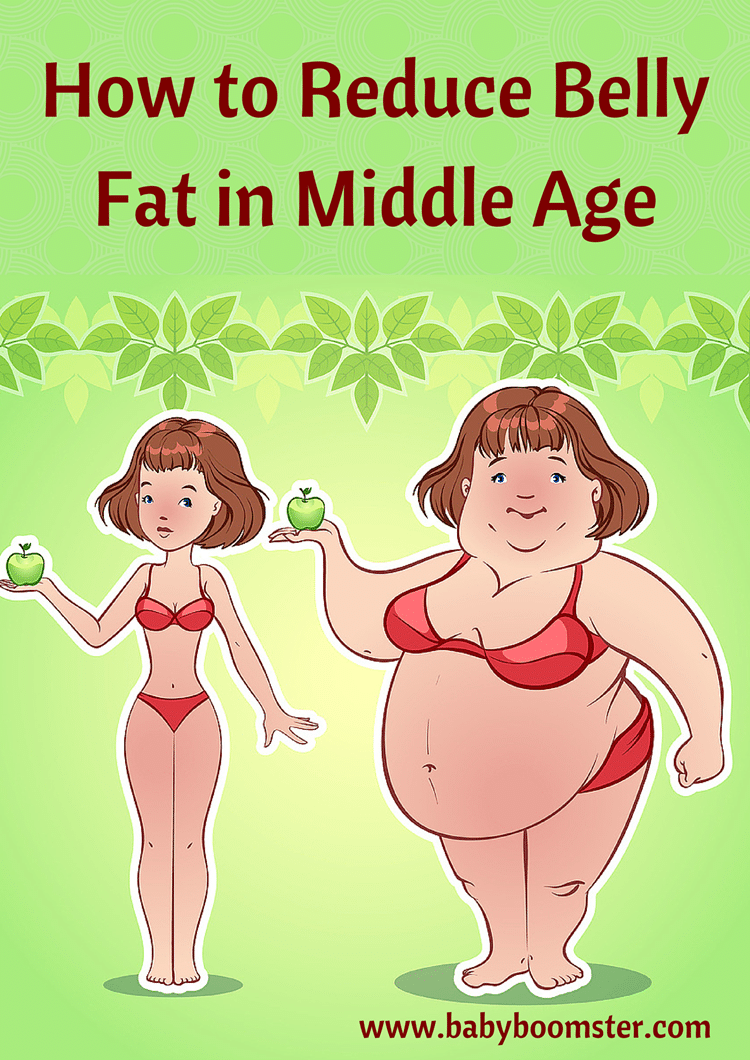 Have you ever noticed that many of the people who claim to have the answer to belly fat are either younger than 40, are men, or have had work done. Sorry, Jane, we all know you had a little help. Liposuction, gastric bypass, and tummy tucks are painful and dangerous medical procedures. They should only be performed if absolutely necessary. I made it through 2 natural childbirths and that was enough pain for me.
It's rare that a woman over 40 hasn't experienced some kind of hormonal imbalance after menopause. You may not be a raging crazy person or sweating through hot flashes, but subtly, your hormones are not quite in sync. It's alarming when our bodies turn from hot mamas into bulky babushkas. We feel unattractive, undesirable, and even depressed.
Doctors are quick to hand out hormone replacement drugs to fix the problem. Alternative health practitioners promote herbal supplements that may not have been thoroughly tested. Many of these so-called fixes turn out to be expensive or cause side effects.
I was always slender up until my late 40's. Then my tummy started slowly to expand. When you're an apple shape, it's not unusual for someone to ask you when the baby is due. Some of my flab managed to work its way up giving me cleavage I never had. I went from being a girl with a slender boyish figure to plump stocky matron in what seems to be a blink of the eye.
Marketers mainly want your money and provide little results
The problem with most of the belly fat diets you see being marketed en masse is that they may work temporarily, but not in the long term. This is especially true if you're around other people who unknowingly sabotage your efforts at every opportunity.
It also doesn't help if your significant other or roommate tempts you with creamy dips, large slabs of meat, or foot-long submarine sandwiches.
Belly fat diets may put you in "danger Will Robinson"
Everyone's body is different. Cleanses, juice fasts instead of real meals, stimulating supplements that promote fast weight loss often have side effects that are detrimental to your health. The safest way to lose belly fat is to eat a well-balanced diet that doesn't require you to cut out food groups. Avoid processed foods, watch out for hidden sugars, stay hydrated, practice portion control, and exercise moderately. Once you've gained belly fat, focus on slow, steady weight loss, because it's more effective in the long run. It's frustrating, but if you're persistent and determined, you'll be successful.
Stay away from weight loss gurus or multi-level salespeople, hawking miracle products. They especially prey on those of us 50 years and older. They make millions of dollars selling and up-selling us snake oil that's expensive, ineffective, and may be dangerous.
I love the commercial where a woman is looking for an exercise program. She purchases exercise equipment, tries working out to the TV, looks horrified at a green drink she just whipped up, walks out of a pole dancing class, and eventually decides to chuck it all and go for a walk. After spending a fortune to be fit, she does what comes most naturally to human beings. She walks with her own two feet. It costs nothing and guarantees better results.
Practice Stress Reduction
If you eat healthy as a rule, watch your portions, and exercise, but are still sporting a pot belly, chances are you're stressed out. Stress causes our bodies to secrete cortisol as a survival response. This triggers other physiological mechanisms that keep your body functioning. Unfortunately, it limits the body's ability to burn fat. This primal survival response protects you from wild animals, starvation, and other terrifying situations.
"We also found that women with greater abdominal fat had more negative mood swings and higher levels of life stress," said Elissa S. Epel, Ph.D., lead investigator on the study she conducted while at Yale's psychology department. "Greater exposure to life stress or psychological vulnerability to stress may explain their enhanced cortisol reactivity. In turn, their cortisol exposure may have led them to accumulate greater abdominal fat."
If stress is the culprit, and chances are it is, try some of the suggestions below to help you mellow out.
Walking
Stretching
Yoga
Dancing
Meditation
Writing – try a gratitude journal
Singing
Hypnotherapy
Massage
Pampering
Fishing
Hiking
Golf
Swimming
Listening to jazz or a classical concert
Playing an instrument
Play with a pet
Gardening
Taking a bubble bath
Sex … Yes … Sex.  With the right partner, it can be relaxing.  With the wrong partner, maybe not so much.
Understanding why you've developed belly fat after middle age makes it easier to do something about it. Despite massive advertising targeted toward it, a miracle cure DOES NOT EXIST! Save your money and find out what's truly causing you to be "round." If you eat smart and reduce your stress, you're sure to see your rotund middle start to shrink. I know you can do it!
What have you done successfully to reduce your belly fat? Please leave a comment below and share this post.