I'm a sucker for a soothing massage to ease aches and pains, increase flexibility, and straighten out body parts that are out of whack. If I could get one every week I would. I especially love traditional Asian massage because their practices have been around for thousands of years and work wonders on the body, especially if you're over 50.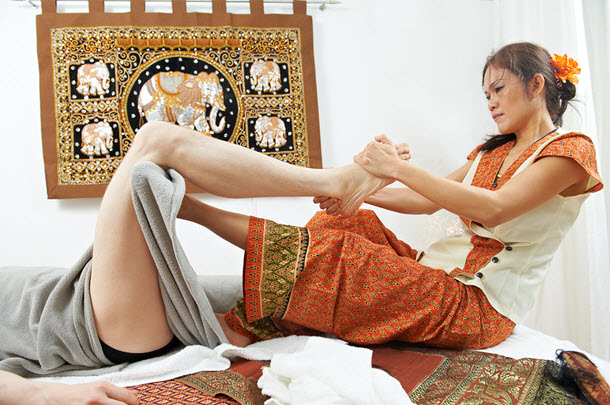 I used to go to a great Thai massage place in Echo Park, which is, sadly, no longer there. The therapists (women) came from Thailand and spoke little English. They asked me to take off my shoes, put on cotton pajamas, and lie down on a floor mat.
A traditional Thai massage therapist will walk or crawl on your back, but if you are an older woman or man, or someone with physical issues they will not. If you do choose to be walked on, there are often bars on the ceiling to support the therapist to prevent injuries to both of you. A good therapist will always make adjustments when giving an Asian massage to a mature adult.
You can tell your therapist the degree of pressure you prefer or groan if you want less especially if there is a language barrier. Many Asian massage studios use regular massage tables so you don't have to get up from the ground. It's usually a good idea to leave your underwear on because Thai massage is a combination of massage and yoga stretches and having your leg stretched high in the air could be embarrassing.
The practice is designed to open up your energy lines. Your therapist will apply pressure to strategic points on your body to free that energy by stretching you out with yoga moves. You'll find it reduces stress, improves your well-being, increases circulation, and improves flexibility.
The history of Thai massage
"Traditional Thai Massage also called "Thai Yoga Therapy," Nuad phaen Boran or Nuat Thai, is a therapeutic technique that dates back thousands of years. Its precise origins are unknown, but practitioners traditionally trace their lineage to Jivaka Komarabhacca, also known as Shivago, who was a personal physician to the Sangha, a friend, and physician to the Buddha, and renowned as a healer in the Buddhist tradition.

Traditional Thai medicine is a natural, holistic approach to health and well-being, developed over thousands of years, which includes proper nutrition, physical exercise, the use of medicinal herbs and therapeutic massage. Traditional Thai medicine is not only concerned with curing diseases and ailments: its primary goal is maintaining health and well-being, as ancient Thais believed that "the absence of illness is the best blessing". The medical knowledge developed by Thai people through many generations has come to be known as the ancient wisdom of Thailand.

Diagrams inscribed on the walls at the temple of Wat Po in Bangkok illustrate one of the fundamental principles of traditional Thai medicine: that energy flows through the body along ten major channels or sen lines. If an obstruction occurs in any of these channels it is believed that pain or disease results. In this sense, traditional Thai medicine is similar to many other ancient healing systems, that believe illnesses are caused by an imbalance or obstruction within the individual, or by an imbalance between an individual and his environment."
It's all about releasing your energy or Qi (chee)
When your energy is flowing freely, it makes it easier to maintain a healthier weight, lowers blood sugar levels, and reverses the onset of type 2 diabetes. Your circulation will improve and more oxygen will flow to your brain. It also reduces migraine pain and lowers the chance of blood clotting.
Energy centers in the body are invisible and aren't recognized as viable in traditional Western medicine. However, Asian massage practitioners believe that energy circulates throughout the body. If energy becomes blocked you may experience pain, sickness, and emotional distress.
Other Asian Massage Modalities
Asian massage techniques help your "Qi" energy flow more freely. Chinese foot massage focuses on acupressure centers on your feet. It's become extremely popular here in Los Angeles. There are inexpensive Chinese foot massage parlors on almost every corner.
You have to be careful to choose a reputable place, but so far the ones I've been to have been wonderful.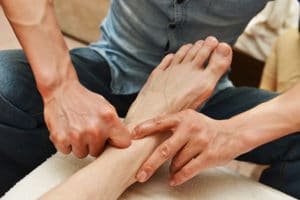 My daughter and I once visited a popular Korean spa in downtown Los Angeles called Wi Spa. I had a foot massage and manicure there while my daughter had a regular massage. Koreans bring their entire families to sit in hot saunas, lie on heated floors and receive treatments. Some spend all day there.
I experienced some culture shock at their women's spa. All the ladies were prancing around buck naked without a hint of modesty. Nudity isn't a big deal in Korean culture like it is in America. They were helping each other bathe and scrubbing each other's backs. Most were in the 90 lb range so I wasn't about to show off my blubber in front of them. We were given a "uniform" of shorts and a cute tee shirt at reception to wear and kept them on the entire time.
Massage in any form whether it's Asian massage, Swedish, other modalities, and self-massage is an effective way to keep your blood flowing and stay healthy. Human touch is life-giving and healing if you're open to receiving it.
Caution: Although many Asian massage establishments are completely legitimate, clean, and wonderful, some are on the sketchy side.
Have you had a massage lately? What style do you prefer and why? Please leave a comment below.