You probably think I'm going to make you eat kale or arrest you if you eat a piece of bread. Nope. I've created a food pyramid for vibrant health and longevity. But, it's for those of you who LOVE food but still want to rock like Betty White when you're in your 90s.
I have nothing against kale. It's a super nutritious vegetable and I have no problem eating it. But, in my opinion, it doesn't taste nearly as good as spinach or Swiss Chard. Popeye had it right.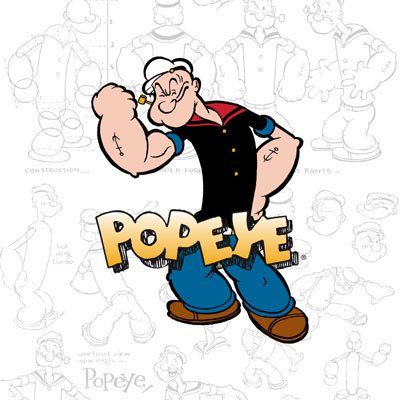 I believe you can still eat healthy without having to give up basic food groups or subject yourself to glugging down green slime.
People who are so picky about what they eat are not fun to share a meal with. I went out to dinner with a friend who only had one pea on her plate because she was Vegan and gluten-free. Another never hesitates to break into a lecture about Mad Cow disease if you mention the word "hamburger."
Nothing against being Vegan. Many people love it and thrive on it. But, if you have too many restrictions all you can eat are ice cubes. You may also be missing some important nutrients if you aren't supplementing.
As a die-hard foodie, who has had a mad love affair with food for as long as I can remember, it's no fun to be deprived. I want to eat what I love and not feel guilty. Eating should be exciting, sensual, and utterly delicious.
But maybe you've gained too much weight over the years
No matter what type of diet you choose to focus on, you can gain weight even if it's extremely healthy. If you're a woman over 50 who has experienced menopause it can be even harder. So, here's a recipe for success.
CALORIE DEFICIT – We eat too much food. Use a small plate rather than a large one and cut back your consumption just enough so you won't feel like you're starving.
Walk more – We all have to get off our butts and move. Working out doesn't necessarily take off weight but a daily walk will keep you healthier overall.
Strength training – Whether working with weights or digging in your garden, weight and resistance exercises keep us stronger and more balanced.
Consistency – Make your healthy eating and exercise routine habits for the rest of your life.
The Eat Smart, Feel Good, Live Longer Food Pyramid for Foodies [Infographic]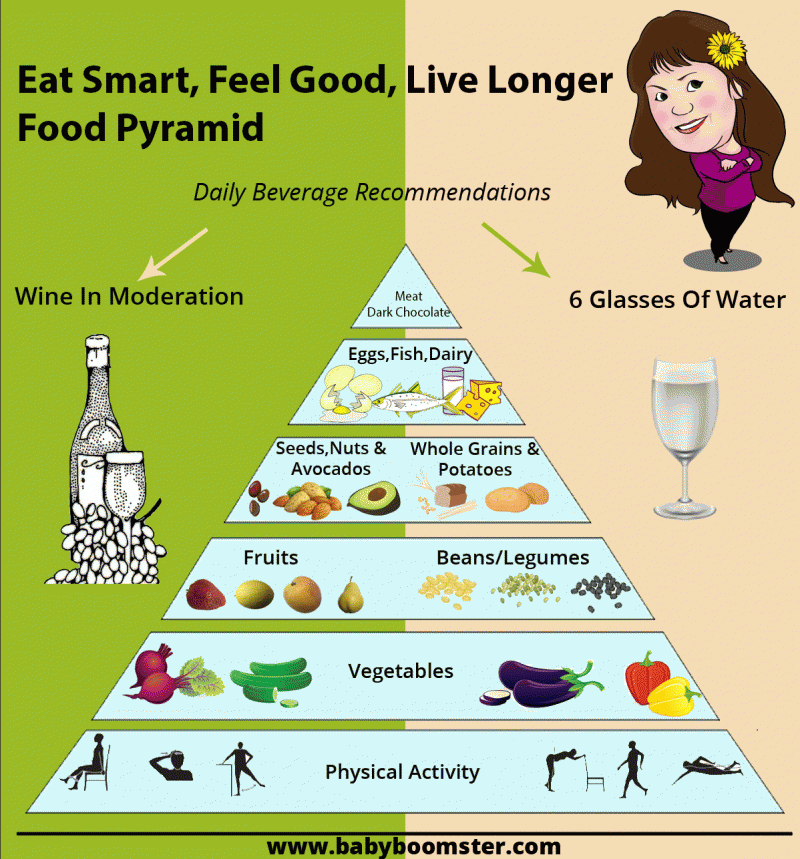 Please share my Eat Smart, Feel Good, Live Longer food pyramid if you like it on Pinterest by hovering over the image and clicking the RED PINTEREST button.
The food pyramid above is based on the Mediterranean Diet model
It's a diet lifestyle that is typical in countries like Greece and Italy that are known to have the most centenarians and is consistently touted as the healthiest way of eating overall. I adore the Mediterranean Diet. Read this article about it in USA Today
And, it's not hard to follow if you simply avoid the following:
Stay away from processed and packaged junk because it's not "real food." If an item has an "ingredient list" be suspicious. Practice clean eating. That doesn't mean you can never eat a French fry again. If a bag of fries was sitting in front of me, you can bet I would dive in and enjoy every bite. We all love them. I just make sure not to order them because I know I couldn't resist.
Go easy on dessert. There's nothing wrong with treating yourself to a "decadent" sweet treat once in a while as long as it isn't your main source of nutrition. I don't keep sweets at home because I know it would be too much of a temptation. On the other hand, I wouldn't turn down a decadent plate of Tiramisu at a fine Italian restaurant. (Especially in Italy) Enjoy pleasuring yourself on occasion. (Oh, that sounds sexy!) Indulge in a cup of gelato, sip a Cadillac Margarita or savor a Pasteis de Nata. But only do it occasionally. (Too much sugar wreaks havoc on your metabolism especially if you are prone to Type 2 Diabetes.)
The Eat Smart, Feel Good, Live Longer Food Pyramid for Food Lovers explained. (starting from the bottom)
Food pyramid level #1 – Physical Activity
Okay, I know exercise isn't food, but it's critically important if you want to live a long and vibrant life. When you regularly move your body, it revs up your metabolism and increases your stamina. You have to get up off your butt throughout the day to work off what you eat and to keep your body flexible.
The more you move, the longer you'll be able to move.

Memorize this
Set a goal to take a walk every day and work on increasing your step count.
Caution: If you haven't been physically active, start slow. Don't jump into exercise without working up to it. No one wants to have a heart attack. Always get checked out by a doctor before starting ANY fitness program. It's best to focus on safe exercises like walking or swimming after the age of 50. You don't want a knee or hip replacement because you attempted a marathon without proper training or fell down a mountain.
Read: The 7 Best Online Exercise Programs for Women Over 50
Food pyramid level #2 – Vegetables
Your mom told you to "eat your vegetables" and she was right. Make vegetables THE most important food group in your diet.
Eating plenty of vegetables every day will not only optimize your health but will also make it easier for you to lose or maintain weight. Prepare a serving of vegetables at every meal, even breakfast. They will fill you up and give you vital nutrients.
Vegetables provide the antioxidants, phytonutrients, and FIBER you need for optimal health. They naturally cleanse toxins out of your body making it unnecessary for you to spend your hard-earned bucks detoxing.
You'll always be "regular" if you eat vegetables at every meal.
Enjoy a colorful salad or homemade vegetable soup daily. Make your portions 80 percent vegetables, 10% protein, and 10% whole grains. Stop eating just before you feel full.
A good rule of thumb is to eat like an Italian.
If possible, grow your own fresh, organic vegetables in your garden. If not, haunt your local farmer's market or have a farm box delivered regularly to your door.
Flash frozen vegetables are fine if fresh isn't available. They're convenient because you can dole out as much as you need and then put the rest back in the freezer.
Picking vegetables and fruit from your garden is a sure way to know it's organic and pesticide-free. Farmer's markets and health food stores sell organic produce but not always.
Look for these certification labels below to be sure.
Don't muck up your healthy salad
Salads are nutritious until you screw them up with store-bought dressing.
Bottled dressing is notoriously high in calories, contains sugar, artificial ingredients, and too much salt. All you need to do is sprinkle a few drops of quality extra virgin olive oil on top of your greens with either a squeeze of fresh lemon or a sprinkle of vinegar. You can add mustard, herbs, sea salt, or pepper for flavor. If you like a creamy dressing, mix in a small dollop of plain Greek Yogurt.
Fermented food will keep your gut healthy
Fermented foods like sauerkraut, pickles, tempeh, miso, Kim Chi, Kombucha, yogurt, kefir, and sourdough contain natural probiotics that will aid your digestion and add healthy immune-building bacteria for gut health.
Powerhouse vegetables
Super nutritious and immunity-boosting vegetables include asparagus, fennel, beet greens, green and red cabbage, bok choy, kale, broccoli, kohlrabi, Brussels sprouts, cauliflower, celery, onions, chives, tomatoes, cucumbers, turnips, Zucchini, and mustard greens. Make your salad bowl look like a rainbow by mixing in as many colors as you can.
Just a warning: Cruciferous vegetables are amazingly good for you but may make you fart like a honking truck. If you are sensitive, substitute them with more "quiet" veggies like carrots, zucchini, eggplant, bok Choy, and cucumbers.
The type of lettuce you eat matters
Nix blah iceberg lettuce and toss your salad with romaine, red leaf, green leaf, mustard greens, kale, spinach, chicory, parsley, Chinese cabbage, collard greens, mesclun, dandelion greens, endive, arugula, or escarole.
Peppers are antioxidant-rich
Add varieties of peppers to your salads, stews, and other dishes. These may include red, green, yellow, purple bell peppers as well as hot peppers. (if you can stand the heat)
Food pyramid level #3 – Fruits, Beans, and Legumes
Fruit
Most fruits contain important antioxidants and nutrients but also natural sugar so go easy on them. Watermelon and tomatoes are rich in lycopene that helps prevent cancer and other degenerative diseases. Bananas contain magnesium that helps control blood pressure. The antioxidants in fruit are anti-aging.
Instead of juicing, it's better to eat your fruit in its natural state
When you juice, the fiber is removed and what's left is mostly sugar. It's healthier to eat your fruit whole. The fiber that comes from fruit will keep you regular, which is important as you age. Also, a dentist friend of mine told me it's important to chew your food rather than drink it for better digestion.
Read about why you may want to rethink juicing here.
Beans and Legumes
Beans and legumes also provide FIBER as well as calcium and protein. Eat some every day. If you're visualizing the fart scene in Blazing Saddles, don't worry. Once your body gets used to eating beans and legumes, unexpected toots won't be a problem.
If you cook legumes with a couple of bay leaves and a piece of kombu seaweed it will help you avoid getting gas. You can find kombu at some health food stores. Soak it for 10 minutes and then throw away the soaking water. Do not use it if you have issues with hyperthyroidism. Mixing legumes with whole grains in the same meal may also cause gas and bloating.
Another way to avoid getting gas from eating beans is to eat only one protein per meal and avoid eating a potato with them. Don't eat beans within 2-3 hours of eating a sugary treat or fruit.
Try this healthy garbanzo bean salad. It's my go-to potluck dish and always a big hit with vegans.
Food pyramid level #4 – Seeds, nuts avocados, whole grains, and potatoes
Seeds, nuts, and avocados
I adore fresh avocado and eat it practically every day. I also love almonds and other nuts. Pumpkin and sunflower seeds are wonderful when you sprinkle them on your salads. Nuts and avocado contain healthy fat, omega 3 fatty acids, fiber, and will help prevent disease.
As we get older we have to watch out that our teeth don't crack from eating nuts. You can either soak your nuts or eat softer varieties. I found that eating nut butter is yummy but because it's so concentrated, it gives me a stomach ache.
Almonds provide calcium that's necessary for healthy bones. My problem is that I could eat an entire bag of almonds in one sitting. Kudos to Trader Joe's for their "handfuls of almonds" in a bag. If you aren't near a TJ's, add a dozen or so nuts to a snack bag as your daily allotment.
Caution: even though nuts and avocados are high in nutrition, they are also high in calories, so don't overdo it. I often buy mini-avocados and 1/2 of one on Avocado Toast to reduce the calories. You can buy handfuls of almonds at stores like Trader Joe's or put a daily portion in a snack bag to avoid eating too many at a time.
Whole Grains
I bet you've been told by the food police that it's bad to eat bread or other flour products that contain gluten.
The fact is; only 1% of the population has Celiac disease and needs to be on a gluten-free diet. However, some people have other stomach issues. If that's YOU, it's important to make an appointment with a Gastroenterologist first to find out if you need to be on a gluten-free diet. If you stop eating gluten BEFORE you see your doctor, it will be hard to get an accurate diagnosis.
Whole grains are high in fiber, vitamins, and minerals. Freshly baked bread is a staple in most European countries like Italy, Spain, and France and is particularly healthy when it's made with wild yeast and no sugar. It isn't called "the staff of life" for nothing.
Indeed, wheat isn't the same as it was a half-century ago. Food manufacturers have hybridized flour and processed yeast to make bread rise better. That's what's been causing the high rate of gluten intolerance in the world, especially in the U.S. If you make your own bread, purchase high-quality flour. Try using a starter culture instead of instant or quick yeast.
Did you know that bread only molds when sugar is added?
Sugar is not a necessary ingredient when you make bread. If no sugar is added, you can leave a freshly baked loaf of bread wrapped up on the counter for at least two weeks and never see any mold.
Other healthy grains include brown rice, buckwheat, barley, bulgur, (cracked wheat) millet, oatmeal, quinoa, farro, spelt, corn, teff, sorghum, oats, rye, barley, and triticale. If you are sensitive to wheat substitute wheat products with other less irritating grains. You can make pizza with a cauliflower crust, an eggplant slice, or a Portobello mushroom top.
Leaky gut and other digestive issues
People who have taken large doses of antibiotics may develop a fauna and flora imbalance in their bodies and suffer from candida, (yeast infections) leaky gut, IBS, or other stomach ailments. These conditions are worsened by eating grains that contain gluten. However, foods rich in probiotics will help heal leaky gut. You can also take a probiotic supplement.
For most people, whole grains provide fiber, iron, and other nutrients that are necessary for good health. When purchasing bread, look for stoneground-sprouted organic wheat as the first ingredient or try gluten-free flours like amaranth, buckwheat, millet, and oat. (non-contaminated), Other healthy grains include cornmeal, brown rice, quinoa, and popcorn.
BEWARE of some foods marketed as GLUTEN-FREE because they may not be as healthy as you think!
Before you think I'm insane for saying this, "Gluten-free flours" and packaged food substitutes are often notoriously high in starch and may contain chemicals. Read food labels carefully. Gluten-free flour may also become contaminated in the store. For this reason, don't purchase gluten-free flour from bulk bins if you're gluten intolerant. Also, be aware that gluten-free flours must be blended carefully or they will turn into sugar and do a number on your metabolism.
It's a wonder how we Baby Boomers survived eating Wonder Bread.
Potatoes
Spuds have earned a bad reputation among those who promote the low-glycemic diet. However, potatoes are one of America's favorite comfort foods and contain many healthy nutrients. Eat and enjoy potatoes in moderation, but be careful not to slather them in butter, sour cream, or ketchup, and don't eat them deep-fried in fat. I love small fingerlings or Yukon Gold potatoes because they taste like their buttered on their own. Sweet potatoes and yams are highly nutritious and should always be included in your diet.
Did you know that potatoes originated in Peru where they have over 3,000 varieties? They were brought over to Ireland where they became popular.
Food pyramid level #5 – Eggs, Fish, Dairy
Cheese and Yogurt
In case you didn't know, Velveeta is not real cheese and sugar-infused flavored yogurts with artificial food coloring are not real yogurt. They are. . . pardon, my French. . . crap. High-quality aged cheeses and plain Greek yogurt provide calcium that will help prevent osteoporosis. Yogurt, kefir, and some aged cheeses contain active probiotic cultures that will help maintain your body's flora and fauna balance. If you're a cheesehead, don't feel guilty but eat cheese in moderation because it will add to your muffin top if you overindulge.
Eggs
Eggs are the perfect protein. When you purchase them at a store, make sure they haven't been injected with antibiotics or hormones. Three of my siblings, even one who lives in a big city have had chicken coops in their yards. You can't beat the taste and quality of a truly free-range egg. Even though some diet gurus tout only eating egg whites, the yolk contains the bulk of an egg's nutrients.
Fish and Seafood
The absolute most healthy diet in the world is Pesco-vegetarian. (meaning eating fish as the only meat source)
Fresh untainted seafood that doesn't contain mercury has so many heart benefits that if I were to ever give up eating animal products, I would never give up fish. Go WILD literally when it comes to seafood. Avoid farm-raised or contaminated seafood products because they aren't as nutritionally rich. Fresh non-contaminated fish provide iodine that will keep your thyroid in balance. Fatty fish like salmon, mackerel, and sardines are excellent sources of Omega 3 Fatty acids which are necessary for heart health.
Even Former President Bill Clinton, who went "vegan," several years ago, is said to eat salmon once a week to avoid becoming protein deficient.
Food pyramid level #6 – Red Meat, Poultry, and Dark Chocolate
Meat and Poultry
Human beings, as a species, are omnivores. (our prehistoric ancestors ate vegetables, fruit, and hunted and consumed meat)
What's happened is that as we've evolved, the proportions of vegetables, fruit and the meat we consume have changed. Since we no longer need to hunt for meat, it's easier to obtain. Americans have become "meat and potato heads." In contrast, people in Mediterranean regions typically use small amounts of meat or seafood in their meals. A dish of spaghetti with giant meatballs is rare in Italy and is purely an American adaptation.
Years ago, I was traveling cross-country on Route 66 and we stopped at a restaurant in Amarillo, Texas. The restaurant was offering a 32oz steak because everything in Texas is big. Anyone who finishes off a steak like that is priming themselves for heart disease. The recommended protein allotment for a woman or a man should be the size of that person's palm. (about 3 – 5 oz.)
There's nothing as American as a juicy burger
A burger itself isn't bad if it comes from a grass-fed cow and doesn't contain hormones or antibiotics, It's also what you put on a burger that determines its health value. As Americans, we add a white-flour bun that has zero nutrients and turns into sugar in our bodies. Then, we slather it with Miracle Whip, Ketchup, processed cheese, or Thousand Island dressing.
Suddenly your lean little burger becomes a super-sized meal of over 1,000 calories. Other lean meat alternatives that make delicious hamburgers include ground bison, venison, turkey, or salmon. I had an insanely yummy veggie burger that was made out of portobello mushroom.
Also, be wary of processed hot dogs, sausages, and deli meats. Make sure the meat is aged without chemicals. (like they are in Italy) In and Out Burger (a fast-food chain that's mainly in California) serves fresh beef and you can order it "protein style" without the bun and wrapped in lettuce.
Most living centenarians eat a Mediterranean-style diet
The Mediterranean diet popular in Italy, Spain, Greece, and the Middle East, is rich in vegetables but is balanced with whole grains, beans, legumes, and small portions of meat, poultry, or seafood.
Pure vegetarians and vegans generally have lower body fat and stay healthy. However, if their meatless diet is not diligently managed, they may become deficient in important vitamins, minerals, and protein necessary for optimal health. Most vegans require supplements to make up for these deficiencies, which can be costly or cause other health issues. It's also important for vegans, vegetarians, or those who are gluten or lactose-intolerant to avoid eating processed "health food substitutes" that are pure junk.
Be careful taking supplements
Supplements can be as toxic as taking prescription drugs if taken in too high of a dose. If your body doesn't need it, don't take it. Have a blood test first to determine what vitamins and minerals are lacking before spending a fortune on expensive supplements. I choose not to promote most supplements on this blog for that reason.
The sweet factor
We all love a treat once in a while but some desserts are better than others.
Dark Chocolate
For many women, chocolate is "medicine" but not all chocolate is equally healthy. Dark chocolate with over 70% cacao is a true super-food. The flavanols in dark chocolate help lower blood pressure and aid in vascular function. Raw Cacao improves cognitive function, provides UV protection for the skin, and makes it softer! However, dark chocolate is also high in calories. Limit your portions to 1-2 small squares a day.
When you purchase dark chocolate, read the labels. Some manufacturers use child slave labor. (Unfortunately, that still exists) Look for organic-fair-trade brands. Make sure it isn't processed with alkali, which can be harmful. Milk chocolate has fewer health benefits and usually contains more sugar.
Consumer Reports has recommended Trader Joe's dark chocolate with 70% cacao and that's what I often buy.
Sugar
As I mentioned before, enjoying a decadent dessert once in a while makes life fun. Just keep in mind that sugar, especially high fructose corn syrup, is an ingredient you want to avoid. When you eat it all the time, it may feed cancer, mess up your metabolism or cause obesity.
If you want dessert, go for homemade apple or berry pies, Italian cheesecake, gelato, dark chocolate, or sorbets. Stay away from sweets that contain artificial colorings and flavors.
Nix artificial sweeteners
It's better to have a "spoonful of sugar," honey, maple syrup, or stevia than a sugary concoction made up in a lab. Put "real" whipped cream on your homemade ice cream rather than eat a chemical version of it. Use half & half or milk instead of sweetened coffee creamers. You can also try soy, almond, oat, or coconut milk but check to see if sweeteners or other chemicals have been added first. They usually are. Be aware that plant-based milk is highly concentrated and can cause stomach issues.
A holistic doctor I know says that you may be getting too much of a good thing if you drink large quantities of it, especially if you are making a smoothie.
I repeat. Read food labels carefully.
Avoid the following sweeteners on food labels
Alitame, aspartame, cyclamate, Dulcin, Equal, Glucin, kaltame, mogrosides, neohesperidin, dihydrochalcone, neotame, NutraSweet, Nutrinova, phenylalanine (A phenylalanine warning can alert you to hidden Aspartame), saccharin, Splenda, sucralose, Twinsweet, Sweet N Low, Sweetmyx, and acesulfame.
Food pyramid level #7 – Stay hydrated with pure mineral-rich water
Water is life and the best anti-aging cleanse there is. Staying hydrated is especially important, as you get older and could cause you to faint. That doesn't mean you have to drown yourself drinking buckets of it. However, keep a bottle of water with you at all times, especially when you are out and about.
Instead of spending money buying fancy bottled waters, you can filter it using an inexpensive pitcher with a filter. This saves the environment from excess plastic bottles.
I live in Los Angeles and we have awful-tasting tap water. I can't even imagine what it must be like to live in Flint, Michigan. However, other cities have excellent-tasting tap water that doesn't need to be filtered. The natural minerals in water are important so don't spend money on "purified" mineral-free water.
It's better for the planet to carry a reusable water bottle rather than plastic throwaway bottles. Just make sure to ALWAYS rinse it out every evening before you go to bed so it won't get scummy or grow bacteria that could make you ill.
A big trend right now is to drink alkaline water.
The jury is out on the benefits. The truth is, it's not necessary and is often expensive. An easy, cheap, and natural way to raise the Ph in your water is to squeeze in a little fresh lemon or lime juice. That way you won't have to buy an expensive alkaline water system. As a bonus, the citrus will give you a natural dose of Vitamin C.
Flavored bottled waters sometimes contain sugar and artificial colorings.
Again, read the labels.
Make your own tasty "spa" water by adding sliced lemons, limes, grapefruit, oranges, or cucumbers, and serve it in a beautiful water dispenser.
People who live in the world's longevity hotspots (Italy, Greece, Costa Rica, etc.) drink pure mineral water from mountain springs. Some of it is filtered through the volcanic soil. It contains elements that improve bone health like silicon, calcium, and magnesium. Two outstanding and award-winning mineral waters are Gerolsteiner from Germany and San Pellegrino from Italy.
Ban soft drinks from your life
The soft drinks we grew up with like Coke, Pepsi, 7-up, etc. are loaded with sugar or unhealthy sugar substitutes. So are many sports drinks. Energy drinks can be heart attacks in a can. They have contributed to the rapid rise of type 2 diabetes and metabolic diseases. Don't buy into their snappy advertising.
Only purchase soda pop to take the corrosion off your car battery.
Food pyramid level #8 – Wine, tea, and coffee
Mama's gotta have wine
People have been drinking wine for thousands of years and it's frequently mentioned in the Bible. For those who live in the Mediterranean region, wine is almost always served for lunch and dinner.
Most centenarians say they drink a glass of wine, or have a daily cocktail but moderation is key. Women should only drink one 5 oz glass of wine per day and men two 5 oz glasses.
Red wine contains resveratrol, which is an anti-aging antioxidant. A Pinot Noir in the Finger Lakes region of upper state New York is said to have the highest amount of resveratrol. If you don't drink wine, then don't worry about it. Foods that contain anti-aging resveratrol include peanuts, pistachios, grapes, grapes, blueberries, cranberries, and even cocoa and dark chocolate.
Join a wine club to receive fine wines from various regions of the world.
Beer
Beer contains silicon, which is excellent for bone health. A nurse I met told me it's also good for the kidneys. Just don't down a daily six-pack or you will start seeing some belly fat.
Soothing and healing tea
Tea contains antioxidants that are anti-aging and are known to extend longevity. It's good for your bones, stimulates your metabolism, and protects your immune system. No wonder English Royalty enjoys long healthy lives.
Be careful when you purchase tea because some brands contain heavy metals. Art of Tea, based in Los Angeles, is a tea importer and wholesaler that sells organic, high-quality teas and gift items. They have a huge variety of blends to choose from.
If your blood pressure is high, drink 3 glasses of hibiscus tea per day. It works!
Coffee
Not all coffees are made the same way. I prefer whole beans as opposed to ground, and use a coffee grinder so it's always fresh. You also want to make sure your coffee is free from contaminants.
Like tea, coffee contains antioxidants. It helps improve your mental capacity, and metabolism, helps you lose weight, and lowers your risk of type 2 diabetes, Parkinson's, cirrhosis of the liver, cancer, and even stroke. Cold-pressed organic coffee is especially tasty and chemical-free.
Food pyramid level BONUS – The Italian Secret to Longevity – Olive Oil
Olive oil is a staple of the Mediterranean diet and its most famous longevity secret
Extra virgin cold-pressed olive oil is heart-healthy and will even soften your skin. Use it for salads and drizzle it lightly on vegetables. Extra virgin olive oil is not heat resistant so don't use it for cooking. Instead, try grapeseed or coconut oil.
Go easy on the quantity of olive oil that you use. Even though it's healthy it's high in calories. Use it instead of butter or margarine whenever possible. Other healthy oils include walnut, almond, pumpkin, avocado, hemp, hazelnut, tea seed, and red palm oil.
Why some healthy snacks are not as healthy as you think
Health food stores are stacked with what they market as healthy snacks. But don't let them fool you. Some contain a long list of suspicious ingredients. Just because the label says "health food" doesn't mean it's "real food."
Kind Snacks are made with real ingredients and are very low in sugar.
Protein powder
Although you should be very wary of so-called "diet" foods there are times when a good protein shake comes in handy. They may also be a good option if you don't have time to make breakfast or have health issues that require liquid nourishment. Still, you need to be careful about what brands you choose.
It's best to go with an organic raw protein like pea protein as opposed to soy which some people are sensitive to. Soy can mess with your hormones. Women over 50 should also be careful if a protein powder contains iron as too much can cause problems with women who no longer menstruate.
I like SunWarrior Classic Plus Vegan Protein Powder because it's low in iron, soy-free, and tastes great.
14 Easy and Tasty Tips to Reduce Calories in your Meals
Make sure to always skim the fat from homemade soup and stew recipes. Place 1/2 the pot over a hot flame. This will push the fat to the other side of the pot, where it's cooler. Skim the fat with a wide spoon. Another way to do this is to put the pot into the refrigerator for about an hour until the fat rises and hardens at the top. Then, discard it.
Also, drain the fat after browning meat before adding it to vegetables in a frying pan.
Saute vegetables in stock, wine, or water along with fresh herbs instead of using butter or oil. Just add about 1/2 inch of liquid and cook until the veggies are just tender. (Usually about 2-3 minutes). When broiling or baking meat or poultry, use chicken or vegetable stock to cook it instead of butter.
When eating can fish such as salmon, tuna, or sardines, make sure that it has been packed in water instead of oil.
Take the skin off fish before cooking.
Reduce the portion size of meat in a recipe to about 3-4 oz rather than 8 oz per serving.
Trim the fat from meat before cooking and poultry after cooking and before eating.
Reduce the amount of oil used for stir-frying to no more than 1 Tablespoon for every 4 servings. Use either a no-stick pan or a seasoned cast iron skillet. You can also make your own homemade cooking spray by filling a spritzer can with olive oil.
Use lemon and fresh herbs for seasoning rather than packaged blends that may contain msg or too much salt.
Salt food after it's cooked rather than during the cooking process.
Substitute yogurt (preferably sheep or goat milk) instead of sour cream or cream cheese.
Reduce the oil in salad dressing by replacing 1/4 of the amount of chicken stock, tomato juice, lemon/lime juice, or nonfat yogurt.
Cut a number of nuts used in a recipe and make sure to toast them first for more flavor.
Cut sugar or other sweeteners by 25 % when making food from a recipe.
Rather than"dieting" which rarely ever works, implementing these simple and easy tweaks to reduce calories in your meals will help you lighten them up in a way that you will never feel deprived. In many ways, your food will be even more flavorful and you'll have fewer problems with digestion.
In conclusion:
Eat and enjoy "real food" as long as it's right for YOUR body. Be aware of portion sizes when you eat a meal. If you're President of the Clean Plate Club, like me, use a salad plate instead of a dinner plate. That way there's no need to go on a diet and you'll never feel deprived.
When you eat smart you'll save a ton of money, stay healthy, and it will keep you moving and grooving for a long, long time.
Eat well, live long, and stay healthy!
This post was originally published in June 2013 and updated in February 2022.
More Shopping
Fashion Over 50 | Beauty & Skincare |Travel | Blogging and Tech | | Special Occasion Gifts | Life Long Learning | Health | Etsy | Favorite Amazon Books