One of my go-to potluck dishes that everyone raves about is the tangy Garbanzo Beans Salad with Sun-Dried Tomatoes featured below. It's super easy to make and wonderfully tangy.
Enjoy this Recipe!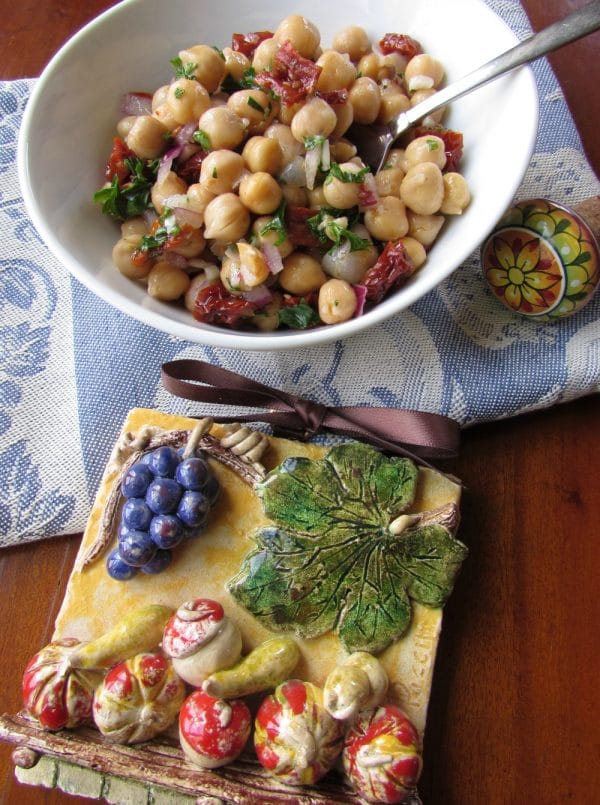 Garbanzo Beans Salad with Sun-Dried Tomatoes
This is a favorite potluck dish where ever I go. Yummy and healthy Garbanzo bean salad.
Ingredients
1/4

cup

red wine vinegar

2

Tbsp

extra virgin olive oil

2

cloves

of garlic minced or pressed

3

cups

cooked garbanzo beans

or canned organic garbanzos drained

1/4

cup

red onion finely diced

1/4

cup

oil-packed sun-dried tomatoes diced

2

Tbsp

parsley

finely chopped

1/2

Tsp

Celtic or Himalayan sea salt
Instructions
In a medium bowl, combine vinegar, oil, and garlic. Stir in garbanzo beans, onion, sun-dried tomatoes, parsley, and salt. Marinate at room temperature for 1 hour or overnight in the refrigerator. Serve at room temperature.
If you love chickpeas, as I do, you may also want to try my Tuscan Garbanzo Bell Pepper Soup.
Health benefits of garbanzo beans
Garbanzo beans are always a healthy addition to soups and salads because they're high in protein, fiber, and other important vitamins and minerals. They are a wonderful substitute if you're trying to cut back on meat. They contain manganese which supports bone development, wound healing and boosts your metabolism. The folate in garbanzo beans aids in cell growth and protects against genetic mutations that cause cancer.
I used canned rather than dry simply because it's easier. However, you can buy dried. Sort them out in a bowl, picking out any that do not look well. Cover them with water. Add 1 Tbsp of baking soda for every 500 grams of beans. Soak for 8 to 12 hours. Drain them and then put them into a saucepan. Add cold water to just a little bit above the beans and boil them for 45 min to an hour. You can see what I use canned. LOL.
Do you have a favorite Italian-style salad? What is it? Please leave a comment below.