The Italians know how to make outstanding soup and this Tuscan Garbanzo Bell Pepper Soup recipe is no exception. It's a combination of red onions, colorful bell peppers, carrots, potatoes, and Italian tomatoes with protein-rich and fiber-filled garbanzo beans. (chickpeas)
Enjoy this garbanzo bell pepper soup!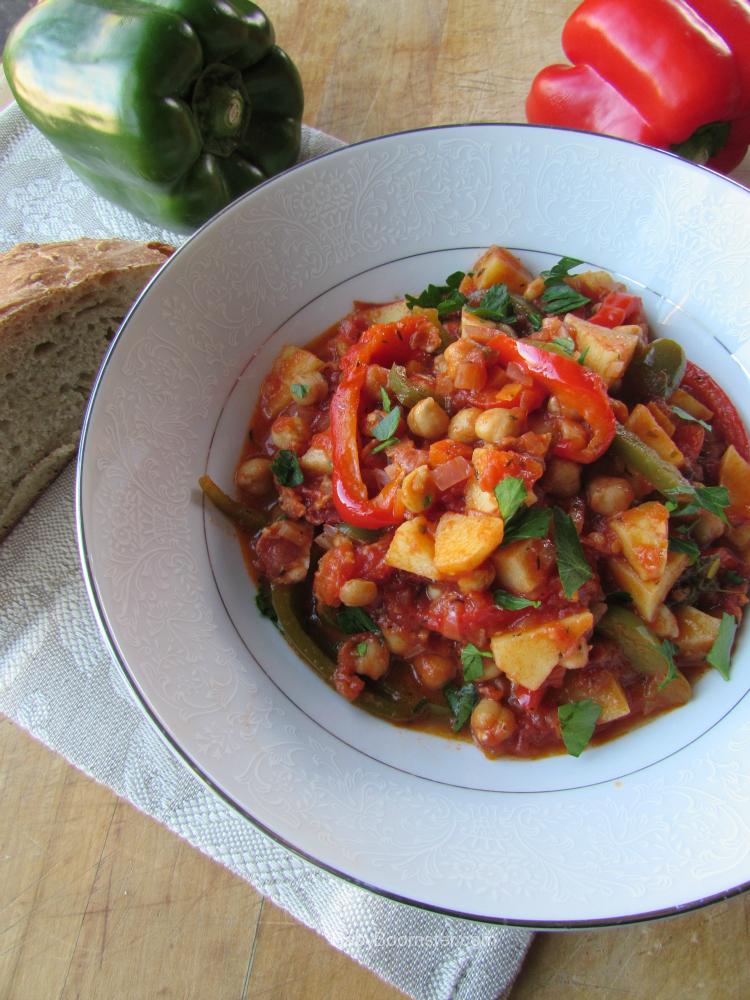 Tuscan Garbanzo Bell Pepper Soup
A low in calories and vegetable filled soup recipe with the goodness of garbanzo beans.
Ingredients
6

Tbsp.

olive oil

1

red onion finely chopped

1

red and 1 green bell pepper cored

seeded and sliced

1

carrot finely chopped

2

large potatoes peeled and cubed

1 28

oz.

can whole Italian tomatoes coarsely chopped

3

cloves

of garlic chopped

or less if you're not a big garlic fan

1, 15

oz.

can organic garbanzo beans

2

Bay leaves

1

tsp

dried thyme or 1 T fresh chopped thyme

4

slices

of smoked bacon or fried bacon chopped

optional

Course natural sea salt

like Celtic or Pink Himalayan and pepper to taste

1-2

cups

of vegetable or chicken broth – depending on what consistency you want.

Italian parsley chopped

for garnish

Fresh grated Parmesan

optional
Instructions
Heat the olive oil and sauté the red onion in a soup pot until it is golden.

Add the diced potatoes, peppers, carrot, tomato, and garlic.

Bring to a boil and simmer for about 15 minutes until the potatoes start to get soft.

Add the garbanzo beans, bay leaf, thyme, bacon, and broth.

Simmer for 15 more minutes.

Ladle into bowls and top with chopped parsley.

Serve with fresh bread and top with Parmesan if desired.
The soup recipe above is best served hot with artisan or homemade whole grain bread and you can top it with fresh grated Parmesan.
Of course, the best place to enjoy this soup is in Tuscany itself
But, if you can't get to Tuscany for a while, enjoy my other Italian soup recipes for Tuscan Bread Soup and Homemade Minestrone.
Tips for the best flavor
Italian tomatoes have a taste all their own. For one thing, Italians are adamant about picking natural vine-ripened tomatoes as opposed to forcing them to ripen like they do in the U.S. They're also grown in volcanic soil, which gives them their stellar taste. That's why I'm not opposed to using a can of imported Italian tomatoes, especially in the winter when vine-ripened tomatoes aren't available.
I also used canned garbanzo beans. However, if you want to use dried garbanzos (like a true Italian) soak them overnight with a Tbsp. of baking soda and one Tbsp. of coarse salt. Then rinse them in cold water. Put the garbanzo beans in a saucepan and cover them with water or broth. Add the thyme, bay leaves, and smoked or fried bacon. Bring the mixture to a boil and then simmer it slowly for 2 hours. Add the sauce you've created to the soup after sautéing the vegetables.
There are two kinds of garbanzo beans
Canned garbanzos, which and are cream-colored and round are called "Kabuli."
"Desi" garbanzo beans are about 1/2 the size of "Kabuli" and their color ranges from tan to black.
Researchers have found that the antioxidants present in garbanzo beans are especially concentrated in the outer seed coat that gives the beans their distinctive color. The darker "Desi" type has thicker seed coats than the store-bought canned "Kabuli." However, both contain antioxidants and have excellent health benefits.
The darker ones are worth giving a try.
I added bacon to this garbanzo bell pepper soup recipe for flavor but it's optional, especially if you want a purely vegetarian soup. Italians love pork and add it to many of their recipes. However, they age it naturally without adding nitrates. I used a natural, nitrate-free brand I found at the store.
What's your favorite Italian soup? Please leave a comment below.