The word  "Minestrone" comes from the word "Minestra," which means dish up and serve. There are variations ranging from thick and dense to more of a broth. It was originally known as Cucina Povera –  or cuisine for the poor. A peasant may have killed a rabbit, or another type of meat used the bones as broth, and cooked up a soup made with beans and available vegetables.
Enjoy this Recipe!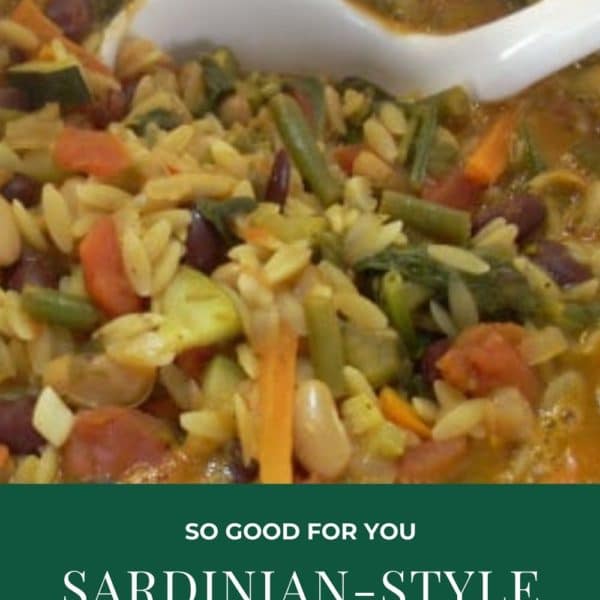 Sardinian Minestrone Soup
This Sardinian Minestrone Soup is said to be the Italian recipe for longevity and is vegetarian/vegan.
Ingredients
1

Tbsp

extra virgin olive oil

1/2

brown onion finely chopped

3

cloves

garlic

crushed

2-3

stalks celery diced

2-3

carrots diced

1

cup

of cut green beans

or other vegetables optional

6-8

cups

vegetable or chicken broth

1

can cannellini beans drained

may substitute great northern or white kidney

1 14

oz

can of chopped Italian tomatoes

4

Tbsp

mixture of fresh Italian parsley chopped

2

bay leaves

fresh or dried basil

oregano, thyme, rosemary, basil, and sage or your own concoction to taste.

salt and pepper fresh

ground to taste

red crushed pepper to taste

optional

8

oz

fresh or frozen baby spinach leaves

2

small zucchini diced into small cubes

4

oz

Italian Orzo Pasta or any small shape

optional

Parmesan grated or shaved
Instructions
Heat the olive oil in a large skillet

Saute the onion, celery, green beans, and garlic in the oil for about five minutes until the onions begin to become translucent. (don't brown)

Add to soup pot or slow cooker

Add the stock with the drained beans, tomatoes, and all the herbs.

Season to taste with salt and pepper.

Bring to a boil and then reduce the heat and simmer the soup for about 1 hour.

If you use a slow cooker set it on low for about 7 hours.

Add the Zucchini, spinach, and pasta and cook to pasta package directions. If using a slow cooker add these ingredients and continue to cook on low for 1 more hour.

Serve with a grated or shaved Parmesan cheese and add more black pepper if desired.
Notes
If you add pasta you may need to add more vegetable broth if you like it soupier.
Serve with slice of sourdough, olive, or other fresh made bread.
Using a slow cooker makes it extra yummy and you can leave it alone for hours without having it on the stove.
Have it for breakfast – Yes, you heard me right
Sardinians often eat minestrone soup for breakfast with a slice of fresh bread. It's an excellent way to start your day and will give you tons of energy.  I started doing it and I'm loving it.
Read my post about a family of elderly siblings in Sardinia who serve up minestrone soup almost every day.
Sardinian Family of Siblings Has 818 Years of Longevity
It has healthy and immunity-boosting ingredients
My minestrone recipe includes onions, garlic, tomatoes, carrots, zucchini, celery, cannellini beans (white kidney), and small pasta (optional). If you make it with a vegetable broth it is vegan-friendly.
What's fun about making minestrone is that you don't have to strictly adhere to all the ingredients listed in this recipe. Add seasonal vegetables depending on the time of year you make it or your favorite vegetables. Soft vegetables like squash, spinach, or other greens should be added later in the cooking cycle so they won't get mushy. Fresh vegetables are always best for flavor and nutrition but if none are available, use frozen or canned and include the liquid in the can as well.
Your broth
You can find organic vegetable broth at the market these days. I recommend the low-sodium versions. Add your seasonings afterward so you can control the amount. If you want to make your stock from scratch, save the water after steaming or boiling vegetables.
Italian minestrone is also amazing with homemade bone broth. If you roast a turkey or other type of meat, boil the bones for several hours and use the broth for soup. Always skim the fat from the top after it's been in the refrigerator for a while. As mentioned before, you can also use store-bought low-sodium chicken broth.
Slow cook it
When I first created this recipe I simmered it in a soup pot for about an hour on the stove. Then, I bought a slow cooker and have been using it ever since to make my minestrone soup. Either way works. Put all the ingredients except for the softer vegetables and pasta in the slow cooker and set it on low for 7 hours. Add the rest of your ingredients (zucchini, spinach, greens, and pasta) and continue to slow-cook it for an hour more. The beauty of using a slow cooker is that you can leave it alone while you do your errands and it gives the ingredients more time for all the flavors to blend.
As with most soups, it's always better the next day.
Make this Sardinian minestrone soup recipe an essential part of your diet
Keep a supply of my Sardinian Minestrone Soup in your refrigerator to eat throughout the day for breakfast, lunch, dinner, or as a healthy snack.  It will keep your body hydrated, nourished, and healthy as can be. Vegetable soup is a perfect way to lose or maintain a healthy weight. For extra flavor and goodness, top it with freshly grated Parmesan and enjoy it with freshly baked bread, Chianti, or other Italian wine. Eat like a Sardinian and live a long, healthy, and enjoyable life!
This post was originally posted in Sept 2012 and updated, Sept 2021.
What are your favorite ingredients to add to Minestrone soup? Please leave a comment and share your thoughts.