This is my absolute favorite roasted turkey recipe! It was given to me by a friend many years ago. I've shared it with my entire family and it's been made over and over for Thanksgiving and the holidays through the years. I especially love the marinade that's infused with fresh herbs, garlic, and lemon.
Enjoy this fabulous Roasted Turkey Recipe and Happy Thanksgiving!
Best Roasted Turkey with Herbs
Simply the best-roasted turkey recipe ever!
Ingredients
Marinade
1/2

Cup

Olive Oil

1/2

cup

Dijon Mustard

1/4

Cup

Soy Sauce

4

Lemons juice squeezed

2

Tbsp

Spike

1/2

cup

Italian Parsley fresh

chopped

1/2

Cup

Oregano fresh

chopped

1/4

Cup

Chives fresh

chopped

1/4

Cup

Sage fresh

chopped

1

Head Garlic fresh

chopped

lemon pepper to taste

1

Tbsp

Paprika
Turkey
Whole Turkey thawed

size depending on how many you wish to serve
Gravy
1/4

cup

water or stock from the giblets

2

Tbsp

flour

1/4

cup

Sherry

2

Tbsp

chives

1/2

cup

mushrooms sliced

pepper to taste
Instructions
FOR THE MARINADE:
Whisk together the olive oil, Dijon mustard, soy sauce, lemon juice, Spike, parsley, oregano, sage, garlic, lemon pepper, and paprika.

Place the turkey in a roasting pan and pour the marinade over it.

Marinate overnight covered.

Roast the turkey in the roasting pan at 325 degrees uncovered. When roasting, baste every 15 minutes. Insert a meat thermometer into the top of the leg at the thickest part. When the temperature reaches 165 degrees the turkey will be done.

Let the turkey sit at least 20 minutes before carving.
FOR THE GRAVY WITH MUSHROOMS AND SHERRY:
Strain the pan drippings and skim the fat off the top. (save the herbs that have been strained) Put the strained liquid and de-fatted liquid into a medium saucepan. (I then like to add back the herbs into the saucepan. If you want a very smooth gravy, do not add the herbs back.)

Whisk 1/4 cup of broth (or water) with 2 Tbsp of flour to make a rue. Add this to the pan drippings.

Whisk in the sherry, chives, sliced mushrooms, and pepper. Cook it down on the stove until it starts to look like gravy. Depending on how much pan drippings you have and the consistency you want, you may need to add a little more flour mixed with broth.
Because it marinates overnight, this roasted turkey recipe as tender as can be. Cook it in a roasting pan in the oven or smoke it, if you prefer.
The mushroom gravy is wonderful too because it becomes infused with the herbs in the marinade!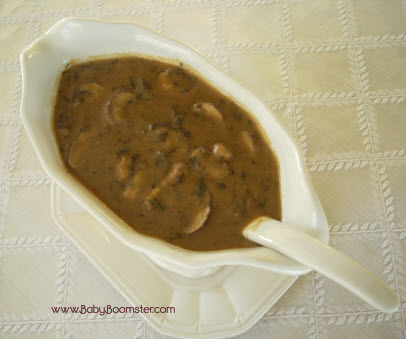 It's always best to find a turkey that is free from antibiotics and hormones and raised on a free-range, organic farm.
Serve it with all your holiday favorite recipes
I did a roundup of my Thanksgiving favorite recipes here.
What's your favorite way to roast a turkey? Do you have a very favorite recipe? Please leave a comment and share it?