The Mediterranean diet has been touted as the healthiest in the world and who doesn't love Italian cuisine? When you eat like an Italian you'll not only feel better and maintain a healthy weight, but it may even help you live longer. Italians take eating seriously from the ingredients they cook with, the size of their portions, and the experience itself.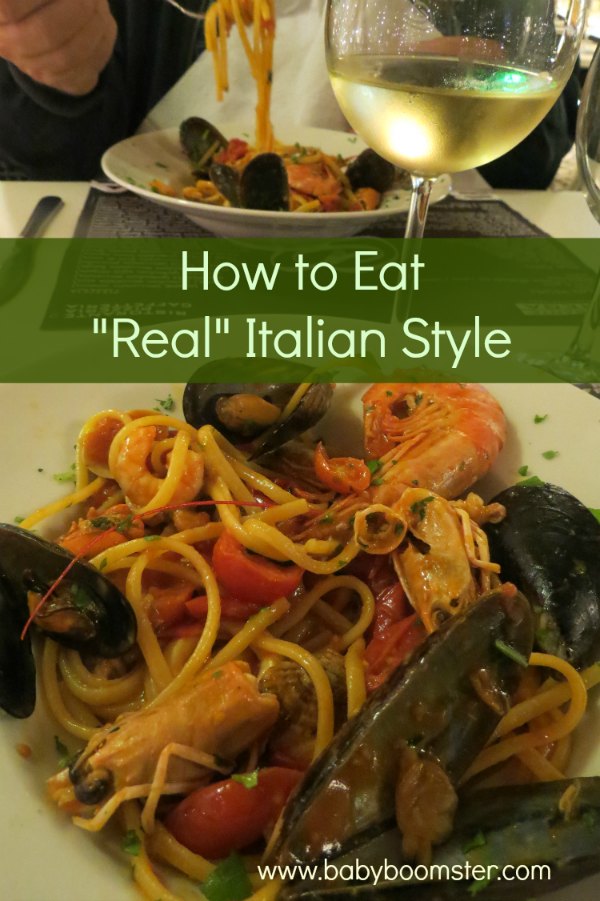 This is what I learned about eating when I was in Italy.
It's about lunch
Lunch is the most important meal of the day for most Italians. The shops close between 1 pm and 3 pm and many people go home to eat with family and friends. Italians take their time and almost never eat alone.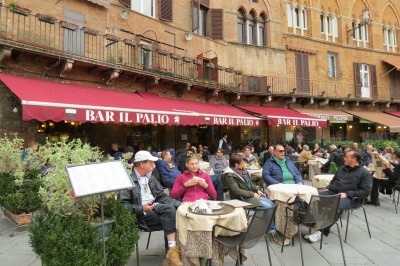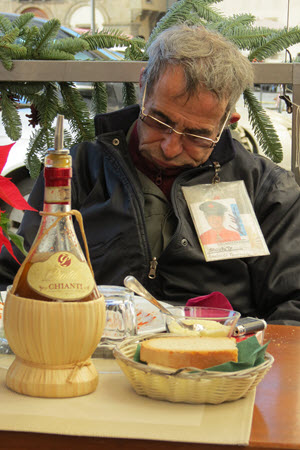 Breakfast is light
Italian breakfast is often coffee with a piece of freshly baked pastry like a tart, honey-soaked cake, or biscotti.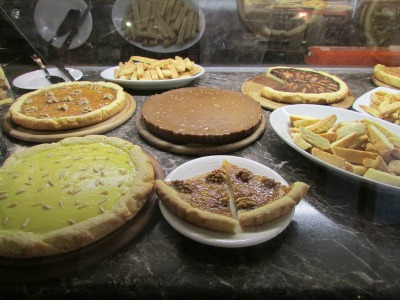 Hotels may offer a continental breakfast with eggs but that's mostly for foreigners. Italians love egg dishes, like a tasty frittata, but generally eat them a little later in the day. A buffet may also include cold cuts, cereal, yogurt, and fruit, which Italians eat in abundance. Americans typically pile up their plates while locals nibble slowly and eat lightly.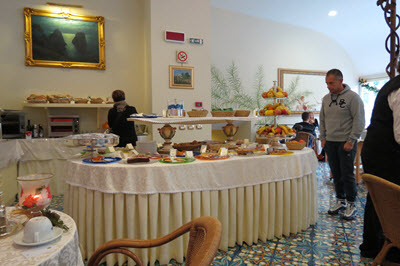 Dinner is late
Italians go out to dinner at about 9 pm. One restaurant we went to in Tuscany wouldn't let us in until 7:30 pm and we were the first ones there. That debunks the idea of not eating after six.
Don't utter the words "gluten-free" in Italy
Italians may secretly laugh at you.
Fresh bread is always served with meals. Each region makes its own style as a complement to its local cuisine. Bread from Naples is salty while Tuscan bread is spongy. Roman bread is a cornucopia of flavors from all over Italy.
When the bread is passed in America, we slather it with butter. It's rare to see a bread plate, let alone butter at an Italian table. The purpose of bread is to mop up pasta sauce or to dip in soup. Toppings, like vine-ripened tomato bruschetta, olive tapenades, and fresh ground pâté are hard to pass up.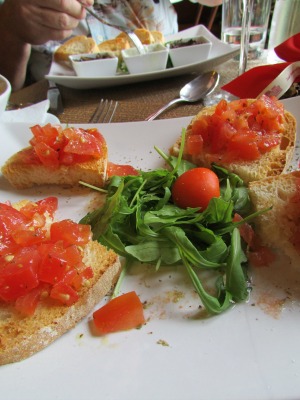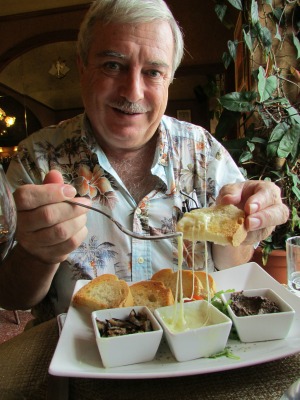 When I traveled to Italy, I ate all the bread I wanted and never felt bloated. Their flour hasn't been altered as ours has.
Pasta is a staple and is eaten daily. Each region boasts its own unique shapes. We ate Pici pasta in Siena and Scialatielli in Sorrento. You can't beat a plate of homemade Italian pasta!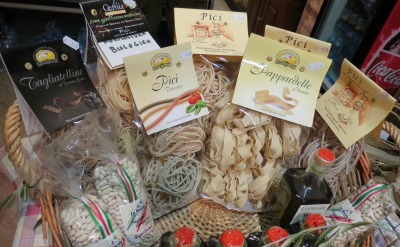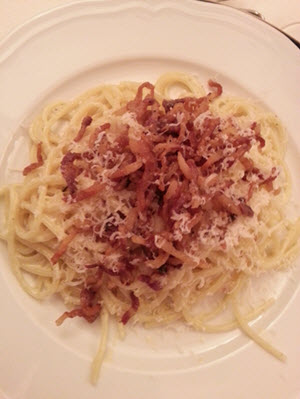 Pasta sauce in Italy is often more flavorful because their tomatoes are nourished by rich volcanic soil. When meat or seafood is added it's in small quantities. Softball-sized meatballs sitting on top of a huge plate of spaghetti is Italian American and not authentic Italian. So is Spaghetti Bolognese, Fettuccini Alfredo, and pepperoni.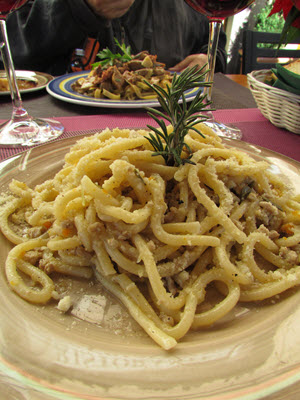 Italian pizza is thin crust and light. You can eat an entire round without feeling full. It's drizzled with tomato sauce and topped with herbs, grilled vegetables, pork, seafood, and sometimes a small amount of cheese. You won't find a monster everything-on-it pizza in Italy.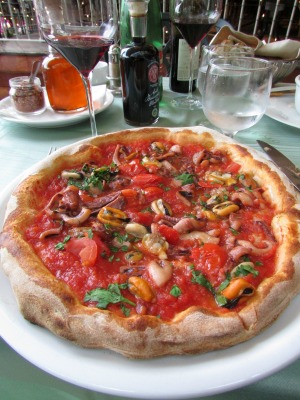 Italians love truffles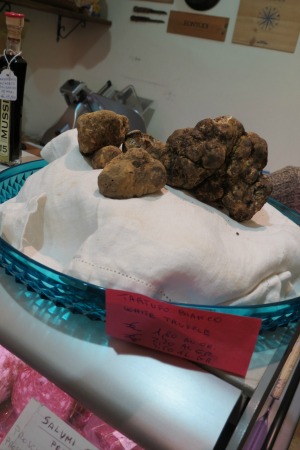 Earthy white and dark truffles are found in the Northern region of Italy. The months of October and November are when truffle fairs take place in Piedmont, Tuscany, Umbria, and Le Marche. We arrived too late for the fairs but went to a truffle tasting in Siena, I ended up bring home jars of truffle pâté, oil, and sauces.
Drinking wine is an ancient tradition
Italians love wine with food but consider it bad form to get drunk. Even small children take occasional sips mixed with water. The drinking age is at the parent's discretion. In the Chianti region, even a cheap bottle of wine is full-bodied and rich. Pinot Grigio, Moscato, whites, and rose are also popular.
It's all about the water
Mineral water is sourced from "termas," created from volcanos. Small villages have dispensaries where locals can fill up their water jugs. Some of the minerals are known to aid in bone health.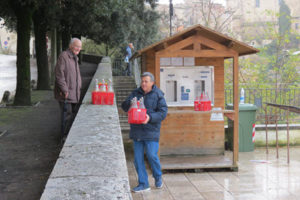 Meat is eaten in small portions
Pork is popular because it's the most ancient consumed meat. It's naturally cured, aged, and free from hormones and preservatives.
Fresh seafood is plentiful in the coastal regions. In Northern Tuscany, wild boar, rabbit, and other game meats are common fare. However, rather than make meat and fish the main part of a meal, it's portioned out lightly.
Italian soup – a secret to Italian longevity
A bowl of homemade vegetable minestrone is rich in nutrition and soothes the soul. The image below is a Tuscan soup made with bread and vegetables.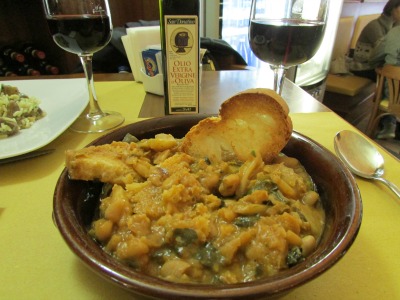 Greens and vegetables
Salads are not a mainstay menu item in Italian restaurants. Radicchio, arugula, and spinach are more often cooked than eaten cold.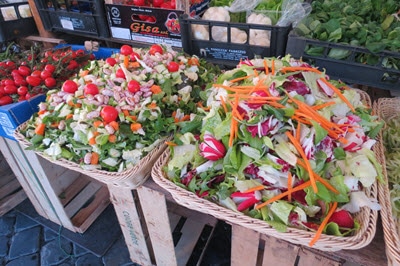 Bottled "Italian dressing," as we know it, is rare to see on Italian tables. Greens and seasonal vegetables are dressed lightly with extra-virgin olive oil, an aged balsamic, or lemon juice. Olive oil is also an Italian secret to longevity and is generously used in Italian cuisine.
Sweet indulgences
Italians love sweets like everyone else. They pride themselves on their rich Gelato, Tiramisu, cakes, tarts, and ices.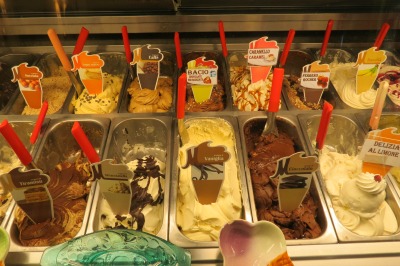 After dinner aperitifs
A meal isn't complete without a shot of Limoncello or Grappa. Limoncello liqueur, is zesty and smooth. Italians call it "the coffee killer" and use it as a digestive. Some say Grappa tastes like paint thinner and isn't for everyone. I found it to be more like Scotch.
We visited a Limoncello factory to see how it's made.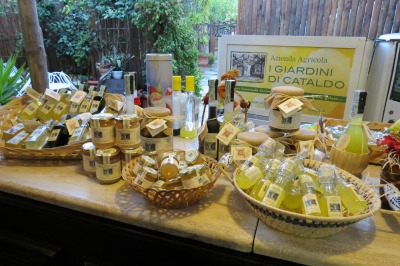 The Amalfi Coast is known for its huge and flavorful lemons. The zest of the peel is used to make Limoncello liqueur and the pulp is used to flavor fish, salads meat, flavor cakes, or make sorbets.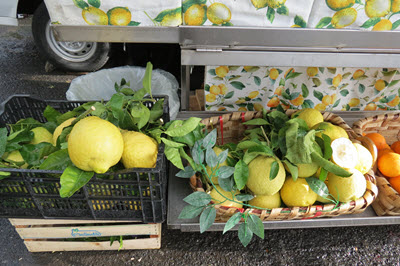 Italians savor meals with family and friends
Overscheduled Americans rush meals and opt for fast-food solutions. Italians are family-centric and most often eat together in large groups, taking their time to socialize and converse. They never worry about calorie consumption because they know they'll walk it off.
I ate like a glutton when I was in Italy and didn't gain weight because I walked everywhere. I didn't worry about what I was putting into my body because it was always fresh from a garden, farm, or freshly caught on a boat.
To eat like an Italian means consuming fresh seasonal vegetables, fruits, whole grains, and small amounts of meat in reasonable portions that haven't been processed or tainted with "flavorings." Eat slowly and enjoy leisurely meals with family and friends. Then, you can forget about dieting and stay healthy for life.
You may enjoy the book "No Ketchup on Spaghetti: The Complete guide on how to shop, eat, and cook like an Italian" by Chef Ale Gambini.
Do you eat like an Italian? What's your favorite dish? Please leave a comment below.