When I was in Tuscany, I couldn't resist ordering Tuscan bread soup made with slightly stale, but wonderful Italian bread. Their bread is slightly spongy which gives it a unique flavor. My travels there inspired me to create a recipe for Tuscan Bread Soup, which in the Tuscan region is known as Ribollita.
This soup can be made on your stovetop or slow cooker.
Enjoy this Recipe!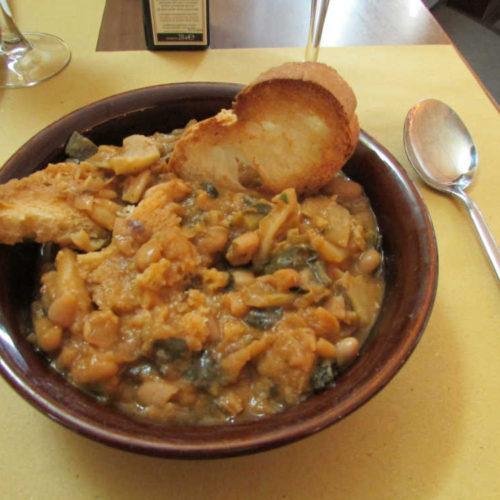 Tuscan Bread Soup with Vegetables – Ribollita Recipe
A rich and nutritious Tuscan style soup recipe made with seasonal vegetables, white beans and toasted bread.
Ingredients
3

Tbsp

of olive oil

1

large red onion diced

2

carrots diced

1

stick of celery diced

4

medium potatoes skinned and diced

5

med sized zucchini diced

1 15

oz

can cannellini beans drained

smoosh some of them

1

leek

(white part cleaned and diced

6

garlic cloves

1

bunch of swiss chard leaves cleaned

patted dry and loosely shredded

1

bunch of Tuscan kale

dark or any kale cleaned, patted dry and loosely shredded

1

savoy cabbage leaves cleaned

patted dry and loosely shredded

4

cups

vegetable broth

2

thyme sprigs

1

tsp

dry oregano or fresh if available

salt and pepper to taste

28 oz

can

whole San Marzano tomatoes (or any canned whole tomatoes)

1

cup

white wine

1

loaf

1 day old Tuscan bread or crostini
Instructions
In a large soup pot, heat the olive oil.

Saute the onion until it's translucent

Add all the vegetables except for the cabbage, and chard.

When all the vegetables have sweated their juice, cover them with vegetable broth

Add the shredded cabbage, kale and chard.

Add garlic, thyme, oregano, salt and pepper.

Cover and simmer for 1 hour over medium heat. (or let it cook in a slow cooker all day)

Add the beans, and pepper and simmer for another 20 minutes. Stir frequently so that the beans will not stick to the bottom of the pot.

Add the whole tomatoes and wine.

Let the soup stand out for 1 day for best flavor.

To serve, add the desired quantity to a sauce pot and re-boil it.

You can either toast and add the bread to the soup in the last minutes of cooking or layer it in individual soup bowls and pour the warmed soup on top. Leave some toasted bread to garnish it on top.
Tuscan Hill Towns
The images below are from some of the hill towns we visited. If you're ever in Italy, make sure to visit.
The history of Tuscan soup
Ribollita means "reboiled" Tuscan bread soup dates back to the middle ages. The soup is made with bread, beans, and vegetables in season. As Tuscany is in the northern area of Italy it's cooler there and hearty soups are a staple.
The peasants in the Middle Ages who served nobility would take leftover crusts and pieces of Tuscan bread and take it home to feed their families. But first, they would soak each piece in the meat juices of their master's sumptuous feasts. Once they were in their homes they would leave the bread out while they soaked cannellini beans overnight and pick fresh vegetables out of their meager gardens which they added to the boiling pot. Generous portions of olive oil would be poured on top. The bread, which was by then dry and stale would be dipped in the soup.
It's all about the bread
In the Tuscan bread soup recipe above, crusty bread is left out for a day and then is layered into it. If Italian bread is not available use crunchy country bread, French boule, or even ciabatta.
Toast and cut the bread in large chunks rather than small cubes. Otherwise, the texture of the soup will look thick. Garnish with toasted bread on top as well.
Layer in the bread in the last minutes of cooking or add it to the serving bowl and pour the soup on top.
You may also like to try my recipes for Tuscan Garbanzo Bell Pepper Soup and Sardinian Style Minestrone.
What's Your favorite soup? Please leave a comment below.