Tuscany is a magnificent region of Northern Italy where you can visit mysterious medieval cities and tiny Etruscan hill towns. The food, wine, and magnificent views make it hard to ever leave. We visited in the winter during the holiday months which is a great time to avoid crowds and take in the festive atmosphere.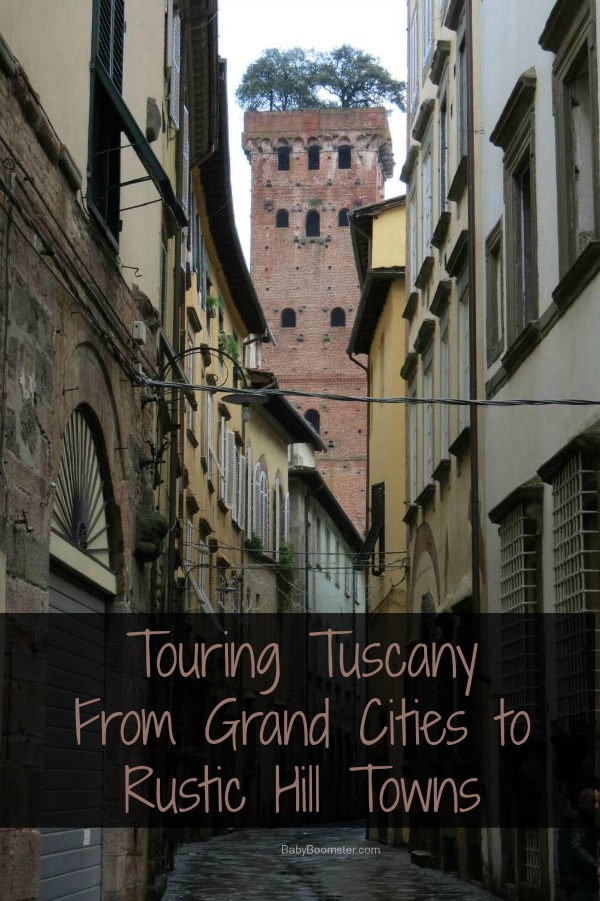 After spending 4 days in Rome, we boarded a train to Florence where we rented a car and drove to Montecatini Terma. There, we checked in to the Ercolini E Savi Hotel which is just off the main boulevard in the center of town.
Montecatini Terma is a spa resort area in the heart of Northern Tuscany between Florence and Pisa. In 2021, it was named a UNESCO World Heritage site as part of a cluster of spa towns in Europe. While we were there we spent part of the day at the Grotta Giusti Spa in nearby Monsummano Terma.
We also visited several old cities and hill towns including Lucca, Montecarlo di Lucca, and Montecatini Alto. Then we drove South to Siena stopping at Castellini in Chianti and Montepulciano.
We spent 2 nights in Siena at Hotel Italia just outside the Porta Camollia gate. The walled medieval city of Siena is magnificent and I would have loved to spend more time there.
I especially loved exploring the hill towns of Tuscany. During the winter most of the hills towns are quiet and relaxed with almost no tourists. There's nothing better than sitting on top of a beautiful hill overlooking vast vineyards, sipping a glass of Chianti, and nibbling on freshly baked bread dipped in truffle oil.
Lucca
Lucca is a medieval city on the Serchio river in Italy's Tuscany region not far from Pisa. It's renowned for the well-preserved Renaissance walls encircling its historic city center with cobblestone streets. We climbed to the top of the Guinigi Tower where you can get a sweeping view of the entire area.
The city is Etruscan in origin but during the Roman era, it served as a meeting place for Ceasar and Crassus. It's known as the city of 100 churches. You can take a bike ride through the city and its walls, enjoy a variety of restaurants, museums, and eat to-die-for gelato on the square.
Click on the thumbnails in the photo galleries below to view them FULL SIZE. Please feel free to share any photos you like on social media.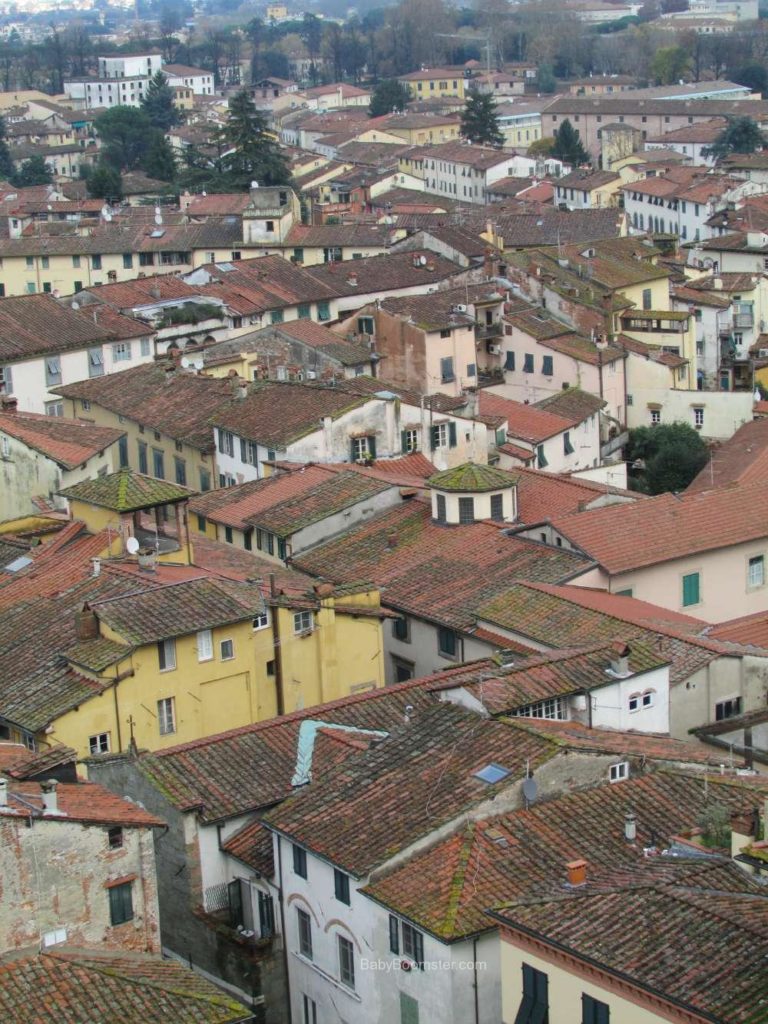 Montecarlo di Lucca
Montecarlo di Lucca is a medieval hill town in the Province of Lucca in the Italian region Tuscany on top of the hill of Cerruglio. After the Pisan occupation ended in 1333 it took on the name Monte Carlo in honor of the future emperor who had helped Lucca get rid of the Pisans.
It was once the site of the ancient castle of Viviana. Looking down from the hill you see a landscape filled with olive trees and rich vineyards that produce some of the finest wine in the world.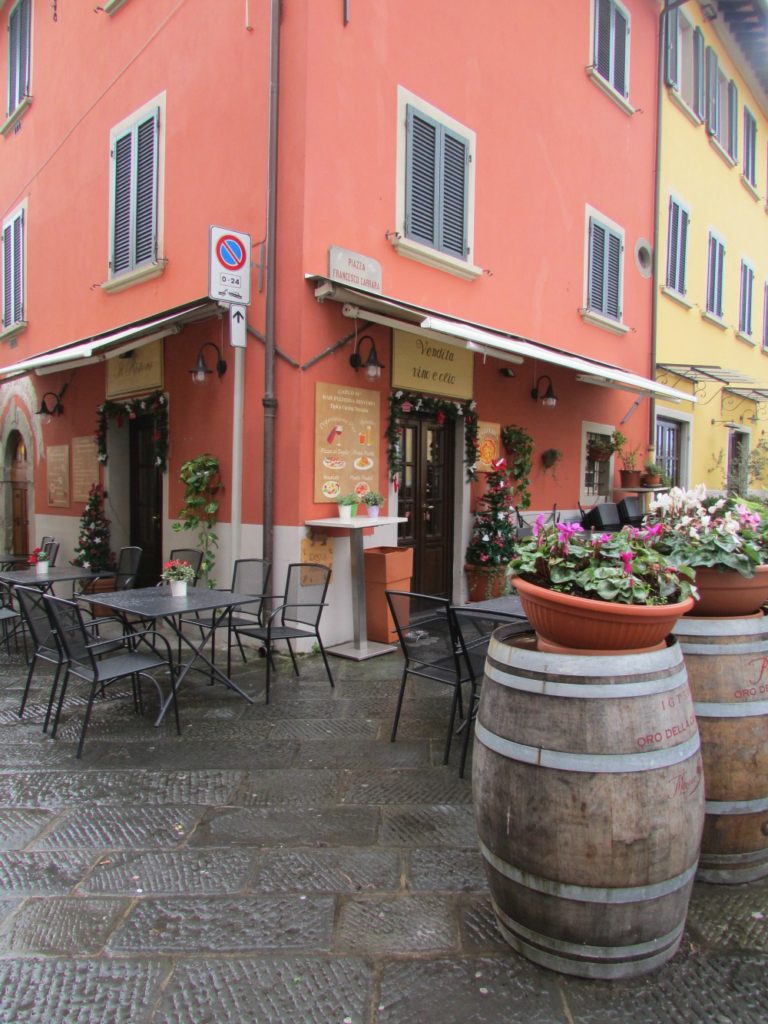 Montecatini Alto
Montecatini Alto is another medieval hill town that overlooks Montecatini Terma in the eastern end of northern Tuscany between Florence and Pisa. During high season, you can take a funicular up to the old city.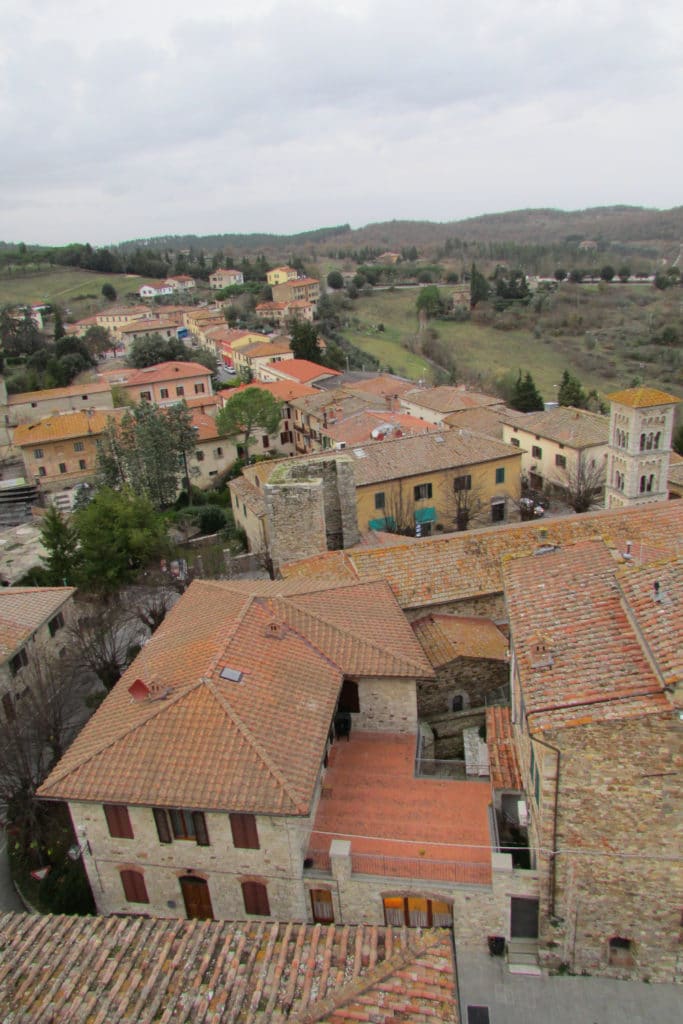 Siena
Siena is located in central Tuscany and is known as the "city of art." The old city is protected by walls and is surrounded by a field of olive trees and vineyards. It started as a Roman colony.
During the middle ages, it was a rival of Florence and endured fierce fighting and devastation from civil wars and plagues. It reached its height of power during the 11th century and arts and culture began to flourish.
The large Piazza del Campo is the central gathering and eating place surrounded by famous buildings like the Palazzo Pubblico with its Tower of Mangia. The magnificent Duomo, which stands out with its black and white striped marble rises above it. It's one of the most incredible cathedrals in all of Europe.
The streets are made of bricks and stones and it hasn't changed much from medieval times. Art museums, the Academy of Music, and other architectural wonders are everywhere you look.
It's a city of college students and I felt safe walking through it even at night. During the winter, at least, when we were there, I didn't see any hustlers as you do in tourist-laden Italian cities.
One of its most famous events is the Palio of the Contrade di Siena that began as early as 1310. It is a feast to honor the Blessed Virgin where costumed horse riders compete for the painted silk drape. The race is followed by a parade of participants in elegant costumes with drums and flag-waving. The Palio takes place twice a year on July 2 and August 16.
You could spend days wandering the streets to take in all the art and beauty.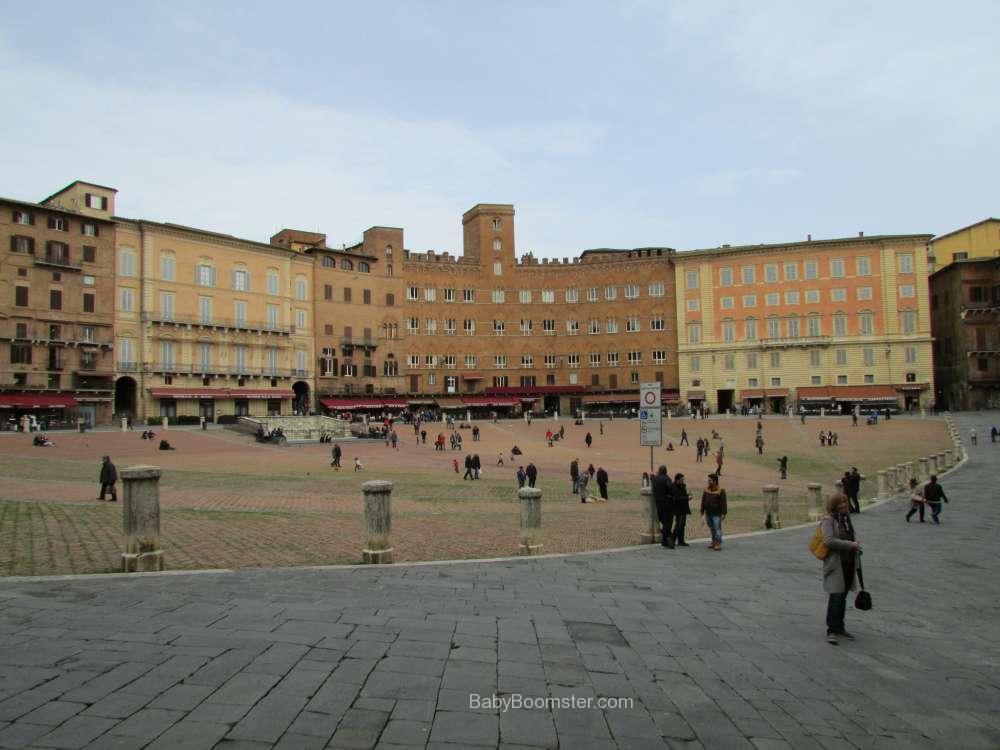 Castellina in Chianti
Castellina in Chianti is an Etruscan hill town near Siena. Many artifacts from that time period can be found there. The Archaeological Museum of the Sienese Chianti was founded in 2006 after an excavation unearthed the Etruscan burial mound of Montecalvario.
The town was the furthest stronghold of the Florentine Republic but was seized and destroyed by the Visconte of Milan in 1397. In 1478, after the damage had been repaired, it surrendered to the Sienese and Neopolitan troops. As punishment, the fortress was burned.
In the mid-1920s, the fortress was restored and bought by the city of Castellina.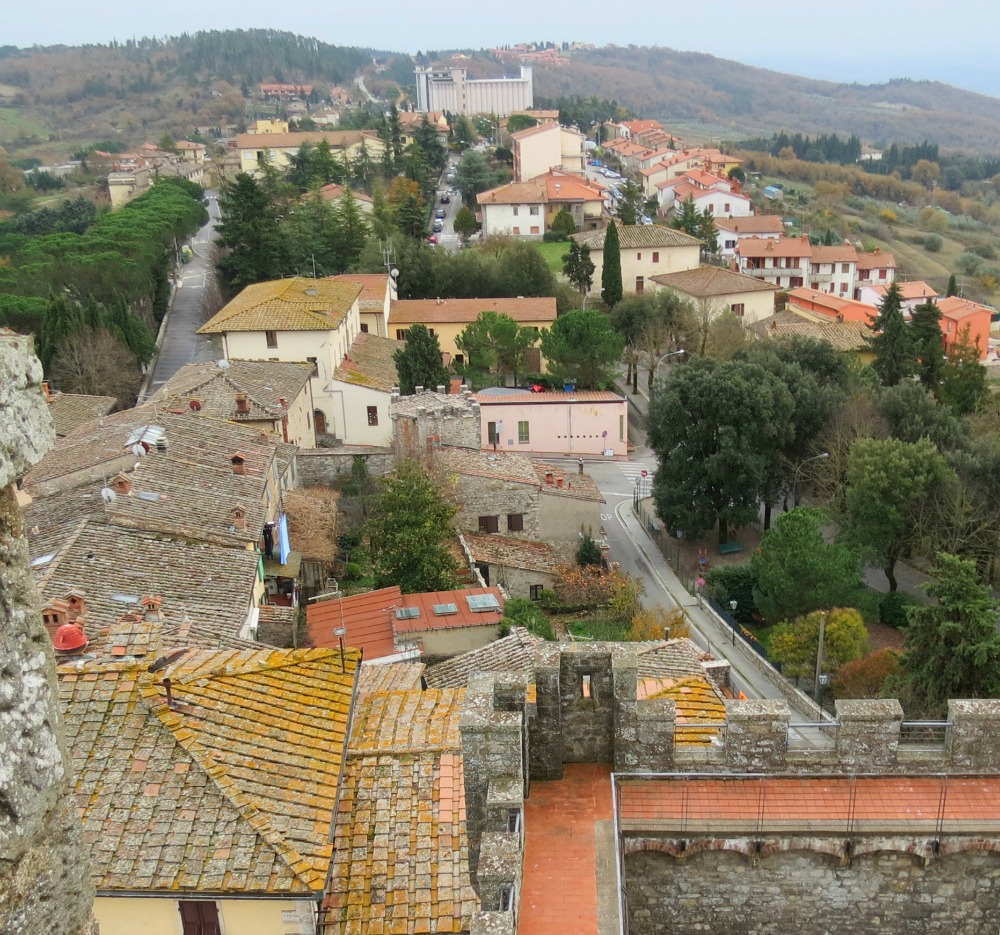 Montepulciano
Montepulciano is a fairly large Etruscan hill town located in southern Tuscany on the border of Umbria. It was strategically located along the most important paths of commerce during medieval times. The village has been remarkably preserved and plays host to a wide range of cultural and religious events.
It's also known for its wine, food & crafts products. We enjoyed lunch at the Art Noveau-style Caffe Poliziano, established in 1868. It sits in the historical center of Montepulciano overlooking the Valdichiana from the balcony.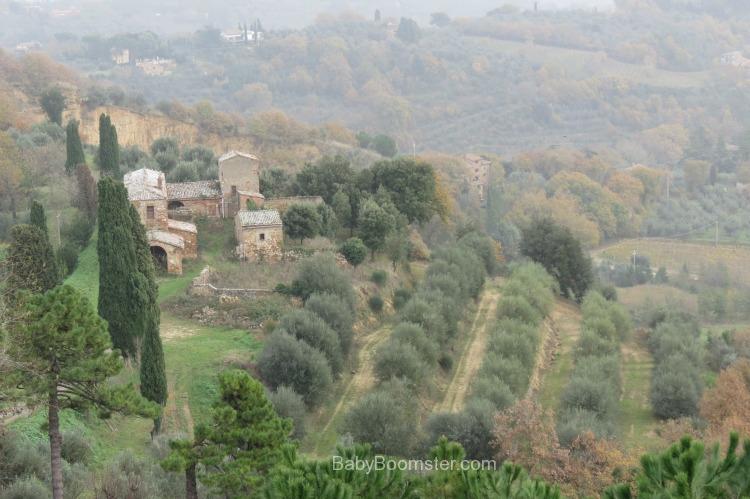 Florence
Florence, the capital of Italy's Tuscany region and the birthplace of the Renaissance, is home to masterpieces of art and architecture. It is the heart of Tuscany. We were only there for a short time on an excursion with our cruise ship but managed to take some photos of iconic sights and holiday festivities.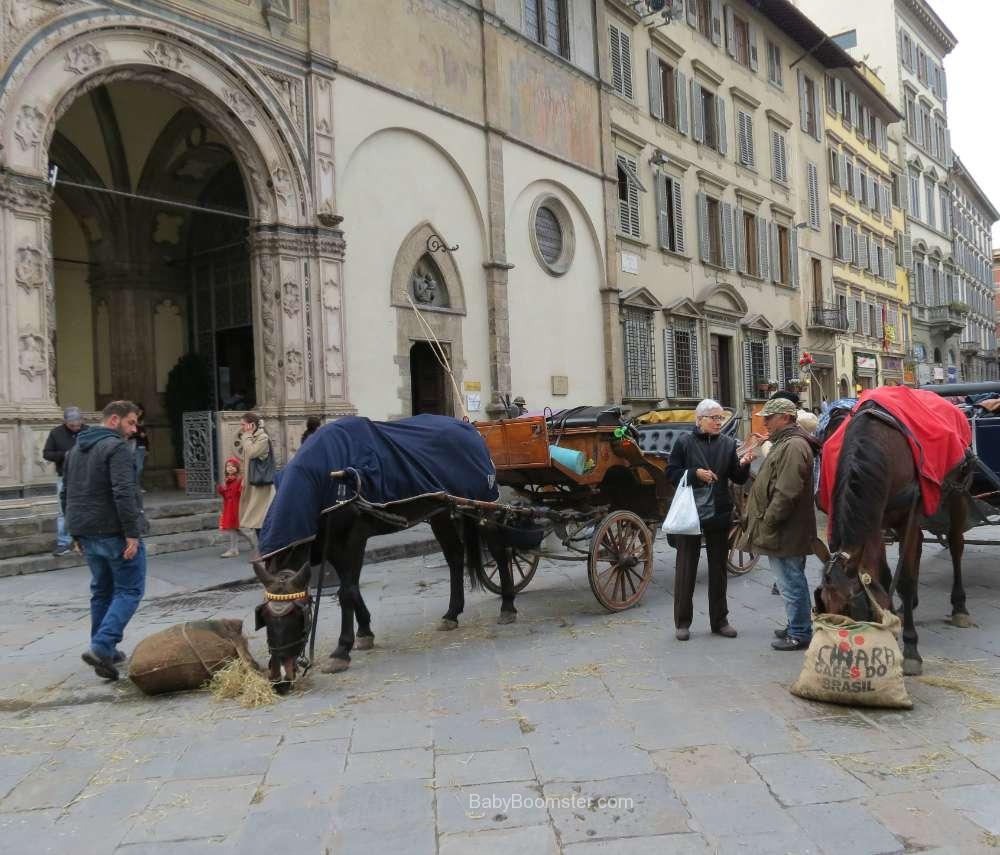 Pisa
Pisa is a city of 89,523 residents but is best known for it's Square of Miracles consisting of the Cathedral, Baptistery, and the Bell Tower – Leaning Tower of Pisa. Both the Cathedral and Baptistery are beautiful and hold priceless artwork and artifacts.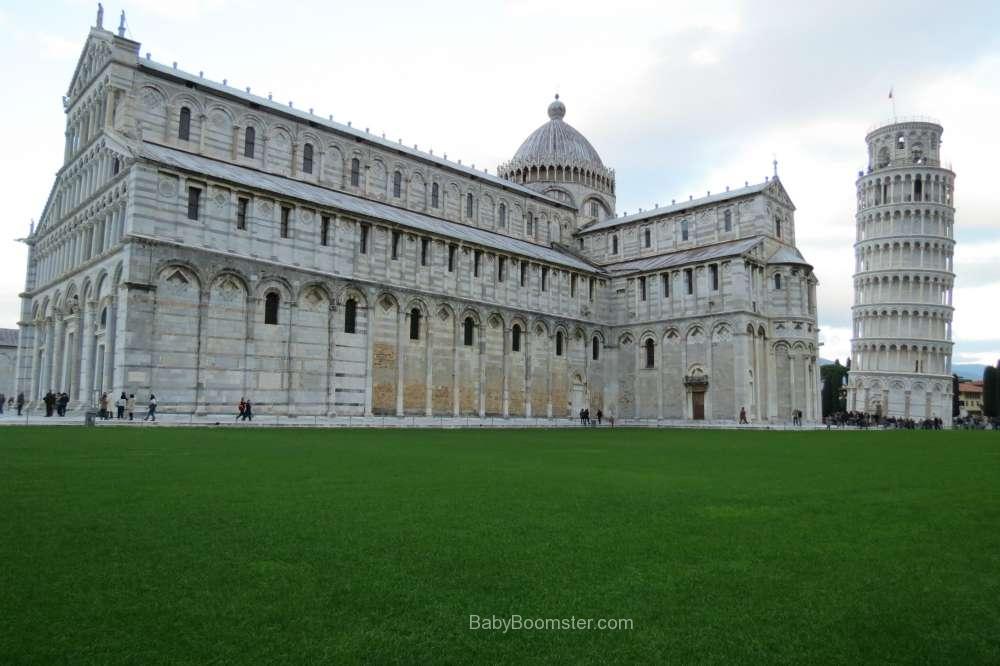 Some of our favorite restaurants in Tuscany
Montecatini Terma
Ristorante Enoteca Giovanni – Via Giuseppe Garibaldi, 25, 51016 Montecatini Terme, +39 0572 71695. We ate Thanksgiving dinner at this restaurant but arrived too early (7:30 pm) and were told to come back around 9 pm. Italians don't like it when you make them rush. The food was wonderful and we made friends with a U.S. Airman and his wife who were having Thanksgiving there too. (We didn't eat turkey, though – LOL)
La Cascina – Viale Giuseppe Verdi, 43, Montecatini Terma. 39.0572.78474. A beautiful and family-friendly restaurant with seating available in their outdoor patio and garden during the warm season.
La Pecora Nera at the Ercolini & Savi Hotel – Elegant and a little more high-end but exquisite cuisine.
Siena
Trattoria FonteGiusta – Via Camollia, 102, Siena 53100, 0577 40506. Our hotel recommended it and we ate there twice. Their homemade pici pasta is excellent.
Montepulciano
Caffe Poliziano Via di Voltaia del Corso, 27-29 Montepulciano, 53045, 0578 758615 A quaint and beautifully decorated Art Nouveau caffé with a spectacular view of the Tuscan wine region from its balcony. We had Tuscan soup and bruschetta. The cafe also has tasty looking pastries.
This post was updated 8/2021.