After a 3 week tour of Italy, we topped off our vacation with an eleven-day Mediterranean cruise during the month of December aboard the stately Cunard Line Queen Elizabeth.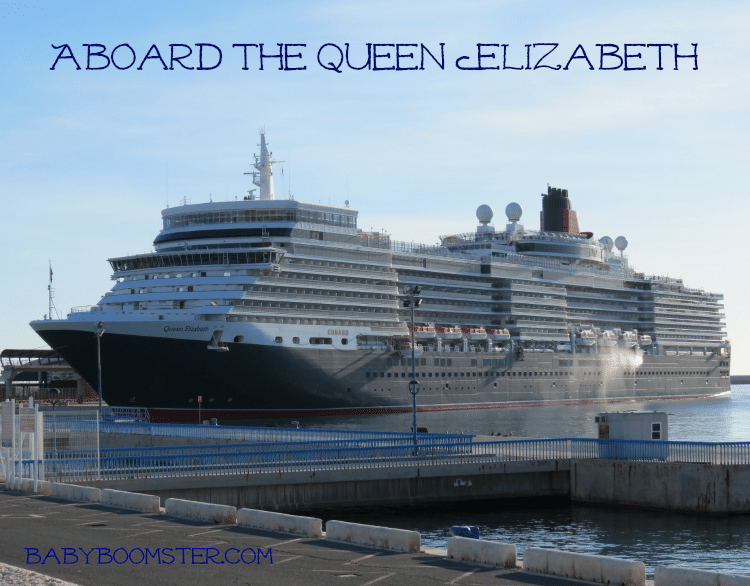 Departing from the ancient Roman port
I like to think of the Cunard Queen Elizabeth as "London on the high seas." We boarded the ship at Civitavecchia, an ancient seaport outside of Rome. The original port was built in 107 – 108 A.C. and was called Centumcellae. It reached its glory during the Imperial Age. Most of its antiquities were destroyed during WWII, but what remains of the fortress, makes it easy to imagine what it was like centuries ago.
Click on smaller images to view FULL SIZE of Civitavecchia
Boarding the Queen
We hadn't read all the fine print on our travel documents and didn't realize we were supposed to arrive in the morning. We'd been traveling all day from Sorrento, and finally arrived around 5 pm. It all worked out for the best, though. When we stepped up to the empty embarkation desk, we were ecstatic when we were told we'd been upgraded to a Queen's Suite.
Our table mates at the Queen's Grill
Our room was elegant and beyond comfortable with a starboard balcony on the 7th deck. The upgrade also entitled us to dine in the exclusive Queen's Grill, where we could appear whenever we were hungry rather than deal with timed seating. We loved that our table looked out to the deck and the sea.
Our table mates were delightful! Edgar and his lovely wife Joan were British but lived in Cap d'ail near Cannes, France. Edgar had been affiliated with Cambridge and Oxford as a graduate and professor. He worked for Lloyds of London and fascinated us with his knowledge of everything British. Joan was an accomplished artist, beekeeper and, at one time taught home economics. Both were in their 80's and had been on the ship for a month before our arrival. They were planning to travel to Singapore and Australia soon after our cruise ended.
Swen was a dashing German electrical engineer and entrepreneur in his forties. He had traveled all over the world, was brilliant and equally fascinating. His 87-year-old father Dietmar, a nautical engineer and designer, was traveling with him.
Ann, a 60-year-old widow from Washington, DC, had worked at the Pentagon with the Air Force space program. She had a vast knowledge of launching satellites and space travel. I was impressed that she was traveling solo and applauded her chutzpah. Cunard is accommodating to single women traveling. Even if you travel with your husband, you can ditch him and find a "dance escort" who will be happy to cut a rug with you.
Can we say POSH?
Our room "butler" Natalia hailed from Odessa, Ukraine, and her assistant Larry was Filipino. Natalia delivered our breakfast each morning, canapes in the late afternoon, turned down our bed and left us chocolates every evening. We had booked the cruise at a discounted rate, but our experience was très elegant!
Fun on board the Cunard Line Queen Elizabeth
There were activities galore on the ship including afternoon high tea, e-lessons, card games, trivia, dance classes, fruit, fruit carving, lectures, spa treatments, whiskey tastings, and nightly shows. The ship is more regal than glitzy, unlike other more theme-park oriented cruise lines.
You won't see rock walls, water slides or loud neon-lit casinos onboard. The ship is designed for luxury and is classy through and through. It was December and the ship was decked out beautifully for the holidays.
Please click on the images below of the Queen Elizabeth to view them full size.
A special treat
We were allowed to go up to the bridge to see how the ship navigates the seas. High-tech and impressive!
Watch out for rolling waves and thank goodness for the spa
The only snafus on the trip were when my partner gave me his nasty cold our second day out. I tried to avoid it, but he was coughing, sneezing and hacking all over me. I also tripped over my suitcase and did a number on my little toe. That meant I had to hobble on all of our excursions starting in Barcelona. I went down to the 1st deck to visit the ship's doctor at the Queen Elizabeth Medical Center. She confirmed my toe wasn't broken and tied it to the toe next to it for support. It's nice to know a full medical staff is there to help you in an emergency.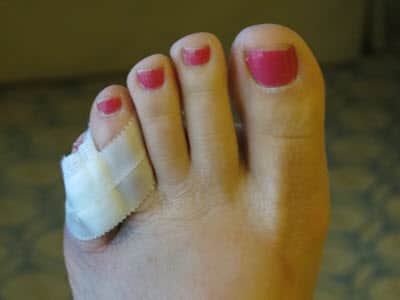 I also went to visit the spa, which offered a swollen foot and ankle treatment. I thought that was smart and eagerly took advantage of the service. Our room also had a huge jacuzzi tub that I soaked my feet in using some salts that I bought at the spa.
Our Excursions
I went online a week before the cruise to book our excursions and panicked when they weren't unavailable. We were placed on the waitlist. Once aboard the ship, we were relieved to find there was no problem booking our tours. The"waitlist" is the cruise line's way of determining how many buses to order.
Livorno, Italy
Click on the images below to view them full size
Our first stop was Livorno, Italy where we boarded a bus that took us for a quick visit to Florence. We walked along the Ponte Vecchio, saw the Florence Duomo and had lunch in the Cathedral Square. After lunch, we boarded the bus again and headed to Pisa where we saw the Square of Miracles and the Leaning Tower.
Toulon and Saint Tropez, France
Our next stop was Toulon, France where we took a coach to Saint Tropez and Port Grimaud. It was the off-season and most of the shops were closed. We walked through the streets and stopped at a sandwich truck popular with the locals where we had lunch sitting on a park bench. After Saint Tropez, our coach driver took us to Port Grimaud. It's supposed to be a re-created French village but looked more like a condo complex with canals to me. I was expecting a timeshare presentation. The concept is fascinating to Europeans but peculiar for Americans. We waited out our time in a small cafe drinking rose and enjoyed the free Internet.
Barcelona, Spain
We did a 3 stop tour in Barcelona, Spain which took us to the Spanish Village, the Sagrada Familia Cathedral and the La Rambla where we shared a paella at Bar Nuri. Barcelona is one of my favorite cities. I'd been there one time before and always wanted to come back. The Spanish Village was a re-creation that was built for tourists during the Barcelona Olympics. It reminded me of a pavilion at the Epcot Center. and I wished we'd spent time elsewhere. However, the short time we were in the city was quick but fun.
Malaga, Spain
Our best of Malaga, Spain tour took us to the fort, the Alcazaba, (built by the Moors), and the town center where we went inside the Picasso Museum. We ended our day there with a wine and tapas tasting at an outdoor cafe. Malaga is a stunningly beautiful and clean seaside city. I could picture myself happily living there.
Lisbon, Portugal
The city of Lisbon is set on top of seven hills. It had been destroyed by an earthquake and tsunami in 1755. Our bus took us to the old Monastery at Belem, the seaport and then lunch in the city center. Down the street from the Monastery was a pastry shop with the most incredible Pastéis de Nata custard tarts I'd ever tasted. I felt compelled to re-create them when I returned home.
Gibraltar
Next was the Rock of Gibraltar. We jumped into a small van that took us to see the magnificent caverns inside the rock. Cute little apes roamed everywhere. One of them jumped on my back and stole my water bottle. Gibraltar is a favorite shopping destination for tourists because all the stores are duty-free.
Vigo, Spain
Vigo, Spain was an unexpected stop. We were supposed to dock in Porto, Portugal but the sea was rough that day so the ship was diverted to Vigo in Galicia, in northwest Spain. Our tour bus took us to the small seaport town of Baiona where we had tapas and wine at the lovely Parador de Baiona, once a fortress, located in the southern Rías Baixas region. Paradors are historical buildings turned into hotels and are owned by the government. After a generous lunch, we leisurely wandered through town.
My overall impression of our cruise
The only thing I found frustrating on board was that the Internet is insanely expensive. Not a great thing for a blogger.
But, other than that, the entire Cunard line staff was extremely helpful and attentive. We especially loved Amanda who was the ship's entertainment director. She had a sparkling, funny personality and we enjoyed watching her early morning chat on the ship's TV station. She was on stage at all the evening shows and we wondered if she ever slept.
Cruising on the Cunard Queen Elizabeth was first class all the way. You can't beat Cunard if you're looking for a classic ocean liner experience.
Book a Cunard Cruise Today
Click here to book a Cunard Cruise with Cruise Direct
A few months after our cruise, we heard that the Queen Elizabeth met up in Long Beach for its 175 anniversary with the original Queen Mary but we couldn't make it there. That would have been incredible. Oh well, next time
Have you been aboard a Cunard ship? Please leave a comment below and tell us about your experience.