While I was on a Mediterranean cruise on the Cunard Queen Elizabeth we stopped in Lisbon, Portugal. It was a short day excursion but while we were there, we tasted one of Portugal's specialty desserts – Pastéis de Nata, which are custard tarts. My life was forever changed. I'm not a huge dessert eater but I could have eaten them all day long. It inspired me to create the recipe at the bottom of this post. And Lisbon is absolutely magical. We were only there for a few hours but what we saw made us never want to leave.
Enjoy this Pastéis de Nata recipe below:
It's not the "official" secret recipe of the monks, but it's close, fairly easy and so good you can't eat just one.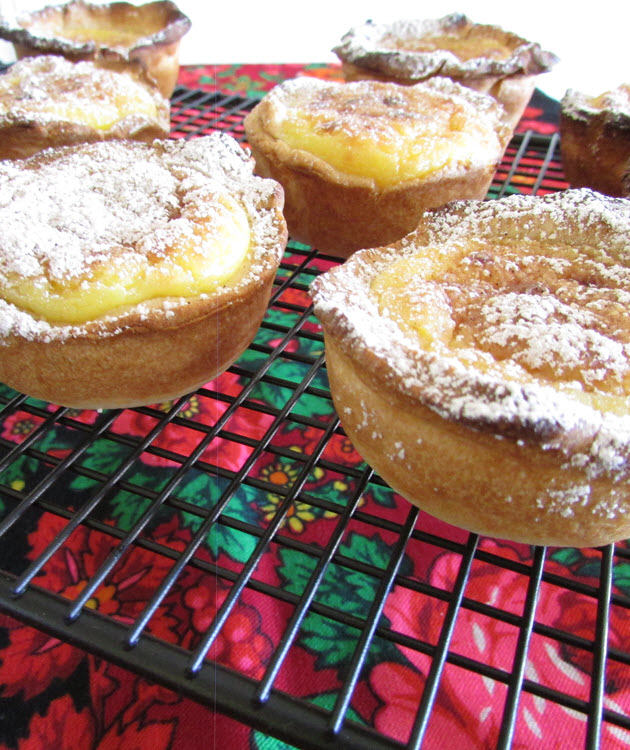 Pastéis de Nata Portuguese Custard Tarts
Enjoy custard tarts famous in Portugal for a heavenly treat.
Ingredients
1

Package of frozen pie crust filo dough or puff pastry thawed.

Puff pastry or filo dough is more authentic but if you can't find it, frozen pie crust works fine as pictured here

1

cup

heavy whipping cream

1/4

cup

milk

grated peel of 1 lemon

1

cup

sugar

1

tsp

cornstarch

6

egg yolks whisked slightly

1

Tbsp

powdered sugar

1

tsp

cinnamon

butter

to line muffin tins and to use to layer filo dough.
Instructions
Preheat the oven to 500 degrees

Grease a muffin pan with butter (to make 8 tarts)

Unfold pie crust or puff pastry and cut out 8 four-inch rounds (you may have to roll the crust a couple of times to get 8.

Insert each pie crust round into a muffin tin to create a cup for the custard, pressing in each tin from the center to the brim. If you use filo dough, simply line the muffin tins with it Layering each layer with butter.

Mix the cream and milk in a large saucepan

Add the grated lemon peel

Whisk the egg yolks

Blend in the cornstarch

Blend in the sugar.

Heat on a low heat until the mixture comes to a boil.

Take the mixture off the heat.

Pour the mixture into 8 muffin tins

Place the muffin pan in the oven and bake for 15 minutes or until the pastry and cream is lightly browned.

When the pastries are done let them cool.

Mix together the powdered sugar and cinnamon

Using a sifter, lightly sprinkle the tarts with the sugar and cinnamon mixture

Serve the tarts lukewarm
Belém
Our tour guide took us to Belem outside of Lisbon to visit the Jeronimos Monastery and suggested that we take the time to meander to the bakery down the street with the blue awning, to taste their specialty custard tarts.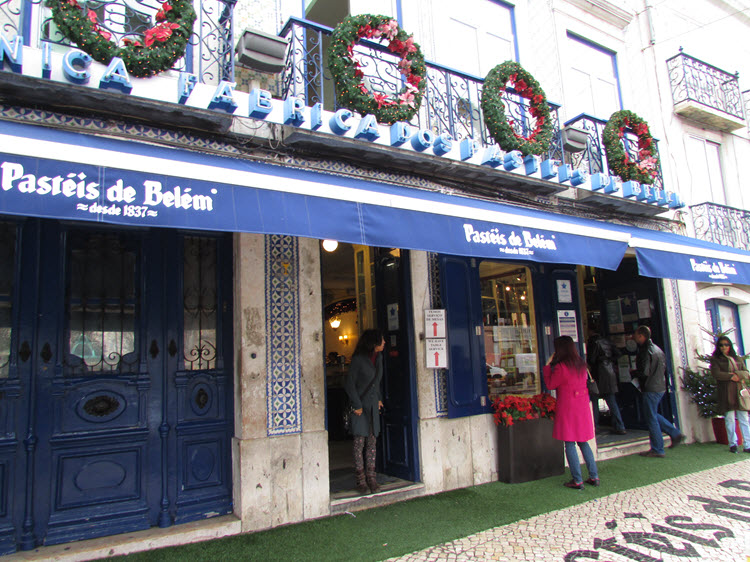 We dutifully obeyed and are glad we did. The old bakery called Pastéis de Belem has been in operation since 1837.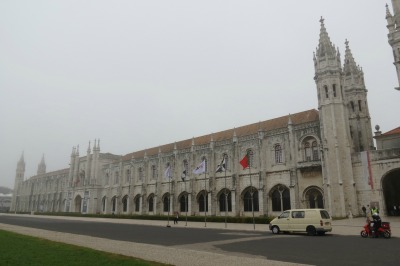 A short history of Pastéis de Nata
From what we were told, there are several "secret" recipes in Portugal for Pastéis de Nata. Almost every bakery in Portugal competes to out-do each other with their own unique version.
During the revolution of 1820, many of Portugal's religious orders were dismantled. In order to survive, the monks at the Jeronimos Monastery in Belém began to sell pastries. That's where Pastéis de Nata custard tarts originated. The monastery closed in 1834 and the building was later revamped as a school and orphanage.
The monks sold the recipe to Rafael Domingos Alves, a Portuguese businessman who had recently returned from Brazil. He opened the bakery in 1837 and Pastéis de Nata has been served there ever since. The monk's "secret" recipe has been handed down to generations of the Alves descendants and is prepared in a secret workroom at the bakery.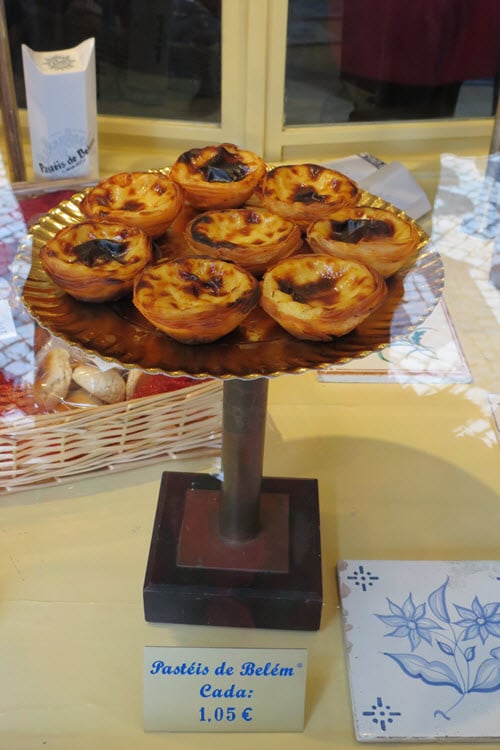 I used frozen pie crust cut in rounds as the cup for the custard because I couldn't find puff pastry, which is more authentic. You can always make your own crust if you're a "baking aficionado," but I'm not and I wanted to keep it simple. In fact, I didn't realize until I started making this recipe that I didn't own a rolling pin. I had to use a piece of PVC pipe I found lying around to roll out the crust. LOL (I have since bought a rolling pin.)
The beauty and romance of Lisbon, Portugal
Lisbon is an eclectic and intriguing city. I wish we had more time to explore, but our cruise ship only docked there for part of the day. In the central downtown section of Lisbon, the buildings are piled up on steep hills. Lisbon or Lisboa, as it's called in Portugal, is called the City of the Seven Hills. It's a fabulous aerobic workout if you have time to walk up and down the tiered streets.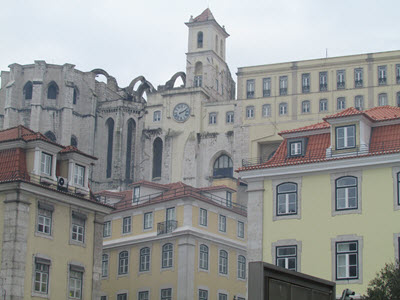 The residents of the old city maneuver the hilly landscape by climbing flights of stairs, take elevators, or ride charming funiculars, and trolleys. If you're in fairly good shape there are also hikes to explore the city's vast lookout points.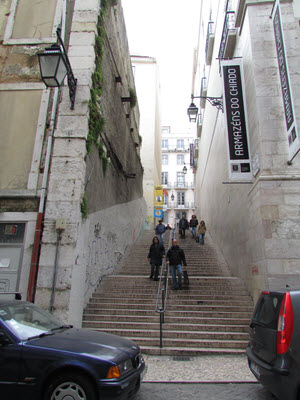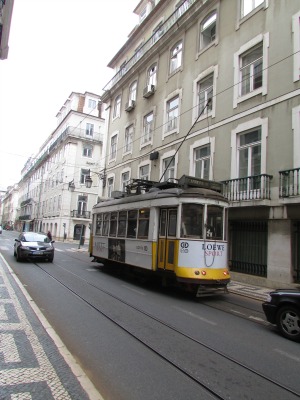 Lisbon is one of the oldest cities in Europe and the oldest in Western Europe. It predates London, Paris, and Rome by several centuries. The city was almost completely destroyed when an 8.5 – 9.0 earthquake hit and a massive tsunami swept through it in 1755.
The downtown area, called Baixa is a shopper's paradise filled with smart boutiques and outdoor cafes. I picked up a silk blouse while I was there.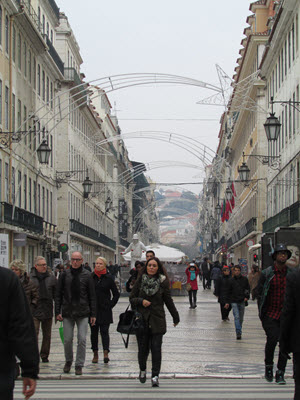 We stopped at a cafe off the Rua Augusta and had a little snack. Okay, it wasn't that little but it was tasty!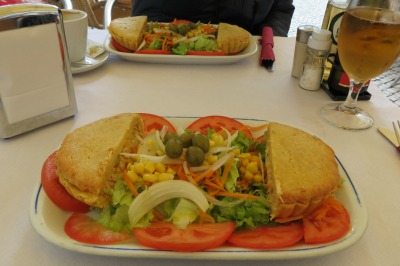 At a gift store, I purchased a can of Portugal's famous sardines and a cookbook that inspired the recipe below.
I hope you enjoy this deliriously delicious Pastéis de Nata recipe with a hot cup of coffee or tea and dream of pretty Portugal.
Check out the best things to do in the area here.
What would you like to visit in Portugal? Please leave a comment and tell us.