During the COVID lockdown, my hair, which I have colored since my mid-50s, turned half gray and I was faced with the dilemma that many women deal with as they age: "Should I keep coloring my hair or let it go natural?"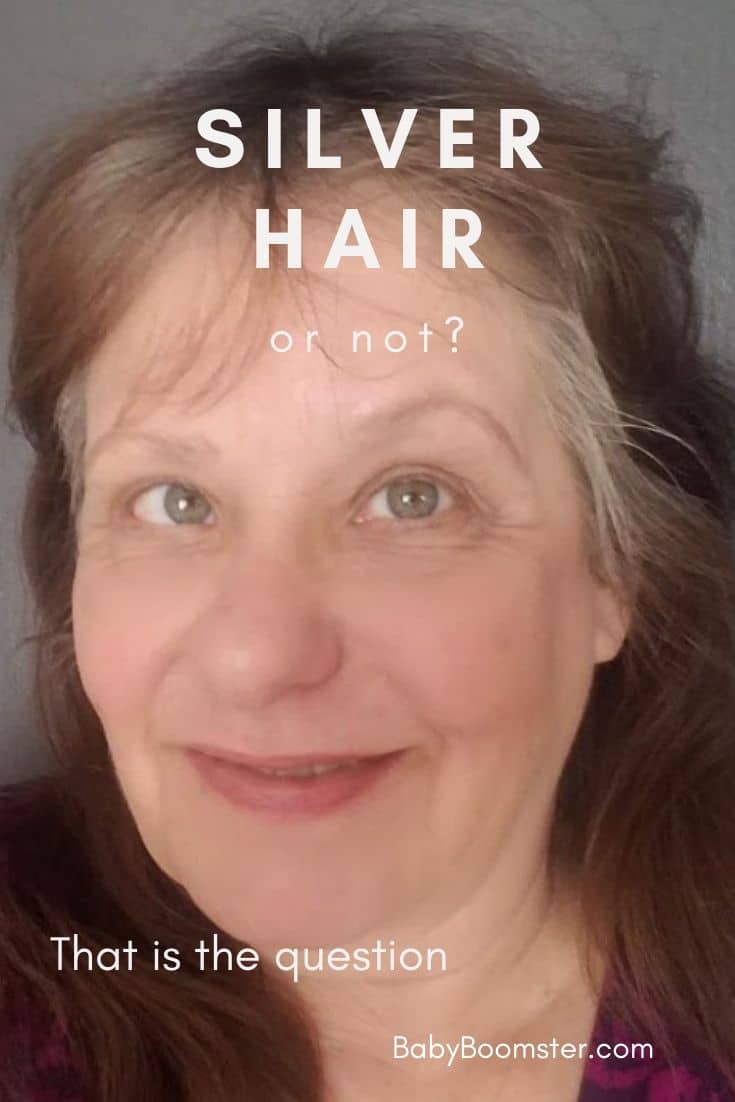 I contemplated it for a while because getting my hair dyed is always a pain in the butt. First, I am inept at doing it myself without destroying the bathroom. I also hate sitting in a hair salon waiting for the dye to take. I'd rather be doing ANYTHING else. And, who knows what the chemicals in the dye really do to your body?
If you do dye your own hair, these natural hair color formulas are gorgeous.
As soon as things relaxed pandemic-wise, and on the advice of my daughter who thought I looked shabby, I headed to my nearest Supercuts to cover my gray. I refuse to spend big bucks dying my hair.
Pre-pandemic, I used to dye my hair almost black. It was sort of harsh but I felt it looked best with my "winter" complexion. This time, I opted to lighten it up a few shades so it looked more natural if that's even possible for a woman in her late sixties. My plan is to lighten it up bit by bit to make it easier to transition if I ever decide to go full-on gray. I'm vain so I may be 90 before that happens.
I could embellish my hair with punk-style pink, purple, and blue streaks. Since I've done hundreds of anime voices over the last forty years, that might be fun. But, I haven't gone there yet. There's nothing wrong with being creative, right?
I interviewed Tracey Thomas who starred in and directed a documentary film in her 60s. Her hair was a different neon color in almost every scene. She uses a temporary rinse that lasts for about 30 washes. That's always an option.
Older women are clearly doing their thing when it comes to their hair and many are happily embracing their gray. We are no longer relegated to the archaic rule of short hair or standard hair color over 60. It's all about what makes you feel good. For me, I'm just not ready for gray hair and I'm not ashamed about it.
Silver hair women on Instagram
There's a whole gaggle of older women on Instagram who look elegant and sophisticated with gray hair. They also look incredible in clothes. If you happen to be on IG, check them out:
Their profiles are awesome!
What's the best hair length for older women?
Whatever makes you feel like YOU. There are no rules. Short hair looks lovely on many women over 50 but every time I've had a pixie cut, I hated it because it made me feel like a boy. I kept my hair long with layers for years but not long ago I whacked off three inches in my bathroom to make it shoulder length. The pandemic gave many of us haircutting skills. It wasn't perfect but it wasn't bad either. My stylist evened it out the last time I was in.
A shoulder-length haircut works well for me because I'm petite and it doesn't overwhelm me. I also lost the layers because I like the option of tying my hair back.
There are always wigs
Wearing wigs is a great way to see how you look in different hair colors, although there are now filters on smartphones that can do that for you too. But wigs are fun to try on. As a voice actor, I was thinking about trying to get some on-camera work, which I did when I was younger. Most casting directors expect older women to have gray hair to go with their wrinkles. A gray wig can easily do the trick.
Hair issues as we age
Hair dryness and thinning are common for women over 50 because as our hair goes gray, it loses melanocytes which is the substance that gives it color. That changes the composition of the hair follicle and causes it to become brittle or frizzy. Companies like Better Not Younger have formulations that address aging hair to give it more volume and hydration.
If your hair is thinning you may want to try a leave-in plumping treatment by Body Mass to add extra thickness.
My current haircut and color
What about you? Silver hair or dyed, short, long, or shoulder-length? Please leave a comment below.