I love it when women take it upon themselves to do something that they've never done before. Tracey Thomas, a Baby Boomer woman from Milwaukee, produced and directed the documentary "My First and Last Film." Now on Amazon Prime. She interviewed various people over 60 to find out how they felt about aging.
While the film was in production, Dennis, her cinematographer/ boyfriend, tells her he has ALS and cannot continue shooting or traveling. Four months later he passes away from the disease. Distraught, Tracey shuts down the film but later resumes it, as a promise to Dennis, with a new crew. At that point, the storyline takes a turn to deal with her grief.
The film becomes the story of how the documentary was made with Tracey as a first-time woman director in her sixties with zero experience in the film industry. It's done in a free-form, stream-of-consciousness style.
Below are highlights from my interview which you can watch in its entirety by clicking on the video player at the bottom of this page.
R: What did you do before you made the film?
T: I'm a retired person and have been retired since 1998. I was married and my husband and I had a business that we ran for 16 years in the tech industry. We sold the business and got divorced 17 years ago. I've been making my way all these years. Other than going to films and liking films and knowing Dennis I had no inkling of what the film industry is as far as making a film.
R: How did you meet Dennis?
T: I met Dennis in Phoenix, Arizona at the blues club The Rhythm Room that was in the film. I had met a group of people on Facebook in 2010. The group mentioned they were having this blues-harmonica 3-day festival (at the club) and told me I should come. I didn't know any of those people but they all seemed very nice, so I went and I met them.
Dennis and his friend Boomer (his sound guy) were there all 3 days filming the event. I chatted with them here and there, but I was mostly on my own with the people that I met.
R: What made you decide to make a film?
T: On my 60th birthday, I had a little party with family and friends, had a couple of drinks, and my best girlfriend said, you know, you should make a film about older women in the workforce trying to get jobs and the disparity in that and how hard it is. I said, okay, whatever and didn't think much of it.
A year went by and some not so fun things happened in my life. That film thing kind of popped back in my head. Dennis wasn't in the picture at the time because we had broken up. But I thought, I'll just call him because, who else would I ask?
He thought it was a good idea, so we went forward with it. I knew he'd be able to help me and he did. He's was a great cinematographer with a lot of experience. I think I also wanted to kind of get back together with him. That was kind of my plan and it worked!
R: What do you feel you learned from the experience of doing the film?
T: When I was working with my husband on our business we collaborated very well. And, I liked to volunteer so I collaborated that way also. I hadn't really collaborated with people in a while, so I felt like I re-learned how to do it and that I'm good at it.
I feel that I'm a pretty strong person and this film really tested me because there were some tough moments, especially in Arizona. It was super hard (emotionally) because it tested my strength. I learned that I'm still a very strong person.
Arizona is where I met Dennis and where I used to winter. It's where my ex-husband and I used to vacation. And so, it was just a whole ball of Ahhh!
It was very challenging. You can ask my crew. They might say "She was not so kind some days."
I also learned to respect the process of what filmmaking is. There's a lot involved. I had to respect the craft of what my crew was doing. I'd never been on a set or worked on a film before. It was pretty interesting to watch how talented they are and to get out of their way.
Even Dennis said to me when we first started the film back in 2015, "Respect the process and don't worry about the end result or who is going to like it. Enjoy every moment that you're doing it because that's where all the juicy stuff is. Where you're going to learn the most is to pay attention to what's going on."
I took that to heart, and I learned a lot by being in the moment.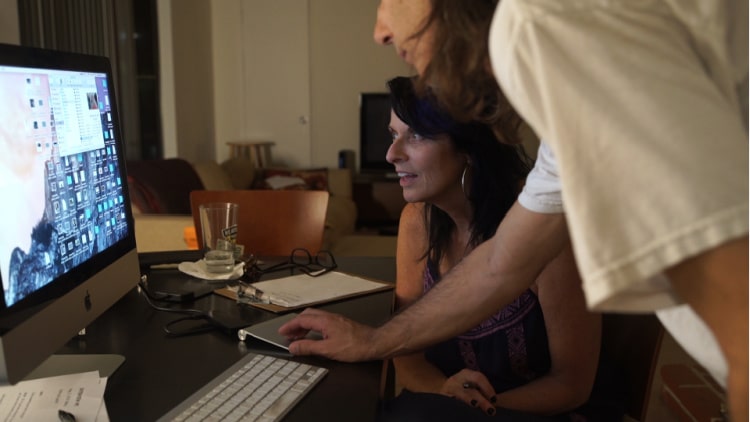 R: How did you choose the people that you interviewed?
T: I asked some friends. There were other people I didn't know. They came to me from other friends. Some came from a movement dance class I was taking. It was pretty simple. They all did such an amazing job! They had to bare their souls as well. I think some of them opened up a little more than they thought they were going to.
R: What was the overall feeling they had of being over 60?
T: For most of them, it's no big deal. They'd say, "I'm happy to be this age." And I thought, "Really! Are you sure?" The reason I made the film was because I was feeling uncomfortable. I mean, doesn't anybody feel the way I feel? Most of them were pretty okay with it. "This is great" "I can do what I want." "I'm happy in my own skin." "Age is just a number."
So, I took all that to heart as well. By the time I finished the film, my attitude and feelings had changed quite a bit. I'm a lot more relaxed now about my age.
R: What are your plans for promoting the film now that we're all stuck at home?
T: The film already world-premiered in Peoria, Arizona in early October 2019 and then in Milwaukee in late October. We've had a bunch of other screenings in town. Some local establishments had backrooms and would invite friends to watch it. We did Q & A's, a screening at an arty hotel. It all went very well.
Then our plan was to hopefully get into other film festivals. But that wasn't forthcoming, so my team decided to take the film on a road trip tour around the country.
Now we're doing a virtual tour and the film is being shown on virtual theatres across the country.
You can rent the film. It helps me and helps the theatres because we split the revenue. It's a good deal because people are at home watching movies.
R: Do you think this is truly going to be your first and last film?
T: It was such a great experience. The film title came via our editor, Carol. It wasn't the original title. She could see my ambivalence and maybe my nervousness about making the film. She knew it wasn't my true passion. So, I kind of want to say that yeah, it's my last film.
So now that you've done it, what are your plans for the future and where do you want to go from here?
T: That's a good question. My plan was to do whatever we were going to do with the film and take it on the road. Then, hopefully get it to Netflix or that kind of streaming service. Now that the film is done, and all that other stuff is being done, I want to travel, go visit my family, see the world, see the country. But that's kind of on hold right now.
My future is kind of looking like . . . I don't know. Like everyone else . . . Okay . . . now what? It's making me really think about what will I really do instead of traveling?
R: What was the hardest part of making the film?
T: The hardest part of this film, was because I was telling my story, I had to really dig deep. On any film, if you're the director, you have to dig deep and not hold back on anything.
R: Did you have a script to start with?
T: There was no script. When Dennis and I started working on it in Aug, 2015, we were just going to do interviews, which we did and they were fantastic. Each day we would come back from the shoot, watch the footage, and we could see that the film could go any which way. (They planned to continue along that track)
But after he became ill, we had to stop. He couldn't do it anymore or travel. So then, the whole story changed. Dennis and I agreed that it was going to be a story about me making a film. Then, it became much more personal and much deeper and just took on its own life. It organically became what it became.
R: How did you find the crew? Were they people that Dennis knew?
T: No, Dennis and I were the only crew. After he passed away, I had to find a crew. It was a year and a half later and I thought, I've got to start making this film again because I promised him I would and I wanted to finish it.
So, I went to Milwaukee Film, which is a great organization. They run a film festival here. I knew a couple of gals there because I had volunteered on and off. I told them the story. They were very generous with their time and with their advice, and they gave me some names. One of them was Kristin, who is now my producer.
She and I met, and we clicked just like that. She's very compassionate and half my age. She made some films and worked the film festival so she kind of knows her stuff. She suggested people. We ended up with an all-female crew, which is what I wanted. And these young, talented girls! They're so open, maybe because they're in the film industry. They totally got what this film was about. It meant the world to me that these young girls thought this was an awesome film.
Did you have to raise money for the film?
T: I did not. My mother passed away and she left me some money. I knew she would appreciate it so I used that money to make the film. I felt like it was a good investment. She had met Dennis and was in the film so I thought that would be a good way to do it.
It's hard to fund a film so I'm very very lucky that I had my mother's money to use and it worked out pretty well.
Please watch the video to see some of our additional banter. We talk all about her hair, which was a different color in many of the shots, and lots of other stuff.
To view My First and Last Film and to find out more about it:
Visit the film's official site: www.myfirstandlastfilm.net
Watch the Film on Amazon Prime