Are you a woman over 50 who loves fashion and style? Do you find it frustrating to find clothing that fits your ever-changing body? Never fear! I've put together a list of stores that I believe have some of the best women's clothes and accessories that you can find online.
Whenever I go to a mall, most of the clothing I find is designed to fit a 20-year-old and not my not-so-perfect mature and somewhat voluptuous body shape. That means I spend most of my time running from store to store without much luck other than getting thousands of steps in. That's good for my fitness but I usually come home empty-handed.
Women's online clothing stores offer much more variety and you can search for exactly what you are looking for. For me, it's the best way to shop and I don't have to look at myself in a God-awful department store mirror!
You can try on the items you buy online in the comfort of your own home. If something doesn't fit, simply send it back using the physical or printable shipping label good online retailers provide. The whole process makes life easier and it's fun too.
Some online clothing stores are shady so make sure to only shop on websites you can trust and who can deliver your items in a timely manner. Believe me, I've been sucked in by online ads and have made some pretty awful shopping mistakes. Or, 6 months later your package arrives from a faraway destination, usually crushed.
I have personally vetted the online women's clothing websites below because I don't want you to have a bad shopping experience. These sites are not only trustworthy but also have some of the best selections of clothing made for a variety of body shapes and sizes.
Some of the links on this page are affiliate links to brands that I have partnered with. If you click on a link and make a purchase, I will receive a small commission at no additional cost to you. All of these sites are safe and I only promote brands I truly believe in. This helps to support the maintenance of this site and I thank you in advance. Please read my site Disclaimer and Privacy/Cookie policy if you have any questions.
My TOP online clothing stores for women over 50
To start shopping, click on the links for any of the online women's clothing stores listed below depending on your personal preferences. I personally love classic and French chic styles because they are timeless. But I also like to shop where I can get the best bargain or a great sale. These are some of my favorites and have the most variety of styles especially for older women.
Designer brands
No, I didn't include Gucci or super high-end designers because most of us want clothing that is affordable as well as chic. The designers below offer clothes that anyone, no matter what their age or style can wear and look like a fashion icon.
Subscription Box
It's fun when you can receive a special box of goodies in your mailbox on a regular basis that has been specially curated just for you.
Nadine West was founded in 2013, and delivers personalized and perfectly fitted outfits to your doorstep every month. You don't have to pay a subscription fee and only pay for what you like after you try on your items. Take a style quiz at Nadine West by clicking here.
Curateur is a membership site that offers a fashion and lifestyle subscription box hand chosen by designer Rachel Zoe each season. It was formerly known as "Box of Style." The rebrand "Curateur" is French and means an all-encompassing, curated lifestyle membership for the modern woman. As a member, you will not only receive your quarterly box of fashion but your membership also includes exclusive luxury home decor, cocktail accessories, the latest fashion pieces, the most-coveted makeup and skincare products, plus much more. You will love it! Sign up to get the newest box on Curateur by clicking here.
Love skirts instead of pants?
MustHaveSkirts.com has every sort of skirt you may be looking for including in Plus sizes. They are sorted out by skirt type (an extensive list) as well as the type of fabric they are made with. If you are having trouble finding a skirt to fit your body shape, you will find it here. Click here to see what's new at MustHaveSkirts.com
Sustainable and ethical clothing brands
A sustainable clothing brand is a company that makes its apparel using recyclable material in a way that doesn't damage the environment. An ethical clothing brand is a company that does not sell clothing made by exploited workers who work under shoddy or unsafe conditions.
LACAUSA is a Los Angeles based clothing company that is ethical and environmentally conscious. They employ fair work practices and use materials that are low waste. Their styles are made with natural fabrics that are comfortable as well as stylish. Shop with a conscience at LACAUSA Clothing by clicking here.
Need a personal stylist?
It's not always easy to find the right styles based on your body shape and lifestyle when you go shopping for clothes. A trained personal stylist can make a huge difference.
Nordstrom Trunk Club is a personalized mid-to-high-end men's and women's clothing service based in Chicago, Illinois, United States. As a customer, you will work with a specialist who will find you the best clothing styles for your body shape that are fashionable and classy.  Your purchase will then be shipped to your home. If you are satisfied with your items, purchase them outright or send them back to Trunk Club.
About Nordstrom Trunk Club
• Their service exists to give you a jolt of confidence knowing that everything you're wearing just works.
• It is designed for smart and savvy people looking for quality clothing that will make you feel and look great.
• They are the only retailer that offers personal attention and expert styling advice delivered to your door with the highest standards of customer care.
• You will feel fabulous about how you look and find that the process to be effortless and fun, no matter how you prefer to shop. That is Nordstrom Trunk Club's core mission.
About the Process:
• Nordstrom Trunk Club stylists are a team of fashion and style experts who understand that the right wardrobe can help you land a job, feel more confident, or simply free up time for more important things than shopping.
• Stylists are real people with diverse backgrounds ready to serve both women and men for any need, occasion, or styling challenge.
You'll only pay for what you keep.
• There is no fee to sign up.
• Each Trunk has a $25 styling fee (waived for Nordstrom cardmembers) that's credited toward your final purchase.
About the Merchandise:
• They carry top-quality men's and women's clothing for everything from the workweek to the weekends.
• Many of the same brands you know and love from Nordstrom and Nordstrom Rack are also available at Nordstrom Trunk Club. Get personal attention from an expert stylist at Nordstrom Trunk Club by clicking here.
Look gorgeous in your workout clothes no matter what your age
If you wear stylish workout and casual clothes you will feel better about yourself and they will still be comfortable.
Athleta – Rock your sweatpants when you exercise. There's no need to look like a schlump. Athleta has all you need to look sharp on a hike, at yoga class, in the pool, or on vacation. They also have casual clothes to hang out with, shoes, accessories, and the best women's workout clothes. Shop activewear and workout clothes at Athleta by clicking here.
Great sweaters, cardigans, and wool coats!
The stores below sell all sorts of items but their sweaters and cardigans are outstanding.
Love to be different? Find unique, homemade, & vintage
Are you tired of the ordinary and want something you can't necessarily find elsewhere. Shop small businesses in one online space.
Etsy – If you're looking for clothing, jewelry, handmade made goods, BOHO, and vintage items that are out of the ordinary and well-made you can find them on Etsy. They have everything from gorgeous bracelets to doggie supplies. It's an amazing shopping space for goods from artisans and crafters. Shop on Etsy for unique clothing, home goods, and more by clicking here.
Jane is a fun online marketplace of small businesses and boutiques that offers discounts and daily deals. They have classy clothes for all ages as well as jewelry, accessories, kid's items, home goods, gifts, pets, and more. Their #Janeforgood campaign donates to good causes. All of their items are affordable. If you're looking for great gifts, you'll find them here. Find clothing, gifts, and more on Jane.com by clicking here.
Get great fashion and accessories discounts and deals on these sites
Who doesn't love discounts and deals on designer clothes and accessories? These online shopping sites are amazing!
Living Social – Find deals on women's fashion that you may not be able to find elsewhere.  Limited-time sales will get you the best bang for your buck.
Groupon – This company owns Living Social so you can find different deals on each site. Check them both out.
Unique Jewelry for a finishing touch
Diamonds may be a girl's best friend, but unless you are super-rich, you probably aren't collecting new "jewels" now that you are over 50. The companies below offer handmade and unusual jewelry you won't find elsewhere.
Find lingerie & shapewear that fits you
You can have the best women's clothes on your body but what you wear underneath makes all the different in how those garments look. Mature women have special body needs so fit and quality are all important.
Stylish eyewear can make your outfit standout
Quality eyewear is super important especially when you're older. The online shopping sites below have solutions for your needs from sunglasses, eyeglasses, to reading glasses.
Blue blocking eyewear to protect your eyes when you use electronics
Do you work on your computer or use your phone all the time? It's easy to get eye strain. Blue-blocking technology used in eyeglasses or readers will protect your eyes from eye strain and help you sleep better. The companies below offer high-quality glasses.
Swanwick has designs for day and for night. Multiple studies have been done on the effectiveness of blue-blocking eyewear and Swanwick is the only company to have been independently and scientifically validated by these studies. See all of the Swanwick designs available by clicking here.
Eyebobs has fashionable designs in their blue-blocking eyewear line that are gorgeous! Check out their latest styles here.
Purses and travel bags
The perfect handbag will make your outfit but they don't have to be super expensive. And, when you travel you want to make sure your personal items will be safe. The sites below offer a large variety of choices at reasonable prices.
Ebags has everything you need from purses to luggage.  What many people don't know is that they also offer clothing, sunglasses, shoes, gloves, watches, and travel items all at reasonable prices with a long list of top brands. Find the suitcase, handbag, and accessories you need at Ebags by clicking here.
baggallini – One of my favorite brands for travel purses and wallets is baggallini. They have RFID theft protection built right in. All of their items are light , well-made, easy to carry and wash, and have lots of compartments. Buy travel purses and wallets at baggallini by clicking here.
Stay warm and protected in high-quality outdoor wear
Whether you live in a cold climate or are traveling to one, you need warm coats and outdoor wear to keep you toasty and comfortable. I have often traveled in winter to beat the crowds that swarm in summer.
Columbia – Are you looking for a cozy parka to wear in cold weather, hiking gear, or other outdoor wear? Columbia has some of the best women's outdoor clothing. I love my Columbia down parka and have taken it to Europe during the winter several times. It's light, thermal, (using Omni-Heat Reflective material), and is solidly constructed. Columbia has a large assortment of outerwear, footwear, layering components, vests, apparel, hats, and accessories. They also offer Plus-sizes. The company is based in Oregon. Shop parkas and outdoor wear at Columbia by clicking here.
Your feet will love you in these comfortable and stylish shoes
If you are a woman over 50, you know that COMFORT is king when it comes to shoes. But, there's no reason they can't look classy too. It makes no sense to risk falling off 6-inch stilettos or suffering a backache just to look glamorous. The following brands are dedicated to shoes that provide comfort, support, and overall foot wellness but still look attractive and on-trend
***The most extensive selection of shoes can be found at Zappos. If you are looking for a particular brand, you can find it here. It's your one-stop-shop for shoes. Take out the frustration of shoe shopping for high-quality shoes with fast delivery. Check here to see what's new at Zappos.
When it comes to comfortable shoes can't go wrong with these companies
The brands below are well-known for comfortable shoes that are stylish and affordable. You can't go wrong with any of them and your feet will thank you. Click on the links to visit their sites.
The shoe store that has everything!
Supporting small women-owned clothing businesses
I love women who have an entrepreneurial spirit. The businesses below are woman-owned and operated.
Please share this image for Best Women's Clothes and Accessories Over 50 on Pinterest
This page was updated 10/2021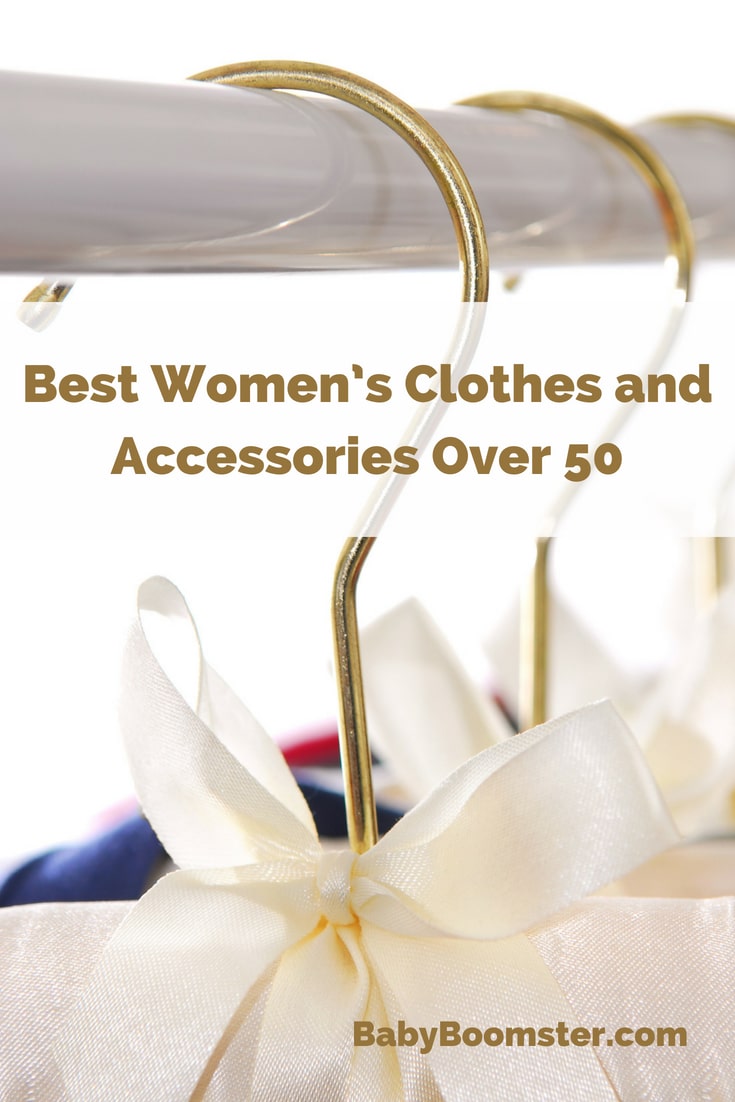 More Shopping
  Fashion Over 50 | Beauty & Skincare |Travel | Blogging and Tech |  | Special Occasion Gifts | Life Long Learning |  Health |  Etsy | Favorite Amazon Books