I am now in my late sixties and there are certain items of clothing I have given up wearing because they don't make sense to me anymore. I still love fashion and looking chic even while we have been sequestered in our homes and relegated to casual attire. But even when we are free to socialize and dress up for events, there are still some items I won't be going back to.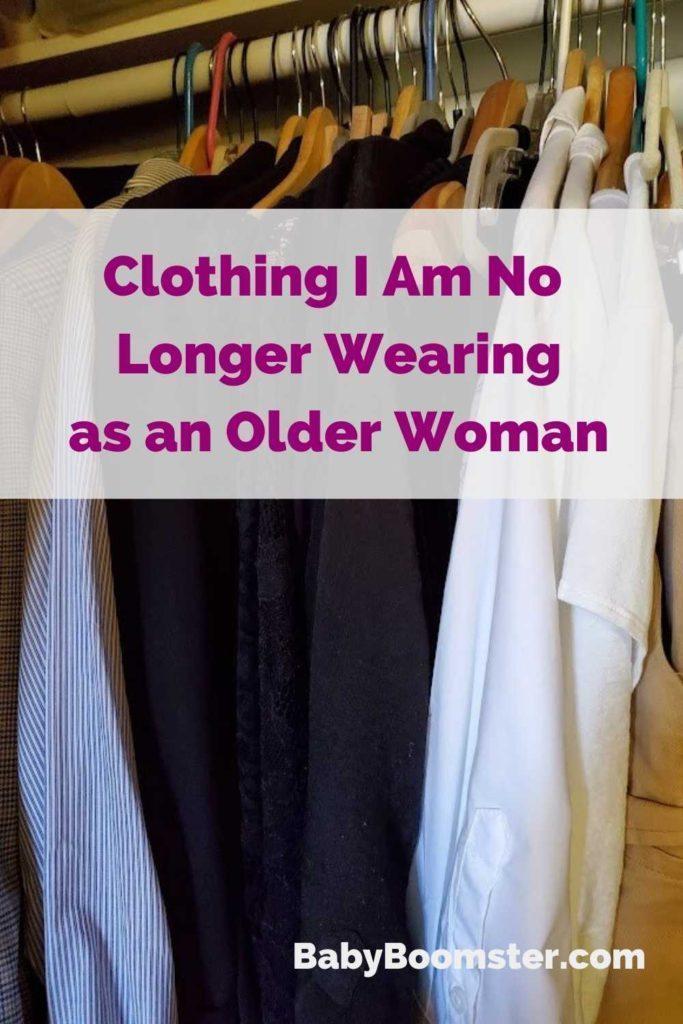 Uncomfortable shoes
Older celebrities wear 6" stilettos all the time from Jane Fonda who is in her 80s to Carole King in her late 70s. However, I'm sure they slip them off as soon as the camera is no longer pointing at them. We must be realistic. Even when I was young, I thought wearing high heels was not much different than binding your feet. They make your legs look long and lean. . . sure. . . but one false move could spell disaster.
I always opt for comfortable shoes as a wardrobe priority. According to reflexology, we all have pressure points on our feet that correspond to various body parts. When you crunch your feet into heels those body parts will hurt as well.
I wear flats almost 100% of the time. They can be just as stylish and don't make me look like a Babushka. Instead of expensive Louboutin's, I live in sneakers, loafers, low ankle boots, or sandals. A one-inch heel is my maximum even with my favorite cocktail dress.
For the best selection of shoes and free shipping shop at Zappos by clicking here.
Shapewear
Scarlett O'Hara had to scrunch herself into corsets but I'm sure her mother did not. As much as I want to smooth away lumps and bulges with shapewear, I'd rather breathe. I bought a shapewear camisole recently and could barely get it over my head. Why should I torture myself to look slimmer when I can create optical illusions with my clothing instead?
Our mothers wore girdles and I remember wearing one in middle school to hold my stockings up. But after that, no thanks. I let it all hang out.
Bras with bones
I wear a 38D bra. When I was young, before I had children, I wore a 32 B. The girls blew up but when I stick them in a bra with bones I end up with bruises. I now wear wireless bras because they are soft and comfortable. They hold the girls up without the pain and keep my nips from popping out when it's cold. If I never wear a bra with bones again, I will be perfectly happy.
Find the perfect shapewear, bras, and panties at Third Love by clicking here.
Leggings
Yes, that's right! I have given up leggings and wrote about why in a previous post. They are comfy for sure, and I wore them for years, but I need discipline in the eating department, so I am taking time out from wearing them probably forever.
Fat clothes
Remember when Moo Moo's were in style? Our moms used to wear them when they gave up wearing girdles. They are roomy and airy, but they also make you look HUGE!
Most of us with big bellies wear oversized blouses that aren't tucked in. I did that for the last couple of decades. But now, I realize a French tuck here and there layered with a tailored jacket is much more flattering. Those of us with imperfect bodies don't have to look like Omar the Tent Maker's wife.
Stockings
Hose are passe but tights are still okay. Or leggings under a dress to stay warm. What would I know, though? I live in California.
Bikini
Oh, I wish! Some older women can pull it off. They may have the bods but there are still wrinkles, stretch marks, or whatever to contend with. To be honest, I avoid showing up at a pool or beach in a bathing suit, but if I must wear one, I wear a one-piece. A single color or tiny print usually looks the most flattering and swimsuits are available for most body shapes. I've learned that swimsuits with big prints are not the best choice for most women.
Miniskirt
Oh, I wish, again! I wore miniskirts every day in high school that were ten inches above my knee. But even though my legs still look pretty good, a mini is tacky on women of a certain age. Knee-length skirts and dresses are the most flattering for all ages and body types.
Big Ass Earrings
I'm a minimalist when it comes to jewelry and big earrings hurt after a while. When I get them caught in something, they almost tear my ear off. I stick to studs or small drop earrings and leave big gaudy earrings to Cher.
Oversized purse
I pack sunglasses, reading glasses, billfold, phone, water bottle, keys, lipstick, hand sanitizer, masks, and a few other things into my purse so a tiny one doesn't work for me. But a large one overwhelms my petite (5'2") frame and hurts my neck and shoulders after a while. A medium-size, preferably structured crossbody bag works best for me and the more pockets the better.
Eyeshadow
I've minimized my makeup as I have gotten older and only wear what is necessary because it makes me look younger. And even though I sold makeup for 10 years, I stopped wearing eyeshadow altogether. If I do, I wear a creamy nude shade.
Dark smoky eyeshadow gets into my eye cracks and looks harsh. I will wear eyebrow pencil, a little mascara, and a little highlighter under my brows but that's about it. After wearing contacts for 50 years and always rubbing my eyes eyeshadow turns me off. Plus, it's easy to get into my tear ducts and cause an infection.
You may disagree with the choices I made above, but they are my personal preferences.
Have you given up anything you used to wear now that you are older? Please leave a comment below.