Where I live in Los Angeles, casual and comfortable shoes are standard items that we wear throughout the year. It's cool to be stylish but after the age of 50 or so, sore and aging feet can cause serious problems with your posture and balance.
One fall could send you to the hospital for a hip or knee replacement. But even if nothing serious happens, you don't want to end up with painful corns, bunions, or heel spurs that will ugly up your twinkle toes.
This post was originally published on 6/18 and was updated on 5/2022.
To help you stay as pain-free as possible I've picked out some of my favorite comfortable shoes your feet will love you for.
White sneakers are stylish
Comfortable shoes do not have to be ugly. White sneakers are always chic and look amazing with a nice pair of jeans or slacks.
These classic white and black Adidas Superstar Sneakers are not only superstars but are comfortable as can be. You can find them at Zappos and Nordstrom.
Find more Adidas sneakers here.
I bought these White Sketcher Summits at Macy's. They are easy to slip on and off because they don't have real laces. I love that they are made of mesh and are breathable.
See what's available in sneakers at Macy's here.
If you're plagued with Plantar Fasciitis pain or have low arches, you may want to try on a pair of Brooks Addiction™ walkers. In addition to white, they come in a variety of colors. The rear and forefoot of the shoe have been designed with Hydroflow technology that will cushion your feet from shock and put less stress on your plantar ligament.
Black sneakers as a wardrobe staple
White sneakers aren't always appropriate so it's always a good idea to have a pair of black sneakers as a basic wardrobe item. These black sneakers by Clarks are supremely comfortable and they have a fun design.
Walking and hiking shoes
If you love walking or hiking, it's important to wear sturdy and comfortable sneakers that are made for rough terrain.
I bought a pair of Saucony Grid® Omni Walker's because they were highly rated, reasonably priced, and recommended for people who have high arches like me. They also have extra cushy padding that I love! I wore them while I hiked around Lake Louise in the Canadian Rockies and they were amazing!
Ryka is another brand of sneakers I truly love. They are also recommended for high arches and are breathable because they are made with mesh. I wore them on my last trip to Mexico where the sidewalks were uneven and made of cobblestone. They kept me upright the entire time because they're sturdy and supportive.
If you have low arches or flat feet, look for sneakers that have less of a heel drop. Try these Brooks Adrenaline from Zappos. They have the best cushioning and support for flat feet.
Must have loafers
Stilletos may be in but wearing classic loafers is a much more practical and comfortable option. Aerosole has some fun lug sole shoes that will add flash to your outfit and are easy to slip on and off.
This pair of Lilia loafers have sturdy lug sole tread that will allow you to walk the cobblestones of Paris in style.
Sperry makes super comfortable loafers and boat shoes. I have a pair of black Women's Seaport Penny PLUSHWAVE Woven Leather Loafers and I love them. They were comfortable shoes right off the bat. These are made of suede with decorative holes so your feet can breathe.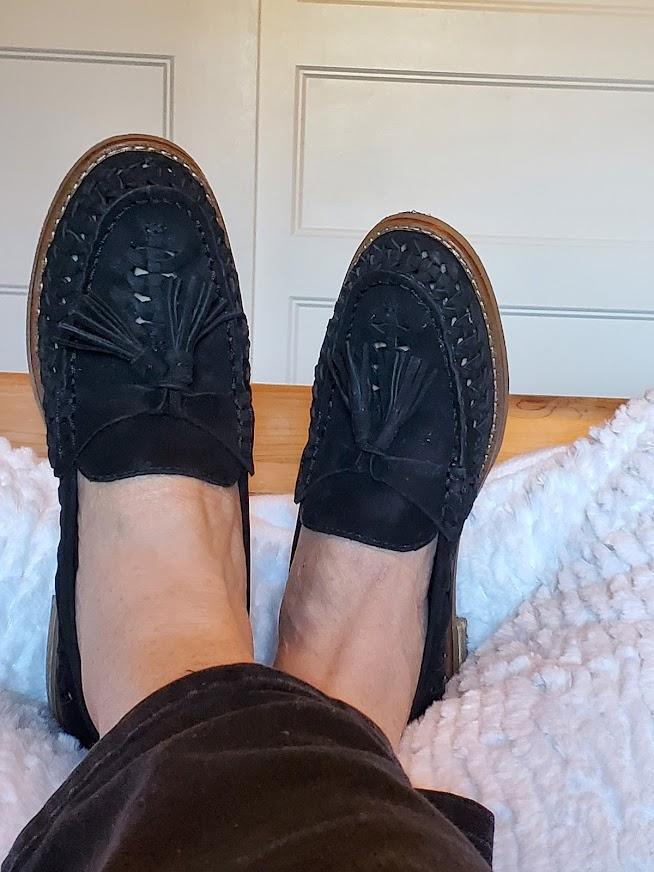 To find more of what Sperry has to offer, click here.
If you need comfortable shoes for standing all day, then you will love May Marigold slip-on loafers by Clarks. They're made from extra-soft black leather with stretch gores, fabric/leather linings, OrthoLite® footbed, TPR outsoles, and have sculpted low heels. Walk pain-free with plenty of support.
I have a pair of these Me Too Yardena Loafers in Leopard and I always get compliments on them. They're comfortable and snazzy. I love leopard prints because I was born to be wild. LOL!
Casual espadrilles
Toms Shoes is best known for its slip-on shoes. They come in all sorts of designs depending on the season. These Alpargatas in navy are cool, casual, and comfortable.
Click here to view Toms Shoes here.
Ballet Flats
Ballet flats are wonderful when you want comfortable and flat shoes that will look great for a more dressy occasion.
These Tory Birch Georgia ballet flats in taupe will go with everything in your wardrobe.
And if you want ballet flats to travel with that are stretchy try these Tory Birch Minnie Ballet Flats from Zappos.
Sandals for sun lovers
The most important thing I look for when choosing sandals is to find a pair I won't fall out of. Nothing can ruin your day or a trip like having a klutzy toe-jamming experience from shoes that malfunction.
Pikolinos has fine-made leather sandals and shoes that are super comfortable. These Puerto Vallarta-style sandals make you want to go to Mexico and party!
According to podiatrists, Teva Hurricane XLT2 is way up on the list for walking sandals and they will last forever. They have FloatLite technology that makes it feel like you are walking in clouds.
Clogging it
Clogs are more for hanging around the house than for going out in.
Renowned dancer/choreographer Debbie Allen has picked out her favorite comfortable shoes for Easy Spirit. Perfect for hanging around the house or for getting through airport security.
Find more Easy Spirit clogs on Zappos here.
Please share this image on Pinterest.
What is your favorite brand of comfortable shoes and why? Please leave a comment below.