For the last 2 years since the pandemic, there haven't been many opportunities for mature women like us to dress up in elegant cocktail dresses for special events. Fortunately, more activities are opening up. So whether it is a holiday event, a wedding, or a party, every woman over 50 should have at least one cocktail dress in her wardrobe.
However, they're not always easy to find when you have a not-so-perfect aging body. It can be challenging to feel glamorous in an evening dress if it isn't appropriate for your body shape or if you've gained excess weight.
As older women, most of us have bulges, flabby arms, and other imperfections that need to be covered up. Below, you will find suggestions for cocktail dresses that are designed to look sophisticated and flattering on just about any figure.
This post was originally published on 11/2017 and updated on 2/2022
Cover up your flaws
One thing I look for in an evening dress when I shop at a store is sleeves. Most are skimpy and sleeveless, made for tight little twenty-year-olds or celebrities with a standing appointment at the plastic surgeon.
If you have a large bust, a V or scoop neck neckline usually looks best. However, the trend to wear a V neck down to your waistline, as we see on many of the award shows, is frankly, pretty tacky. Even over 50 actresses are wearing them. I think they look skanky even on 20-year olds, but that's just my opinion.
Older women who have fabulous legs can get away with a mini skirt but most of us look best wearing knee or calf-length dresses.
Stockings have become passé. But, if you wear them, make sure they match your skin tone. Avoid cheap stockings in colors like "suntan." Remember Leggs? Wolford support tights look natural and give you needed support at the same time.
Where to shop for the best evening attire
Nordstrom is one of my favorite stores to shop for cocktail dresses because they have a large selection of high-quality evening attire. The store has attentive customer service and offers free alterations for Nordy Club members. They'll even allow you to bring in clothing for alterations that weren't purchased there.
View Nordstrom's current cocktail dresses here.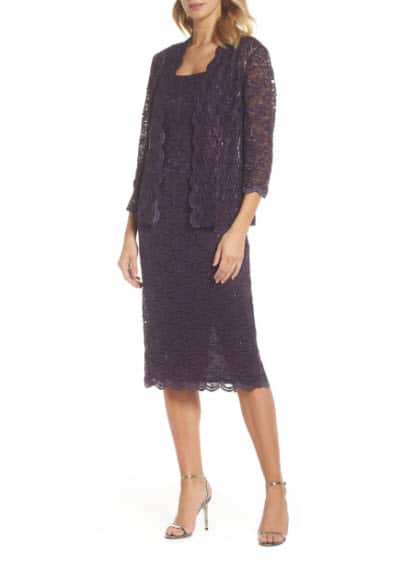 I have an apple shape, meaning my stomach sticks out and found this beautiful Tommy Hilfiger dress at Macy's. It has an A-line cut, V-neck, is knee-length, and has long sleeves.
Find more gorgeous cocktail dresses at Macy's here.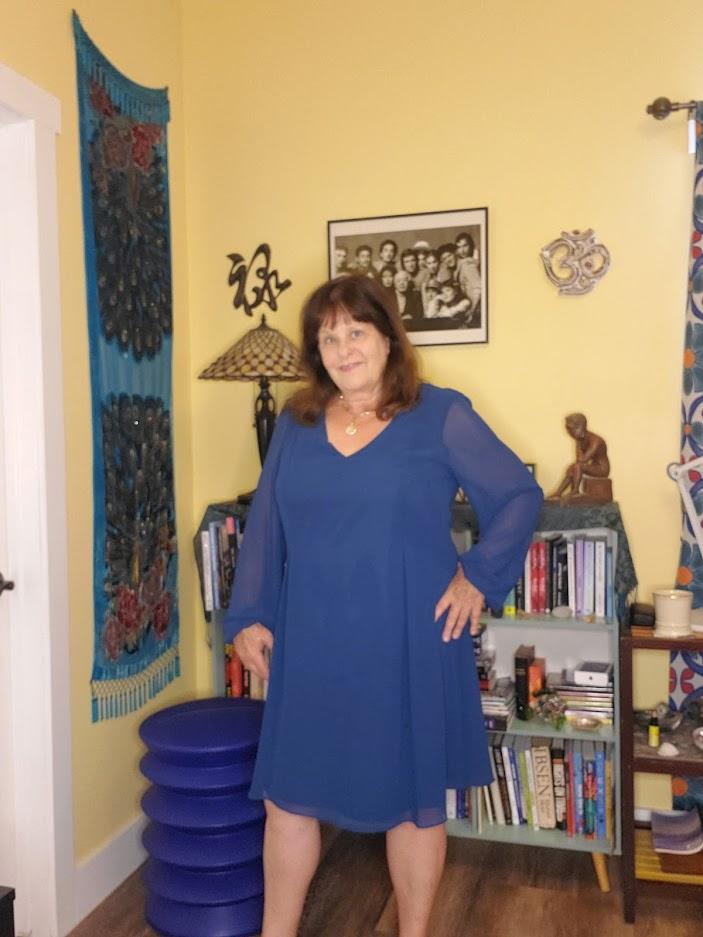 Most of the dresses you see below are available in larger sizes because not too many of us who are older women can wear a size 2 anymore or even a size 10. The advantage of shopping for clothes online is that there is more variety and you can filter out exactly what you want without having to look at yourself in an ugly dressing room mirror. If you don't like the dress you ordered once you've tried it on, most trusted stores will let you mail it back to return or exchange it.
Tell me what you think of these gorgeous cocktail dresses!
And, of course, you can't go wrong with a little black dress.
You'll need stylish shoes to go with your dress
If you feel the need to wear stilettos with your cocktail dress, good luck, but I'd rather be comfortable and not risk falling. The shoes below have lower heels so your feet won't be aching after a long night of partying but are still stylish. Click on the images below for more information.
You can also find a wide variety of fabulous evening shoes at Zappos.
Find more of my favorite online stores for beauty and fashion over 50
What do you look for in a cocktail dress, or do you prefer to wear pants, instead? Please leave a comment below.