After wearing masks, I'm not all that excited to wear a lot of makeup again, but sometimes, it's necessary. Fortunately, for women with mature skin, it doesn't have to be complicated. You can wear minimal makeup to highlight your best features and it will surprisingly make you look younger than you are.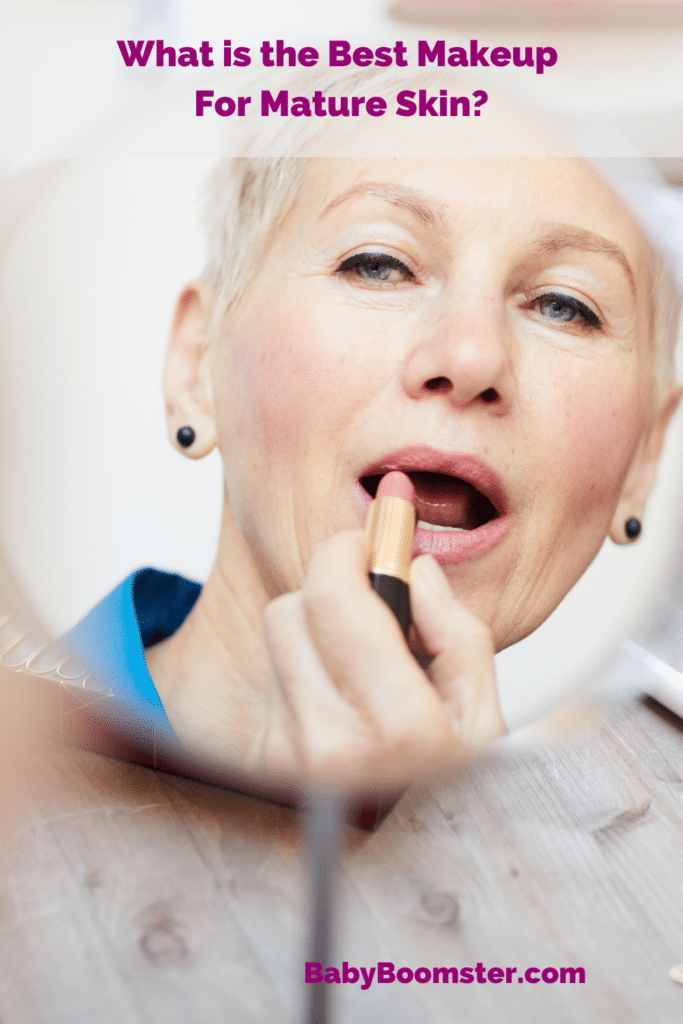 Most importantly, start with excellent skin care
I get to try on different skin care products as an over 60 blogger and so far, my favorites have been AHAVA, Murad, Neostrata, and L'Oreal. But sometimes a less expensive drug store brand, like CeraVe, hits it out of the park. When your skin is hydrated, years drop off your face.
If you really want to improve your skin without having to go to an esthetician read my review of the Nebulyft RFMEMS Beauty Device you can use at your home.
Another thing I've found is that even though herb-infused "all-natural" brands are the "in" thing, many of them have been disappointing and get rancid after a while. I recommend you stick to brands you trust that include botanicals but are tested by science.
When it comes to makeup, think minimal
You would be surprised how much well-hydrated skin along with a few minimal makeup touches will brighten up your face and make it look more healthy and gorgeous. And why not be proud of some of the lines and wrinkles you've earned over the years? French women are known to wear very little makeup and embrace their age by taking good care of their skin.
The best makeup products for mature women
Foundation
Too much foundation on a mature woman over 60 reminds me of Marie Antoinette during the late 18th century. When you are wearing a base that is packed on thick, it makes your lines and wrinkles look worse. Instead of a full-coverage foundation, I love to wear a tinted moisturizer like Laura Mercier's or a light CC cream to camouflage my facial flaws. My absolute favorite is It Cosmetics.
Eyes
Wear sunglasses! LOL
But seriously, I have almost no eyebrows, probably because I plucked them in the 70s, and have tried many eyebrow pencils as well as powdered tints you brush on. I finally settled on Clinique's Instant Lift for Brows because it has a soft and easy-to-apply pencil. On the other end of the stick is a nude and slightly sparkly highlighter that you can apply just under your brows to highlight them. I've come to the realization I'll never have brows look like Brooke Sheilds unless I use a magic marker so why try too hard?
I personally don't love powdered eye shadow because for almost 50 years I wore contacts. After having cataract surgery to fix my vision, I no longer need my lenses but my eyes are still sensitive. If I wear eye shadow at all, I prefer a cream shadow in a nude or slight shimmery shade to make my eyes stand out. It's amazing how soft and sexy natural or naked eyelids can be if you strive for minimalism or just leave them alone.
I'm not into smokey or dramatic eye colors now that I'm older. Part of the reason is that my eyes are small and deep-set but, in general, I think dark and heavy eye makeup makes older women look like Gloria Swanson in Sunset Blvd.
One shade lighter than your natural skin tone always looks subtle and beautiful. However, if you have HUGE Bambi eyes, you can probably wear anything on your eyes and look good.
I still haven't found the perfect creamy eye shadow brand but Clarins Ombre Velvet Cream to Powder eye shadow is pretty darn close. Some cream eye shadows dry out or get stuck in your eye creases after a while. Clarins sets as a soft powder giving it a matte finish.
Mascara has always been my least favorite makeup product because of my sensitive eyes. But, I know that it is essential to bring out my eyes for a finished look. It's easier for older women to develop eye problems like conjunctivitis, or tear duct problems so you have to be extra careful wearing any type of eye makeup and always remove it when you go to bed. Neutrogena Oil-Free Gentle Eye Makeup Remover works just fine. Mary Kay Oil-Free Eye Makeup Remover is also excellent if you have a rep in your area.
I look for brands that are made for sensitive eyes and only apple a minimal amount of eye makeup. e.l.f. mascara is very affordable and is easy on the eyes. You may also want to try L'oreal Paris Age Perfect Lash Magnifying Mascara which is also ophthalmologist tested and suitable for sensitive eyes.
Cheeks
The best blush, in my opinion, is a touch of sunshine. LOL! I go for walks in the morning before the sun gets harsh so my cheeks glow. However, when I need makeup, I like wearing cream blush.
Clé de Peau Beauté cream blush is on the expensive side but is amazing. For something more affordable, try e.l.f. Cosmetics Cream Blush Palette. It gives you more of a dewy look that is youthful.
Lips
When I'm not wearing a mask, I wear a soft shade of lipstick. I know many women love bright red Marilyn Monroe lips but if you plan to eat, it's not very practical and can look harsh. Don't get me started about what it looks like when it smears.
Mature women look best in natural tints like rose, blush, apricot, or nude. I look for brands that moisturize my lips. Long-lasting formulas are often drying. Again, my go-to is L'Oreal. Their Age Perfect Luminous Hydrating Lipstick and Nourishing Serum is formulated for mature lips.
Studio 10 is a lipstick line that impressed me and is very moist. It's a British makeup brand designed for mature women. I love that their Wake Up and Glow Lip and Cheek Tint does double duty on your lips and cheeks.
If you are concerned about ingredients, especially since lipstick goes directly on your mouth, try a tube of Honeybee Gardens Truly Natural Lipstick which you can find at Walmart. It's made with organic cacao butter rounds, sesame, sunflower, and castor seeds. Their "Bermuda" shade will look flattering on just about any woman whether they are fair or dark.
Keep it Simple Sweetie is my motto. KISS
Do you wear minimal makeup or do you go all out? Please leave a comment below.