I'm over 60, not skinny, petite, and am a combination of both apple and rectangle body shapes. There are 4 basic body shapes in fashion. They are apple, pear, rectangle, and hourglass. An apple shape carries her weight in the stomach and has either large or small breasts and slimmer hips. Many have great legs. Think Kate Winslet or Drew Barrymore.
I originally thought I was an apple shape because I have a high waist making my belly protrude. However, after consulting several online body shape calculators, I learned I am actually a rectangle. That wasn't surprising because as a kid I was skinny as a rail with slightly broad shoulders and not much waist definition.
As I grew older and put on some weight, it went mainly into my tummy, which is the main problem area that apple shapes have.
Do you know your body shape?
Determining your correct body shape can be tricky because there are so many factors to calculate such as height, waist placement, leg length, etc. For the most part, you can figure it out based on your measurements. You can also go more in-depth by taking a Kibbe body shape test which features 13 shapes but let's keep it simple.
Most of the clothing you find in stores is designed for tall and thin rectangle-shaped models. Their hips and bust are similar in measurement without a clearly defined waistline. A slim rectangle has more of a boyish, or athletic body and can wear almost anything. Think Jane Fonda or Cameron Diaz. But, when a rectangle puts on some weight, like me, it's easy to look like a sausage without proper styling.
Pears have narrow shoulders, slim arms, a smaller bust and waist, larger hips, and sometimes thicker legs. Kim Kardashian and Jennifer Lopez are pears and often accentuate their voluptuous butts.
Hourglass figures have an ample bust, tiny waist, and curvy hips. They have what is known as "the perfect sexy figure." If you remember, 36″ x 24″ x 36″ was considered ideal when we were growing up. Think Mae West or Lynda Carter.
You're the apple of my eye
If you scroll down in the photos below, you will see styles that I picked out for myself because my problem area is my stomach. They aren't expensive couture designs because I'm on a budget and have limited closet space. I have a recording booth in my closet for my voiceover career which leaves me about 4 feet in my closet for clothes.
Apple shapes are all about the top
If you want to detract from your tummy, it helps to wear a V or scoop neck top. Show off your best assets especially if you have cleavage.
And because apple shapes have tummies that often protrude, it's best to wear tops that have fullness at the bottom. Side slits are helpful as well as an uneven hemline where the back and front are different lengths. An empire waist, ruching, a wrap, or a tie at the bottom of a top can also disguise your gut.
If you have toned arms you can go sleeveless but if not, short or long sleeves are the most attractive. I love 3/4″ sleeves because I'm the first one to get my sleeves in my soup. However, that length ends at the exact spot you want to draw attention from, so be careful.
Here are examples of the tops and blouses I found that work for me
Click on images to view full size.
Finding dresses to fit an apple can be a challenge
An A-line shift or empire dress will usually work well for an apple shape. And, even though apples often have great legs, it's best to stick with knee-length dresses because they're always classier.
A long light jacket over your dress will help disguise your tummy. As with tops, a V or scoop neck, especially with some type of embellishment, or a long necklace or scarf, will divert attention away from your tummy to your best features.
Other ways to disguise your middle
Wearing dark monotone colors on your top and bottom with a lighter jacket gives the illusion of having a smaller middle. You can also wear the same light color on the top and bottom with a darker-colored jacket.
Keep prints small and geometric. Large prints add bulk to your stomach area. Simple patterns are always the most elegant.
This Boho-style long tunic from Curateur below is dramatic and covers my flaws with a black top and bottom underneath. The print is large for my petite frame but my monochrome clothing underneath breaks up the pattern.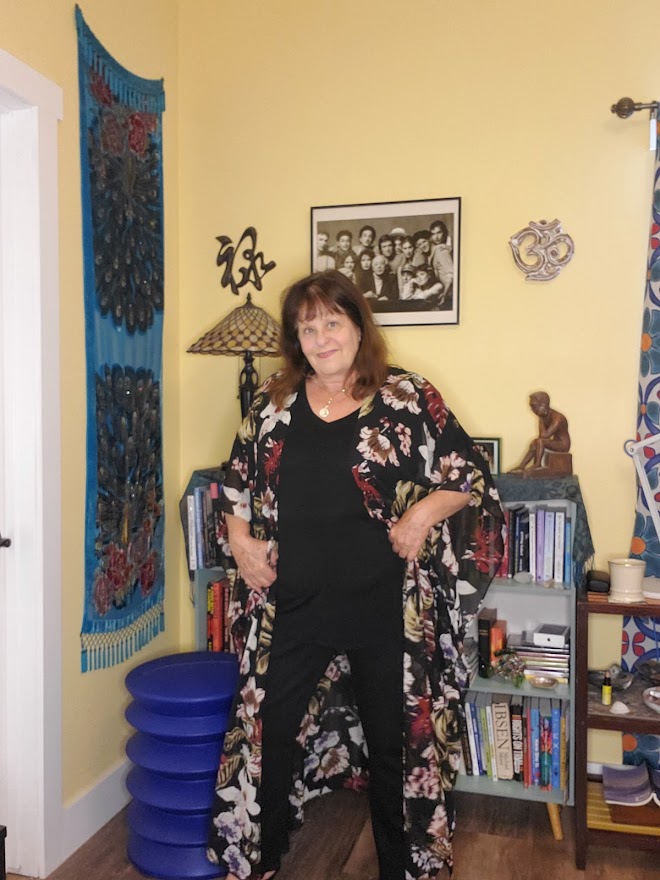 Breton stripes are French and chic but if you are an apple shape it's better to wear your stripes vertical rather than horizontal. Still, you have to be careful wearing stripes. Small stripes are much more flattering for an apple shape than large ones. Sometimes diagonal stripes or optical illusion patterns will slenderize your waist but if you aren't careful they can accentuate your stomach.
I recently bought a vertical French-style top on Amazon because I love the detail in the neckline and its vertical stripes. However, because I have a short waist, I need to shorten the hem and give it side slits to make it roomier.
What are the best pant styles for apples to wear?
I prefer high-rise pants because even though mid-rise is often suggested for apple shapes my short waist makes them less comfortable. The important thing about pants when you're an apple shape is to avoid pleats, big pockets, or protruding zippers. I prefer bootcut, flared, and skinny-legged jeans and pants. Wide-leg pants descending from a wide waistline can make you look boxy especially if you are short.
Apple shapes often need a larger size on top and a smaller size on the bottom. It all depends on the outfit.
Keeping it affordable
I've found sales at Macy's, Nordstrom Rack, Ross Dress for Less, Steinmart, and Amazon. But, I've also found great finds at thrift stores. I live near Pasadena where there are plenty of rich ladies who "donate" their clothes and some are never worn or lightly worn. I've found Bob Mackie and other top designers in "ladies auxiliary" type thrift stores. Many items have intricate detail that you won't find in a department store. It's worth a look, right?
Links to some of the clothing I wore for reference
Online best places to shop for high-quality clothing and often great deals:
Have a professional stylist find you the best styles for your body shape at Trunk Club by Nordstrom.
What are your biggest obstacles to buying clothes? Please leave a comment below.