I love the way the women in France dress. They always look so put together and elegant even when they are in a casual setting. My wardrobe was getting frumpy after almost 2 years of lockdown and because I've lost a few pounds, so I decided to upgrade it using French chic style rules.
As a perennial work-from-home person, most of the stuff in my closet was randomly chosen. There was everything from old blouses that didn't fit, leggings, oddball tee shirts, wild Boho tunics, and even clothes I inherited from my mother. She was a fashionista, but they were dated, didn't fit, and weren't me.
I've been watching YouTube channels that talk about how to dress like a French woman over 50. Young Parisians can get away with looking like a twenty-year-old Brigitte Bardot but older women, not so much. French chic clothing is all about classic style. It's simple, doesn't go overboard, is usually neutral-toned, and pays attention to body shape.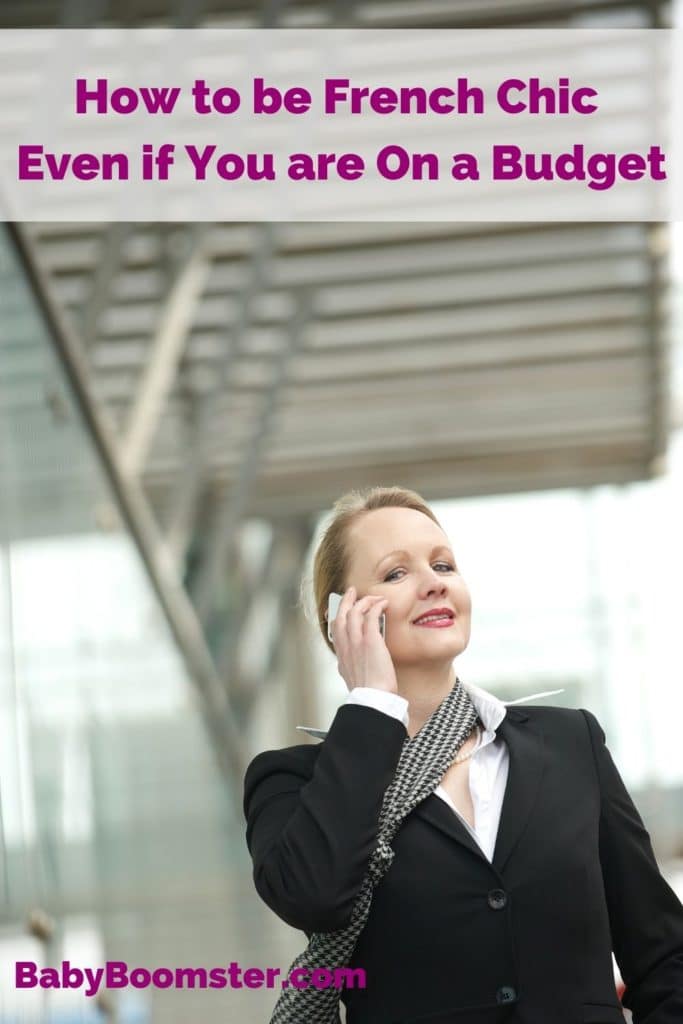 Develop a capsule wardrobe
A capsule wardrobe is a simple set of clothing that is interchangeable. Your pants match your tops, you can layer on sweaters or blazers that go well with your shoes and accessories. Most of all, you don't need a large walk-in closet to put them all in. My closet space is extremely limited. In fact, it's minuscule.
Typical French style clothing pieces include:
Black, tan, or white slacks
White, black, or navy blouses. They may also have thin stripes or small checks.
High rise dark jeans that are not torn or faded and are skinny, boot cut, or flared.
White, black, and beige tee shirts without logos (classic or V neck) Occasionally, it's okay to throw in one with the logo of a vintage rock band, because it's cool. LOL
A striped shirt – Breton style – Most have horizontal stripes but if you have a large bust or belly go for vertical.
Cami top in black, or white
Blazer – black, tan, white, or plaid.
Trench coat
Cardigan
Leather or denim jacket
Black Pencil skirt
Knee length black or navy dress
Summer dress or long skirt that fits your body shape.
Black or beige handbag proportional to your height without designer names blatantly stamped on them.
A simple gold or silver chain with a delicate medallion or pearls, watch, small earrings.
Silk print scarves with strategic accent colors.
Shoes include:
White, tan, or black sneakers
Loafers
Ballet slippers
Ankle boots
Black and nude heels
A top with a bright color is fine if it coordinates with your accessories. It's best to pick just one or two of your favorite colors like pink, or green. You may also want a pair of red shoes or heels as a striking accent for your black, white, navy, or tan palette.
Printed summer dresses are lovely but in France, the prints are typically small and are either geometric, gingham, or polka dot.
French women laugh at "Emily in Paris"
I love that show, but according to French women, they got a few things wrong. For one thing, lose the beret. That's cliché. I could go into that further but there are several funny videos on YouTube about it.
French women do not flaunt their wealth. Clothes do not have to be from expensive designers. In fact, many French women save money shopping at flea markets.
However, quality is key. French chic is all about detail. Spend money on well-made clothing that will last for years. Many women in France have clothing pieces they've had for decades but diligently take care of them. It's better to invest in high-quality pieces rather than cheap ones. Purchase clothes in natural fabrics like linen, silk, and wool rather than polyester or spandex.
Wear good undergarments that fit your body
Have your bra size measured by an expert. That doesn't mean getting fitted at Victoria's Secret or by a newbie at a department store. Instead, find someone who specializes in bras. The right underwear may eliminate having to wear uncomfortable shapewear.
Lose the leggings. I know, it's hard especially if you aren't skinny and love how they stretch but stretch waistbands help you gain weight.
French chic is about minimalism
Simplicity is always more elegant. But French chic is also about practicality. In France, people walk everywhere. A woman will carry heels with her to go out for the evening, but during the day she will wear stylish, but comfortable shoes like loafers or sneakers.
Makeup is minimal
You won't see a French woman wearing a heavy foundation with powder or dark smoky eye colors especially if she is older. She may wear a light foundation or BB cream, bronzer light cheek color, mascara, possibly a thin line of eye pencil on her upper lid, a light sweep of eyebrow pencil, and lipstick. She may wear bright red lipstick to offset her neutral color pallet, but oftentimes she'll wear pink or nude tints.
Two of my favorite YouTubers for older women's French Chic fashion are:
Marie Anne Lecoeur and Frederique Bros
Below are some examples of French chic style.
Shoes and Accessories may include:
Are you ready to add a little French chic to your life? Please leave a comment below.