You may have heard the term "capsule wardrobe" bandied about on the Internet but what is it exactly?
The idea which was adopted in the early 1940s was revived in 1970 when a London Boutique owner named Susie Faux encouraged her clients to build their wardrobes by selecting a small number of classic neutral-toned basics that could be mixed, matched, layered and accessorized.
Donna Karan also promoted the idea in the mid-1980s when she created a "Seven Easy Pieces" collection for interchangeable work apparel.
I really got into the idea when I moved into a place with limited closet space.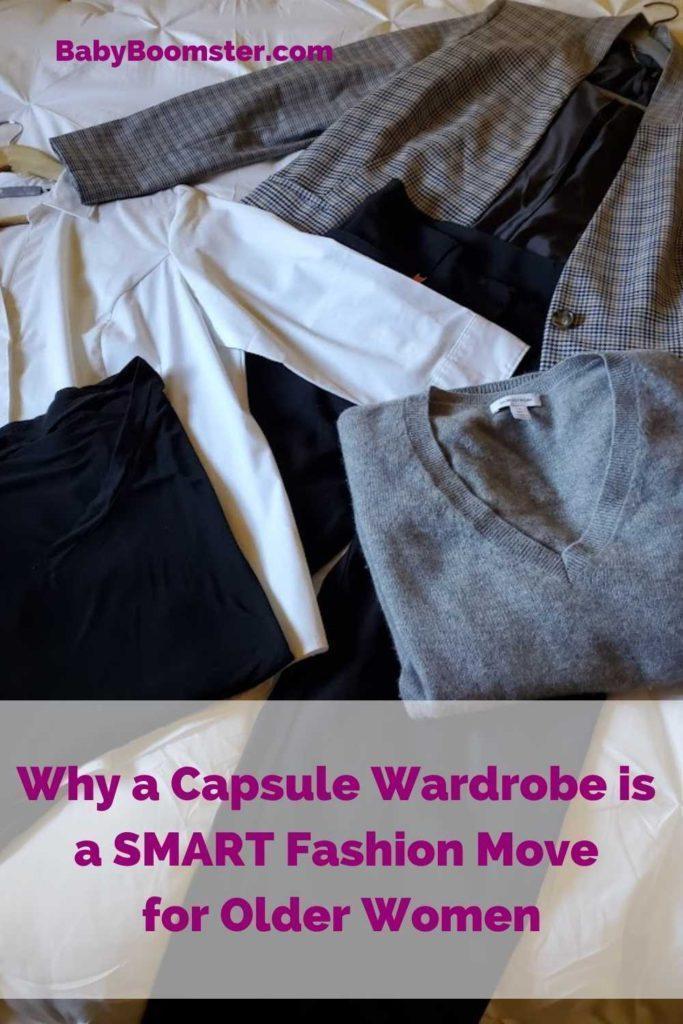 Minimizing your wardrobe is sustainable and affordable
Classic clothing never goes out of style, looks elegant, and can be adjusted to be attractive for every woman's body type. The trick is to find pieces that are of excellent quality that will last years rather than months. However, they don't have to be expensive. I've found some beautiful pieces in thrift stores.
Minimizing the amount of clothing you own is also better for the planet. We get bombarded with the latest "deal" and are quick to buy trendy-looking fast fashion, that is badly made. They get quickly tossed and end up in landfills never to be worn again.
Why older women should build a capsule wardrobe
If you are an older woman you may have a closet full of clothes that no longer fit, are decades old, or are out of style. Your closet may be cluttered with such an odd assortment of clothes you feel like you have nothing to wear. If you have downsized and don't have much closet space you will need to get rid of items that take up room.
It may also be a question of economics, especially for a single older woman living on a shoestring. Sticking to classic and simple styles is a good way to go from schlumpy to chic without breaking the bank.
And just because a capsule wardrobe is based on neutrals and classic design it doesn't have to be boring. You can perk up your outfits with a pop of color here and there or add accessories that will take it up several levels.
How to get started minimizing
Before you begin purchasing new additions to your wardrobe, take everything out of your closet and lay all the items on your bed or a clean floor.
Divide your clothing into four piles
If you live in a cold climate where warm weather wear is necessary, you may need to further divide your piles into Spring/Summer and Fall/Winter.
Divide your clothing into:
Classic pieces you already have that fit you.
Pieces you love and cannot live without.
Clothing you can sell or donate that is in good shape but doesn't fit or is out of style. Do not keep something because you think you will lose weight and fit into it someday. Someday may never come and in the meantime it's jamming up your closet.
Trash that a thrift store will not take because it's stained, torn, or is butt ugly.
Donate or toss clothing items with big loud prints, stripes in directions that make you look heavy, or items that no longer work because you moved to a warmer or colder climate.
If any of your clothing came from the 70s, leave it in the 70s. A vintage clothing store would love to take it off your hands. If you want to save it for posterity, store it carefully somewhere other than your closet.
Clothing items you want to start collecting
Look for clothing pieces in neutral colors like black, white, cream, tan, brown, navy, and gray. Go with shades that look best with your complexion. If you look washed out in black, go with navy. If tan or brown makes you look muddy, try gray. Cream or off-white may look better on your than stark white.
Choose no more than 2 or 3 accent colors like red or turquoise that you love and look good on you. Keep in mind that the point of a capsule wardrobe is to mix each item with your neutral palette.
The number of pieces you choose depends on your storage space. 35 items are average but you can get away with less or more if needed. Choose styles based on what looks best for your body shape.
Base your capsule wardrobe items on your lifestyle. If you hate wearing a dress, don't feel you need one. If you frequently attend parties or prefer wearing dresses, include a few that will work with your color scheme.
Once you know your palette start collecting the following items for your capsule wardrobe. You will only need one or two of each to start.
Pants in black, navy, white, tan, brown, or gray. If you have gained extra weight you may gravitate toward stretch pants, which is fine but be aware they may not help you lose weight.
Read my post about why I gave up wearing leggings here.
Choose pants in various cuts depending on your body shape and preference. Boot cut, straight leg, flared, tailored, pleated, midrise, highrise.
Jeans – Torn jeans may be on-trend right now but may not stay in style. French women avoid them. I also think that as an older woman they look like you fell and hurt yourself. That's just my opinion. I'm obviously not a fan. Dark-colored denim will help you look slimmer. If you have a tummy bulge, as I do, choose high-rise jeans because they will give you tummy control.
Skirts and dresses – A simple dress in a neutral color can be easily layered The best dress styles for older women with imperfect figures are A-line shifts, wrap, and shirt dresses. You can easily turn a simple black dress into a cocktail dress by adding a dressy jacket or elegant accessories.
Tops – A blouse or shirt is nearest to your face so pick neutral tones that best complement your complexion and hair color. You can also choose blouses in your favorite accent colors. The neckline you choose depends on your body type. If you have a big bust, a scoop, V-neck, or open button-down is usually the most flattering. Your capsule wardrobe should include a white or cream blouse in cotton and silk, a long and short-sleeved tee-shirt, or a flattering camisole in black, white, gray, or tan, black or navy.
Sweaters – You may look better in a cowl neck sweater rather than a turtleneck, a V neck rather than a crew neck, or structured shoulders rather than a drop shoulder. A colorful cardigan can jazz up a neutral base outfit but avoid large prints especially if you are petite. A big bulky sweater may overwhelm your figure if you are tiny or make you look heavier if you are overweight. And, don't forget that a good quality cashmere, wool, or cotton sweater is a capsule wardrobe staple.
This cashmere V-neck sweater by Parrish LA is gorgeous!
Blazers – If you want to look slim and trim there is nothing better to wear than a tailored blazer with a slight flair at the waist to flatter your figure. Oversized "boyfriend" blazers are popular but might be too baggy on certain body types. The length of your blazer will depend on your height and what you need to cover up. It is best to stick to small patterned designs when choosing herringbone, plaid, or striped blazers unless you are tall and thin.
Shoes – Start with 4 basic types of shoes: sneakers, loafers or other flats, boots, and pumps. Many fashion stylists will recommend that you wear pointy heels to make you look taller and more elegant. That is true, but as an older woman, be careful with what you wear on your feet. Comfort and support should be considered first and foremost. Don't make it easier for you to trip simply to look fashionable.
If you match your shoes with your pants and show some ankle it will make your legs appear longer. Try black shoes with black pants, white shoes with white pants, or tan shoes with tan pants. Shoes that are close to your natural skin color and shoes with any color of pants will lengthen your legs as well. Or, perk up a neutral-based outfit by wearing a bright-colored shoe like red or a snakeskin pair of loafers or two-toned heels.
For the best selection of shoes and free shipping shop at Zappos by clicking here.
Jewelry – Simple jewelry pieces are always elegant. What you choose for your jewelry whether you go for tiny chains or over-the-top Iris Apfel creations expresses your individuality. Have fun with it. Jewelry can also create optical illusions. For instance, when you wear a long necklace it draws attention away from a large bust.
Purses – A classic structured neutral-toned purse always looks lovely and is practical. It's fun to have an array of purses to choose from, but remember you have to transfer all your stuff each time you change it. If you are like me, you will probably forget your reading glasses. At a minimum, find one purse you love that will go with all your outfits and is in proportion to your height. A big heavy purse looks overwhelming on a small person and will cause a backache, whereas a taller person can pull it off.
Purses these days seem to have every designer's name emblazoned them. Just because it is expensive doesn't always make it fashionable. In some countries, labels on purses are considered to be tacky. Look for an elegant and practical label-free purse rather than show off who designed it.
Scarves and belts are another way to express your individuality and to add pops of color or design. Go with what you love!
Coats – The type of coat you choose depends on where you live, your lifestyle, and the weather. A tan trench coat is always a classic that you can wear in just about any weather. A leather jacket will make a neutral outfit look edgier. Other women adore wearing denim jackets.
A beautifully tailored wool coat for a cold-weather climate always looks gorgeous. Choose a length that best suits your height. A down jacket will keep you cozy but make sure it doesn't make you look like the Pillsbury Doughboy.
In general, avoid overly bulky jackets, coats, and sweaters that overwhelm your figure.
Where to purchase your capsule clothing pieces
The higher-quality clothing items you purchase, the longer they will last.
Click here to find my favorite online clothing stores.
You may also get lucky and find classic clothing pieces at thrift stores, especially if the donors are rich.
Always try to purchase clothing items made with natural fabrics like cotton, silk, and wool. However, if you hate ironing or don't want to deal with dry cleaning, you can also find fabric blends that work as well.
When you can, purchase ethically sourced clothing from manufacturers who treat their workers fairly and are environmentally conscious.
Take care of your clothing to make your pieces last longer
Read the labels on each clothing item you buy to learn how to clean it. But, also know that some items marked dry-clean-only like cashmere can be hand washed in cold water. Just don't stick it in the dryer on high heat or it will fit your chihuahua instead of you.
I reviewed a cool portable handheld steamer iron here.
What are your favorite classic pieces of clothing to wear? Please leave a comment below.