Who doesn't love glamorous clothes? But while you're stocking your closet with chic knee-high boots and timelessly classic leather jackets, have you ever thought about how those items were made?
It is no secret that clothing manufacturing has done damage to the environment – even though it's a highly profitable business. Currently valued at a humungous 2 trillion dollars, the fashion industry is responsible for approximately 10% of the global carbon footprint. But the good thing is, more companies have embraced ethical fashion practices that are not only better for the consumer but also for the world at large.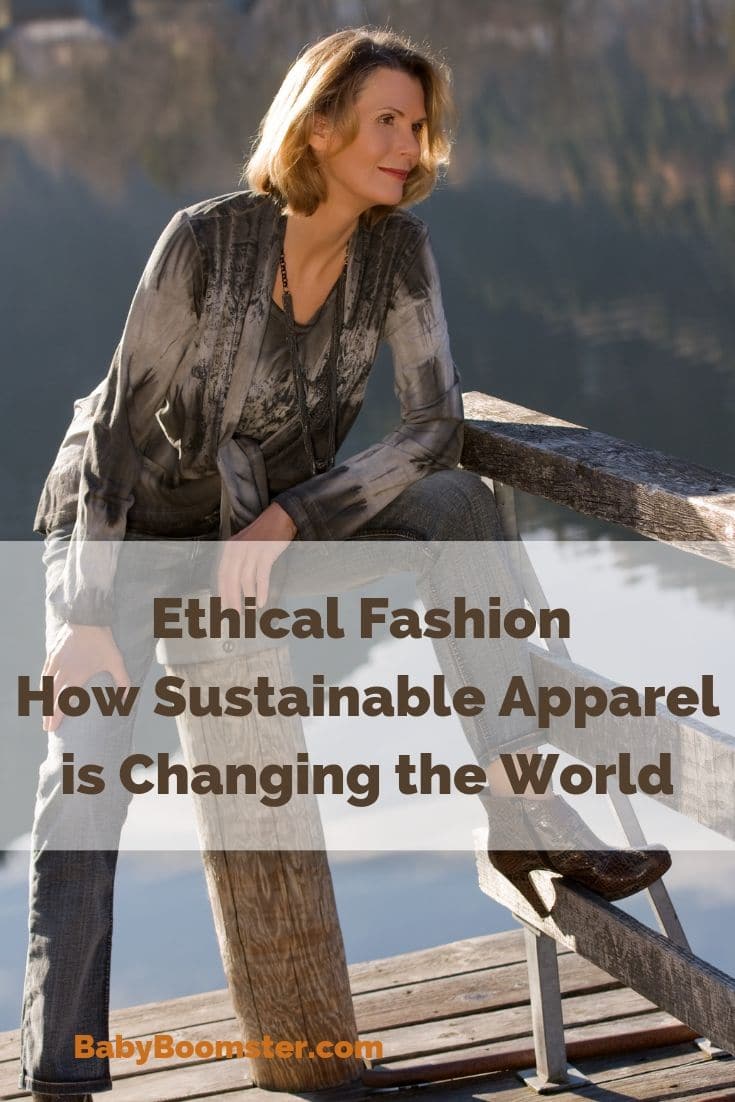 Why do we need ethical fashion brands?
The mainstream fashion business has been forsaking our planet – and our future – for decades now. It's the second-largest polluter of freshwater streams – trumped only by the agriculture industry.
The reason for this is that fashion manufacturing companies are increasingly using toxic chemicals. These chemicals produce high levels of non-biodegradable waste and emit dangerous gases into the air. You can even smell the chemicals that have been applied to clothing items when you bring them home from the store. (Tip: It's always a good idea to wash them before they're worn.)
It's important for all of us to be vigilant about regulating these shady practices. Rather than rely on traditional methods, companies need to reassess and develop more sustainable manufacturing technology. Consider some of the other ways traditional fashion manufacturing practices put us at risk.
It's not just about damage to our environment
Adding more pollution to the planet is not where the apparel industry's list of crimes ends. That's only one aspect. One of its most disturbing offenses is unethical work practices. To cut down on costs, many high-end fashion brands hire and exploit workers from third-world countries.
These poor workers – which sometimes includes children, work inhumanely long hours and are paid minimal wages in dangerous and unhealthy working conditions. Meanwhile, wealthy fashion tycoons are gleefully padding their designer-brand pocketbooks.
This form of modern-day slavery is one of the uglier faces of the glamorous mainstream fashion business. Workers are enticed by promises of well-paying jobs, safe working conditions, and three wholesome meals a day. But, after signing their contract, they find themselves working in substandard and even dangerous conditions with almost zero facilities.
We've been careless long enough – it is time to clean up our act
Fortunately, this sad state of affairs has gained more notice in the last decade. There have been numerous appeals to help workers in plight, along with demands for shorter hours and reasonable wages so employees can afford basic necessities. The public is beginning to insist that fashion manufacturing companies operate in sustainable ways to prevent further damage to the planet.
In response to this wake-up call, some high-end fashion brands are switching to ethical business practices. Instead of focusing on the brand as a status symbol, they are emphasizing "how to be fashionable in a responsible way." To win over their customer's hearts, designers are now being seen as champions for workers' rights and ethical practices.
Modern ethical clothing businesses are doing good for others
A number of brands are not only taking responsibility for cleaning up the Earth but are also working to fund other worthwhile causes. Eco-conscious companies have emerged on the fashion scene such as Baabuk – Ethical Clothing Company, People Tree, and Ruby Moon to name a few.
Top designers, as well as small family-owned businesses, have joined this trend and have made it their mission to work in sustainable and eco-conscious ways. They are doing their part to reform the industry for the long-term, which is admirable.
What can YOU do to promote sustainable and ethical fashion?
One thing to be aware of is the human cost of fast and affordable fashion. You may remember the Rana Plaza apparel factory collapse in Bangladesh three years ago that left more than 1,000 workers dead. Because of incidents like that there have been movements and resolutions to promote public awareness and to encourage consumers to do business with ethical fashion brands. Platforms such as "Good On You" and "Fashion For Good" provide education to highlight the unscrupulous and corrupt practices that go into making many of the brands you love.
Now, instead of seeking the biggest discount, more shoppers are looking for brands they feel more comfortable with philosophically. You can help spread awareness and change the industry for the better by following some of the steps below:
1. Wear what you already own
The first rule of fashion sustainability is to buy less. Reuse, reduce, and recycle clothes that you no longer wear. Wear that gown for a second time instead of burying it away in your closet. Mend torn and damaged clothing items so that they can be used again. There's nothing better that you can do to champion the cause than wearing what you already own.
2. Research your favorite brand to learn how their clothes were made and who made them
Another big responsibility that falls on consumers is to purchase from a company with principles. Demand transparency and answers from your favorite brands. Either personally ask or go online to find out who sews your favorite skinny jeans or dyes your tee shirt. Ask them where they source the wool for their products, and how are their sheep are treated. Find out the ages of their workers, and how they live.
3. Reconsider what brands you wear
It's estimated that fashion spending is predicted to exceed $2.1 trillion by the year 2025! Have you ever stopped and considered who gets all that money?
As a smart consumer and an environmentally conscious shopper, you may want to give up a favorite brand if they aren't complying with sustainable fashion practices. Do business with the ever-increasing number of fashion companies that guarantee ethical, Earth-friendly, and enlightened businesses.
4. Go for environmentally-friendly fabrics
Choose natural fabrics to wear like cotton, wool, or silk rather than polyester or other man-made materials. Polyester, which became popular in the late 60s, is cheap to produce and is durable. However, what many shoppers don't realize is that polyester is not biodegradable.
This means every piece of polyester that's synthesized will be with us for centuries if it's buried in a landfill – something our planet doesn't appreciate.
Polyester also requires enormous amounts of energy to manufacture and is made with chemicals. You may notice that some of your clothing, bedding, and shower curtains have fumes when you bring them home from the store. That's because toxic chemicals have been sprayed on them.
A final word
Sustainable methods of manufacturing apparel are an exciting trend for the fashion business. Increasing awareness and concern for the environment are fueling a fashion industry revolution. However, it's up to us to be responsible consumers, so that sustainable and ethical fashion will become the norm.
Here are just a handful of ethical fashion companies you may already be familiar with.
Check out these ethical fashion brands

Do you have your own favorite Eco-Fashion brands? Please leave a comment below.