It's hard to believe I've been blogging since 2008 and make passive income from it to supplement my retirement. If you have a blog or want to start one, whether you are a Baby Boomer or an aspiring blogger of any age, I've created a list of blogging resources that I love and use.
You may want to bookmark these blogging resources for your reference as I update them occasionally. Hopefully, it will help you avoid making the blogging mistakes I did when I first started out.

Some of the links on this page are affiliate links to brands that I have partnered with. If you click on a link and make a purchase, I will receive a small commission at no additional cost to you. Please read my site Disclaimer and Privacy/Cookie policy if you have any questions.
Read more about starting a blog here. If you haven't set one up yet, here is a step-by-step tutorial to install one online in minutes.
Blogging Resources – to get you started on the right foot
WordPress.org: This is the self-hosted version of WordPress the #1 Blog platform out there today. It's different than WordPress.com, (hosted by WordPress) which has several limitations. The software for WordPress.org is free to use as well but you will need to purchase a hosting account to install it. (This will cost you somewhere around $100 or less per year) You can then install WordPress using your hosting account's one-click installation program. There are thousands of WordPress themes and plugins that can be integrated with self-hosted WordPress and they can perform practically any function you can imagine.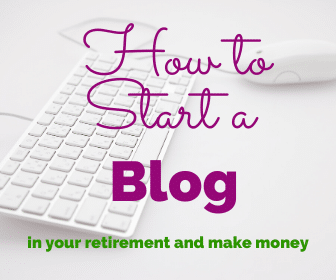 Your hosting account
Bluehost: I always recommend Bluehost as a hosting account. In all the years I've been using it, I've been extremely satisfied. The interface is easy to use and they don't clobber you with up-sells. Bluehost's customer service has always outstanding for me. If you have more than one website, I recommend the Bluehost Pro account otherwise you can start with the basic plan and upgrade if you get more traffic. There are more expensive and faster hosts but for most people, Bluehost is all you need.
Click here for step-by-step instructions on how to start a blog using Bluehost here.
Email Marketing
MailChimp: MailChimp is an effective email marketing service that's free for the first 2000 people on your list. They offer opt-in forms, broadcast emails, and RSS campaigns. For a small monthly fee, you can also add an autoresponder. The only issue with MailChimp is that they don't allow you to put affiliate links in your email, but they have a great sense of humor.
Videos and Screenshots
You can increase your reach and traffic when you make videos. If you aren't afraid of being on camera, go for it. It's fun.
TechSmith – Two tools I don't want to be without are Camtasia for editing videos and Snagit for creating screenshots, editing photos, and recording short videos. It's the best software out there and it's fairly simple to use. You can create videos in a snap using Camtasia and send them directly to YouTube, Vimeo, or save the file as soon as you're finished editing.
Zoom – Host webinars, record and download video and audio, host conferences, meetings, and one-on-ones with your clients using this easy-to-use software. I have loved this site even way before the pandemic.
Schedule Time with Clients
OnceHub – I don't know what I would do without my OnceHub online scheduler. Clients can book meetings with me at times that work for both of us. It integrates into my Google Calendar (as well as several other calendars) and also, my Zoom account. You can also create a link or button to put on your website or your email so clients can book you directly from there.
Getting Paid
Images & Photos
Important for bloggers – Make sure to create a gravatar.com account and attach your headshot to your email. That way your photo will show up in comments, on guest posts, and in other places on the Internet rather than a blank or weird avatar. It adds a personal touch and is essential for branding. Sign up for free with your WordPress.com account credentials. (also important even if you use self-hosted WordPress) It helps to power some WordPress plugins like Jetpack and Akismet)
Affiliate marketing and ad networks
If you have an active blog and are getting traffic, you can promote products from other companies and earn an affiliate commission. It's free to sign up for an affiliate program and you get paid when someone purchases a product you promote.
Affiliate networks
For more income and the ability to apply for companies you love to do business with, the affiliate programs below give you more options and income opportunities. These are some of my favorites.
Ad networks
Using a snippet of code or plugin that you install on your blog, you can run targeted ads on your site without thinking about it. Ad networks generally pay less than affiliate relationships unless you have major traffic. You also don't have a personal relationship with the brands that come up, as you may with an affiliate, but can control categories you do not wish to appear on your site. Their artificial intelligence can pinpoint what a reader likes and dislikes and presents a unique set of ads on your site customized to that reader.
Google Adsense – Make sure you have a Google account – (Gmail) You can apply for an Adsense account, add a code to your site, and ads will come up automatically. Or you can place scripts in particular places on your site so that ads only appear there. Most bloggers start out with Adsense and may graduate to other platforms if they meet blog traffic criteria.
Ezoic – When you have traffic over 10,000 page views you will find you will make more money than with Adsense by using Ezoic. It can be implemented with the Ezoic WordPress plugin or by name server integration. This platform has evolved and their AI is extraordinary. Their customer service reps can walk you through the setup process.
Expert blogging advice
Tech-savvy tools for small business
Baby Boomers are running small businesses that they've had for decades or are pursuing new opportunities to supplement their retirement. Using online tools makes it easier and doesn't use as much paper.
Cameras
Do you love taking photos? I sure do, but I don't want to get a pain in the neck carrying heavy equipment. When I travel, I always take a light camera in addition to my smartphone to get the best photos I can without the weight.
Canon PowerShot – I've been using a Canon Powershot camera for several years now. I love it because it has an awesome zoom lens, is light enough to carry around when I'm traveling, and is affordable. Canon always makes great cameras. You can go more high-end with a larger camera like the Canon Rebel, with more bells and whistles, but I like that the SX540 is the perfect solution, and easy to use for those of us who aren't professional photographers.
Smart Phones
Having fast Internet and a good smartphone is important for tech-savvy Boomers. You want the fastest available to avoid frustration.
Verizon Wireless – I've been using Verizon exclusively for decades now. It always gets THE BEST coverage and the technology is second to none. They will work with you to make sure you get the best plan for your needs.
Reading and listening to books
For those of you who love to read but don't have room in your house for more books, enjoy your reading material on a device you can take anywhere.
Kindle Oasis E-Reader – Graphite, 7″ High-Resolution Display (300 ppi), Waterproof, Built-In Audible, 8 GB, Wi-Fi – Includes Special Offers.
Protect your eyes while you work online
Swanwick Blue Light Glasses – If you're a tech-savvy Boomer and use electronics all day it can affect how you sleep at night. But you can alieve this by wearing glasses that have blue-light protection. Swannies by Swanick are the most scientifically-validated blue blockers on the market. Try them and see.
Eyebobs – This company also sells blue blocking glasses and readers but I also love their sense of style.
This page was updated 12/2021.
More Shopping
Fashion Over 50 | Beauty & Skincare |Travel | Blogging and Tech | | Special Occasion Gifts | Life Long Learning Health | Etsy | Favorite Amazon Books