Have you ever passed out in public? It happened to me several years ago and it totally freaked me out. Of course, I was terrified that something was seriously wrong with me and wanted to avoid fainting in the future.
My doctors ran tons of tests, including MRI, EEG, Holter Monitor, EKG, etc., but they were all negative.
Finally, they came to the conclusion that I was probably dehydrated. I didn't think I went that long without water, but now, to avoid feeling faint,  I carry a water bottle everywhere I go.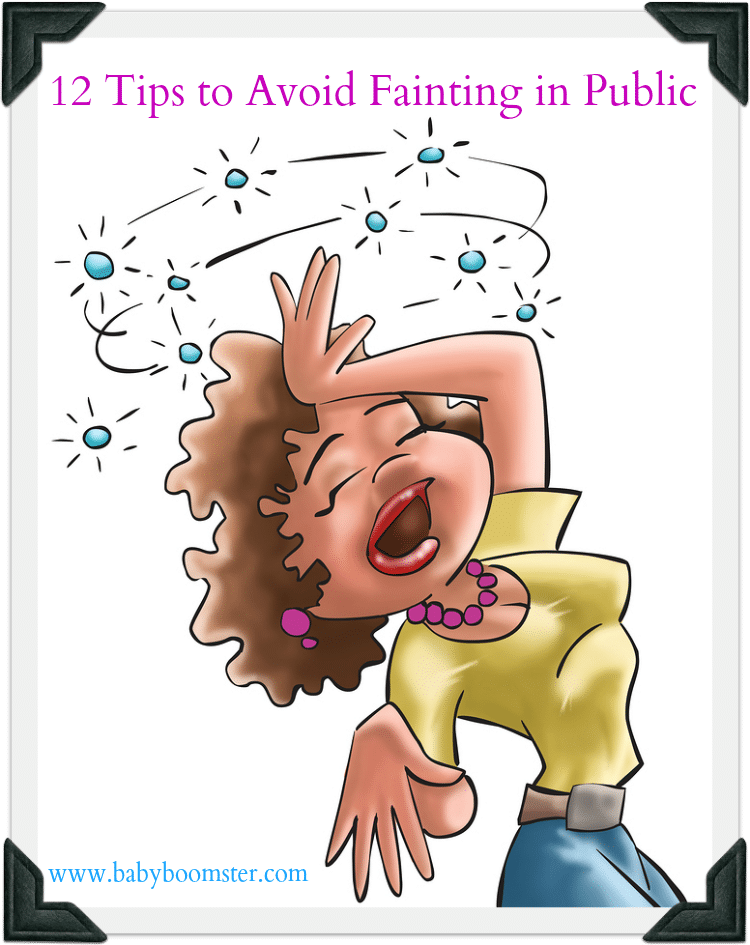 Fainting (syncope) is caused by a vasovagal response. My sister has fainted numerous times. It's not a dangerous condition in itself unless you fall and hurt yourself. And, not surprisingly, it's common for people over 50 so we need to take steps to avoid it.
What makes you faint?
Fainting is caused by a drop in blood pressure. Have you ever sat on the pot, trying to crank out a stubborn number 2, and suddenly felt hot or weird? (sorry about the visual) It probably means your blood pressure dropped. If you aren't careful, you might land butt side up on the floor. Not a pretty picture.
Fear or panic also causes people to feel lightheaded and dizzy. My sister blacks out at the mention of having a shot so if you're like her, make sure to warn the person giving you the shot so you won't fall off your chair.
Other causes of fainting may include standing up too long, becoming overheated, drinking alcohol when you're dehydrated, or going too long without eating.
Both times I fainted I had been standing up for a long time on a warm summer day, had a little wine, waited too long to eat, and didn't drink enough water.
To avoid fainting again, I did some research on how to prevent it.
The 12 best ways to prevent feeling faint
Sip water throughout the day. Professor Richard Sutton, Professor of Cardiology suggests drinking 4 liters a day. That sounds like you have to suck up a lake but staying hydrated is essential. As long as you wet your whistle as soon as you feel thirsty, you should be good.
Eat MORE salt. We're always told to eat less salt, but if you faint easily you need more of it. Salt helps to hold water inside your body. If you faint easily, don't feel guilty about sprinkling a little extra salt on your food.
Don't drink alcohol outside your home unless you're at a friend's house or in a protected environment. If you're standing at a cocktail party table drinking, you may pass out on the floor. Take it from me, that can be embarrassing as hell. And remember, you don't want to hurt yourself. The phrase, "I've fallen and can't get up" now has new meaning.
Sleep with your head raised up slightly and your feet elevated. When you wake up, Dr. Sutton suggests you ask whoever you live with to bring you a biscuit and tea. He's English, can't you tell? I wouldn't mind having someone bring me a biscuit and tea in bed. If you live alone put some crackers or a cookie on your nightstand.
Eat small and frequent meals. If you get lightheaded if you wait too long to eat, don't cut out snacks and DO NOT do intermittent fasting. You don't want your blood sugar levels to drop. However, it's better to snack on healthy food like a slice of apple or a handful of almonds instead of junk.
Do "steady" cardiovascular exercise every day. Walking or riding a stationary bike is a good way to do this. Avoid exercises that cause you to stop and start like interval training.
Wear support stockings if you have to stand up for a long time. You want to keep the blood in your legs circulating. Better yet, avoid standing in long lines. If you have to, bring a small camp chair.
Don't lift objects that are too heavy. When you're strength training, use light weights with more reps instead of heavy dumbbells.
Be careful when you get too warm like when you're in a steam room, sauna, hot car, or in a muggy climate you're not used to like the Caribbean.
Don't sit on tall chairs at bars or restaurants. If possible, sit in a booth surrounded by people who will catch you. I have personal experience fainting off a tall bar stool and it wasn't pretty.
If you feel like you're going to pass out, hit the floor immediately. Don't worry about being embarrassed. Sit with your head between your legs or lie on the floor with your feet elevated. If you hesitate, for even a second, you may end up with your face on the barroom floor.
Worried about your health?
This post was updated 9/2021
Have you ever fainted? Do you have any tips to avoid fainting you'd like to share? Please leave a comment below.