Fitness is a huge concern for women over 50 and many of us take it very seriously. But it's not always easy to find the best program to meet our changing body needs.
For some of us, going to the gym to work off our middle age flab isn't always convenient and can be expensive. And that 20-year-old trainer may ask you to do exercises that could cause you to get hurt. That's where online exercise programs designed for older women come in. They emphasize fitness routines that develop your core strength, balance, and flexibility to prevent falls and other disabling injuries.
Fitness over 50 is not just about losing and maintaining weight. In fact, your physical appearance is the least important thing about it. It's about feeling good in your body and mind, enjoying overall health, and reducing stress
The more you move, the longer you can move.
This mantra is one we all should adopt. Once you stop moving, whether it's walking, swimming, or doing simple stretches, the harder it will be to move later in life. That's why there are 90+-year olds still picking olives or staying active in other ways all over the world. They never stop moving.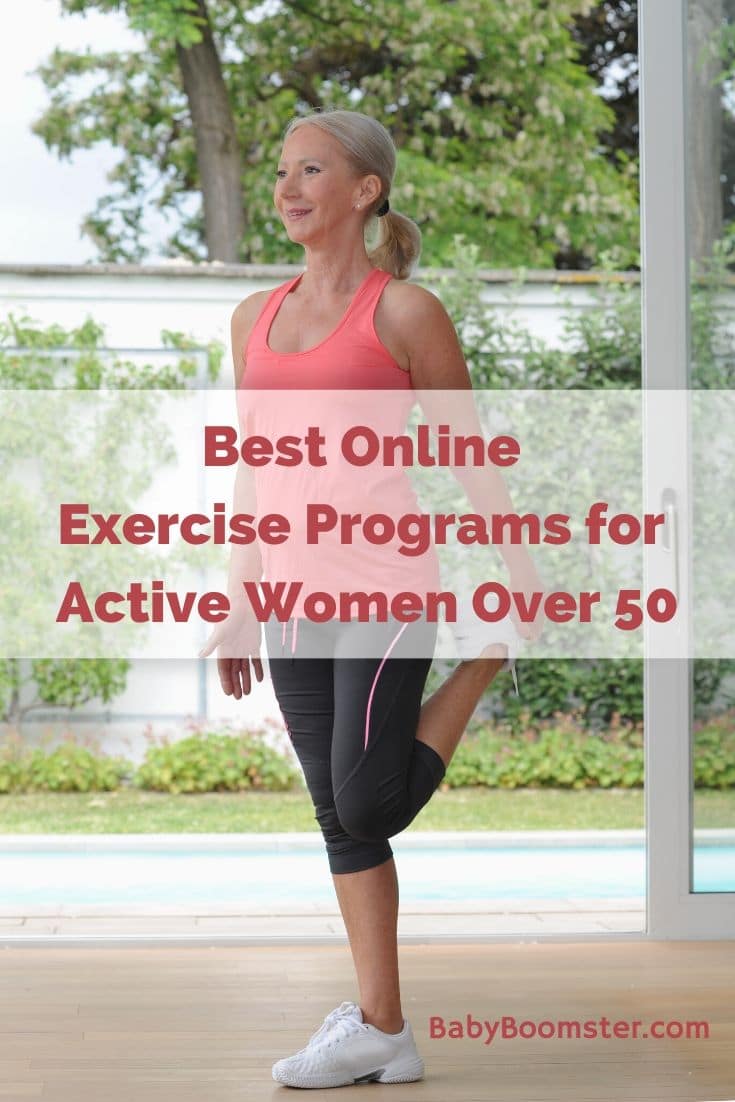 Adopt an overall fitness body regime
My favorite exercise is walking because it's excellent for cardio and heart health. It also gets me out into nature which is great for stress reduction.
But I know that walking isn't enough to stay in shape and be healthy over 50. It's important to combine walking or some kind of cardio with balance, flexibility, and strength training exercises that are geared for older women.
Local exercise programs that are appropriate for our age group aren't always easy to find. You can join a Silver Sneakers program, which is sometimes included in Medicare Advantage Programs and is valuable, but depending on your fitness level, that may be too tame for you.
Seniors are staying active and even running marathons so it's important to find something that's right for you and your individual body. You can do all sorts of exercises in the comfort of your own home without leaving your house or spending lots of money.
To make it easy for you to find, I have curated a list of online exercise programs that cover all the bases and preferences for older women's fitness. Please click on the links to give them a try and enjoy them.
The best online exercise programs for women over 50
These fitness programs are appropriate and safe for active women over 50. If you want to get rid of middle-age spread, flabby arms, and just feel better all over what do you have to lose?
1. 99 Walks
Walking is one of the best exercises women over 50 can do on a daily basis. But sometimes you may feel it's hard to stay motivated. 99 walks will give you the challenge to set a personal walking goal each month along with thousands of other women. You track your progress using their smartphone app which has an extensive library of walking fitness classes, podcasts, and meditation.
You will also receive daily inspiration and support from its positive community. Receive bracelets as monthly rewards for sticking to your goals. Start walking with 99 walks today by clicking here.
2. Debra Atkinson
Debra Atkinson is the founder of the website Flipping 50. She's been featured on numerous media outlets like The Huffington Post, Prevention, Living Better 50, to name a few. She also has exercise videos for women over 50 on her YouTube TV channel called Flipping 50 TV.
Her main focus is strength training and she shows you how to do it in a way that's safe and effective. She likes to work with a combination of light to heavy weights because each type has its own set of benefits. Do you have an issue with belly fat? Debra's a fabulous resource to get rid of it forever.
3. Tami Peavy
Tami Peavy has a website called PracticalTherapy4u.com. She is a well-known physical therapist who has been featured on NBC and The Today Show. Her online exercises for seniors focus on posture decline and she believes it's important to strengthen your "muscle of balance." (otherwise known as your butt) Her exercises are designed to help prevent falls, which can be devastating when you're over 50.
You will also find tips and exercises for sciatica, injuries, neck pain, plantar fasciitis, and carpal tunnel.
Her DVD's are available for purchase online here.
4. Lori Michiel Fitness Inc
Lori Michiel has a series of online exercises for seniors that will help you stretch, improve your range of motion, strengthen your muscles, and reduce pain. She's a Brooklyn-born woman over 60 who lives in Los Angeles and works with seniors. She designs individual and group exercise routines for those dealing with Parkinson's, arthritis, osteoporosis, Alzheimer's disease, and dementia.
Subscribe to her YouTube Channel here.
5. Be Healthy Enough
Amy Van Liew has online exercises for seniors on her website Be Healthy Enough. She will help you get moving even as the aches and pains of age start to creep in. Her exercise options include an extensive online platform with over 130 workout videos.
Sign up for her next challenge or get started today with her FREE Fit Over 50 – Beginner 4 Week Program. It's an easy-to-follow program with daily beginner workouts for a whole month; Strength Training, Core Work, Stretching, Low Impact Warm-Up. All laid out in a 4-week plan.
6. Tai Chi
One of the most effective exercises for seniors is Tai Chi because it focuses on balance and mobility. It's a form of meditation as well and is practiced regularly by Asian cultures. Discover Tai Chi For Balance and Mobility Scott Cole Wellness Series is available on Amazon and is gentle and easy to follow. It includes breathing, stretching, and chair exercises. Scott Cole has been featured in over 500 publications and on TV in shows like Regis and Kelly, CNN Headline News, The View, The Doctors, Food Network, and more.
7. Ballet Based Movement
Susan Jacobson and her mother teach simple online ballet-based movement exercises that can be done at home. It doesn't matter what your fitness level is or your experience with ballet. She guides her 70ish mother in a series of videos which has helped her improve her fitness both physically and mentally. I love this! Visit their website here.
8. The Nourished Body
This site is an online platform for those looking for a more intelligent workout with a Pilates and Integrated Movement foundation. From pelvic floor health, chronic pain management to injury recovery and prevention, Melanie McGray, the creator of NBO, will guide you with expert experience into feeling more like yourself with safe and effective exercises. Better function, fluidity, and form.
Each session is geared toward the client's specific needs and incorporates Melanie's extensive movement and rehabilitation training background. The beauty of The Nourished Body Online is that all sessions, privates and classes, are LIVE. She is with you every step of the way. It's having your personal trainer right in the comfort of your own home. Visit their site here.
9. Fabulous 50s
While browsing YouTube looking for exercises I could do with my two 60-something roommates, I stumbled onto Fabulous 50s with Schellea Fowler. I can attest that she is truly Fabulous.
She has an incredible fitness and lifestyle channel that you will truly enjoy! We have been doing her free 30-minute walking workouts for months that incorporate strength training, balance, fat burning, and more. We walk for 30 seconds then do a standing exercise for 30 seconds. This repeats throughout the video so there is no choreography to learn. The time goes fast and she has a soothing voice and is easy to listen to.
Here is an example of one of the 30-minute workouts with her we've been doing.
I love Schellea's overall body workouts and I always feel energized afterward. My roommates are especially happy with it because they don't have to get up and down from the floor.
10. Rebalance and Reboot Your Body
In an article on Today, Miranda Esmonde White, a former ballerina, prescribes "a full-body routine that uses all of a person's 650 muscles and 360 joints (for women over 40) in one low-impact workout. She demonstrates the moves, which she calls the  Essentrics technique, in her "Classical Stretch" series on PBS." Order her DVD called Rebalance and Reboot Your Body. A good stretch exercise routine keeps you flexible and we all need that over 50.
11. Body Groove
If you are looking for a fun free-form dance workout then Body Groove Delicious Dance is for you. It's designed for all ages and you can do it at your own pace. Misty Tripoli leads the class and there are no rules. She leads you in dance moves but you can rock out or move in whatever way fits your mood and fitness level. She also includes stretching and flexibility exercises.
12. TheOptimal.me – Functional Movement exercises
TheOptimal.me is an extensive online collection of Integrated Movement Routines that will help you move more freely with less pain. It was founded by Liz Grantham who is in her 50s and feeling great today, but six years ago she was not.
She had no energy, pains in her body, and needed to pop ibuprofen every afternoon. Her life as a single mom and business owner left her stressed and sedentary. So, she set out to find holistic ways to feel better. She was told if she didn't make regular exercise a priority, things would only get worse as she aged. Liz hated the gym and couldn't find any exercise that she could stick with.
Her journey to wellness led her to functional movement and Integrated Movement Routines (IMRs) with functional movement expert, Jannie Claassen. Bringing on board chronic pain management physiotherapist, Simone Levy, Liz brought Jannie's routines online and created TheOptimal.me so that others could benefit from IMRs.
Consider IMRs your pro-aging superpower. Each low-impact class focuses on reducing pain, improving strength, stability and flexibility in your whole body. The best part is all it takes is just 15 minutes a day!
IMRs are designed to mimic the way you move in daily life, stretching, strengthening, and increasing your range of motion. Doing the routines daily will ensure you develop smooth, controlled, coordinated movement. Go through your day doing what needs to be done at home, and when we are able to leave our homes… at work or in sports with more energy and less pain or fear of injury. Read more about functional fitness here.
Like the sound of Physical Freedom?
Start with their 21 Day guided course, First Steps to Physical Freedom. Click on Free Trial (no card required) and select the Survive and Thrive Plan to take advantage of their 30 Day Free Trial Offer which gives you access to the course and so much more!
Go to www.theoptimal.me
13. Healthwise Exercise TV
Healthwise Exercise TV is an online 40 + fitness channel that gives you access to a variety of exercise modalities. It costs $19.99 per month to join but has programs for functional fitness, circuit training, walking, strength training, and yoga. It has exercise programs that work perfectly for seniors who have specific conditions like osteoporosis, stress, sleep disorder, painful joints, COPD, and more.
The series has been touted as one of the best exercise programs on PBS TV. You can also order their programs on DVDs.
14. TherHab Fitness at Home
Patrice Hazan has a doctorate in Physical Therapy from Des Moines University and a Master's degree in Gerontology from Roosevelt University. She is a board-certified geriatric clinical specialist and a member of the Academy of Geriatrics with the American Physical Therapy Association. Her company, TherHab Fitness at Home offers live active aging classes online that include aerobics, strength training, balance, core, yoga, and tai chi. To begin, you must sign up for an assessment by a physical therapist who will evaluate you and make recommendations based on your needs. Classes are available live online or via their video library. To learn more about the program, click here.
15. Flexit
FlexIt is a platform (website and mobile app) that offers live, 1-on-1, virtual personal training sessions with certified trainers from top brands in fitness. Users can work out on their own schedule without leaving home. Try it out today by clicking here.
16. YouTube
Sometimes I just like to browse through YouTube to find exercise videos that are fun to do. If you go to search and look for "exercises for women over 50" you will find a wide variety. I sometimes add the phrase "dance" because I love dance movements. It's kind of a crapshoot, though. Some are good and some are downright awful but it's a good way to add variety to your fitness routine. It all depends on what you like.
Other online fitness resources for women over 50
Look amazing while you exercise in Athleta's workout clothing. They have something for any way you exercise from hiking to yoga.
Track your steps – Don't forget to wear your fitness tracker to count your steps!
Monitor your vital signs – Check out these fabulous medical wearables here.
GETACTV.com is the leading innovator and manufacturer of industry-leading of at-home exercise equipment. You can find dumbbells, resistance bands, balls, foam rollers, and other home fitness essentials.
This post was originally published on 9/2017 and updated 4/2022
Feel motivated to get in shape? I know I am. What are your favorite online exercise programs? Please leave a comment below.
More Shopping
Fashion Over 50 | Beauty & Skincare |Travel | Blogging and Tech | | Special Occasion Gifts | Life Long Learning | Health | Etsy | Favorite Amazon Books