Ballet Based Movement is online ballet exercise classes aimed specifically aimed at people over 50. Set up by mother and daughter, Elizabeth and Susan, they provide comprehensive beginner ballet-based exercises that can be done in the comfort of your own home, regardless of your fitness level, whether you have never done ballet before.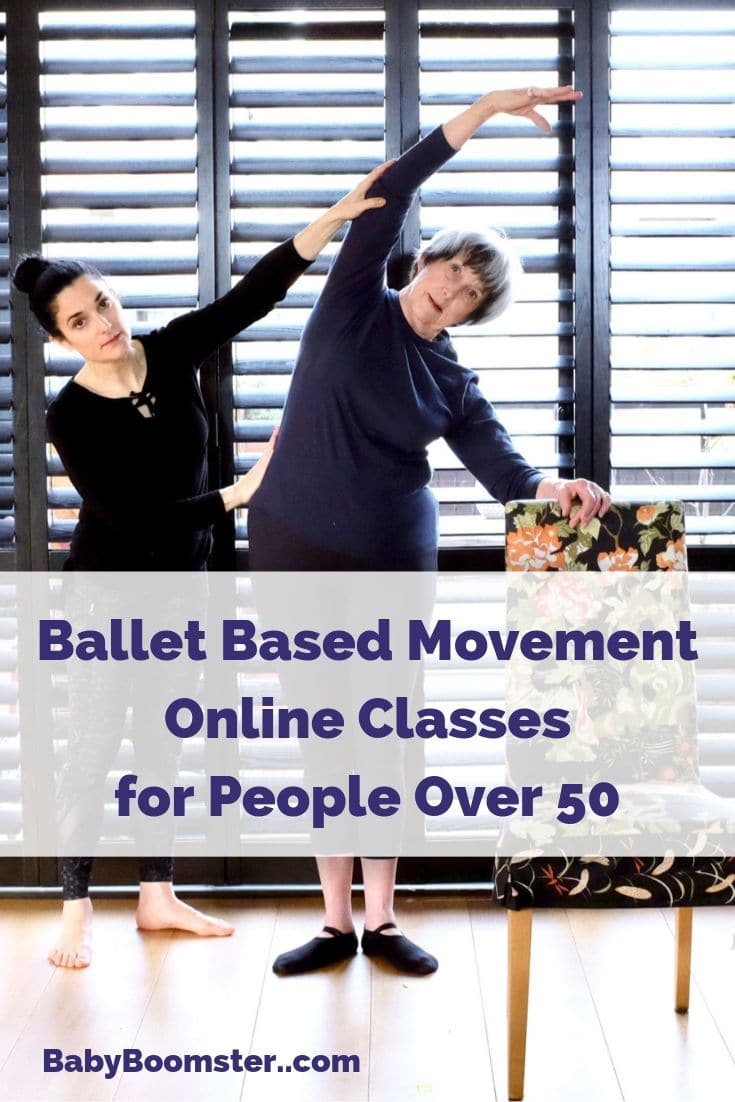 The Story:
Susan has danced her entire life, training in various dance forms including jazz, tap, contemporary, lyrical and of course, ballet.
Two years ago her mother, Elizabeth, came to her for help. She had been suffering from a debilitating foot injury. At 72, she was feeling her mobility declining. She had never been a big fan of exercise before, but she knew that she needed something that would address her declining balance, strength, and flexibility, not to mention her foot.
So Susan began guiding her mum through beginner ballet-based exercises. With the help of physiotherapy and foot strengthening in the ballet, Elizabeth's foot began to heal. And to Elizabeth's surprise, that was just one of the many benefits she gained from ballet. She loved the music, the natural movement, the mindfulness, the increased stability, the strength and the pure enjoyment of dance.
Susan and Elizabeth thoroughly enjoyed dancing together. Susan would send videos of ballet exercises to Elizabeth, and before long, there was a WhatsApp group of friends also doing the exercises, and so Ballet Based Movement was born.
Why do ballet?
There is a reason that humans have been dancing since the dawn of time, and that is because there is something innately wonderful about it. Moving to music is ingrained in us. To express yourself through movement to music is pure joy!
In addition to the sheer pleasure of dance, ballet focuses on strength, flexibility and balance – three key elements to keeping the body supported and mobile. Particularly as we get older, maintaining mobility and stability is paramount. Susan and Elizabeth focus on this in their exercises so that the enjoyment of dance is further boosted by working towards better mechanical function of the body.
Ballet also requires the connection of the brain with the body and the music. There is intricate coordination going on in dance: one has to move in time to the music and remember the sequence of steps, and this engages the brain. Not only is this hugely stimulating, but it forces us to absolutely live in the moment and focus on what is required here and now. And the bonus: there is a link between dance and decreased risk of dementia.
The wonderful and strange thing about ballet is that it may look easy, but if done correctly, it is highly effective. Lifting your arms through a port de bras, in theory, should be straightforward. However, it requires a great deal of control and use of the correct muscles. You are waking up the body and brain to mindfully lift your arms through the correct positions. Simple exercises that work! You don't have to lift 100-pound weights to get stronger. You don't have to sit in the splits for 5 hours to get more flexible. You don't have to be super fit. You can do it at any age. It is gentle and effective, and benefits of ballet are extensive and wholistic, incorporating the mind, body, and soul.
How does ballet-based movement work?
On the Ballet Based Movement website, there are a series of beginner ballet exercises, you just pick your series and work through the exercises.
Each series runs approximately 20 minutes and comprises working through the basic ballet positions in the arms and feet. There is barre work, and center work, and the exercises always finish up with a curtsy.
If you need more understanding of an exercise, Susan and Elizabeth have provided individual video tutorials that accompany each exercise. These comprise a full breakdown of the movement with corrections and tips.
Ballet Based Movement even offers a Seated Ballet Series for those who prefer to sit.
So come and try it. Whoever you are, wherever you are, come and dance with Susan and Elizabeth, and let ballet nourish your body, your heart, and your soul.
For more information about Susan and Elizabeth's classes please visit their website here, or their Facebook | Instagram | and YouTube pages.