AARP The Magazine did an article on medical wearables which, when you think about it, is a perfect gift for anyone you know over 50. There's so much new technology being developed to monitor your health and possibly save your life they are worth considering. I've gathered a list of some that I consider being the best.
Medical wearables to monitor your heart, circulation & blood pressure
the AliveCor Kardia-Mobile device can check your EKG and is so small it will fit in your pocket. If you feel your heart fluttering all you need to do is check your monitor. It could save you from having a heart attack. It captures your heartbeat, detects rhythm abnormalities, and symptoms of AFib.
Another similar device is the Apple Watch Series This is an all-in-one health monitor that, in addition to being a very cool watch and alarm system it will track your fitness activity, heart rate, & EKG. And if you fall, it will send out an emergency call.
The Omron Healthcare HeartGuide – The new Omron HeartGuide will take clinically accurate blood pressure readings with Omron premier precision. You can set goals and monitor your daily physical activity and sleep patterns. It also lets you set personal daily reminders and get notifications when you receive calls, texts, or emails on your smartphone. It syncs with the Omron app so you can share data with your doctor
Omron Healthcare Evolv® Blood Pressure Monitor
What I love about this blood pressure monitor is that you simply strap it on your arm and press a button to get your blood pressure. No tubes that get tangled up. It syncs with an app on your phone. Here I am wearing mine! I use it all the time to make sure I'm in the normal range. So far, so good!
Relieve aches and pains
Omron Healthcare Avail® Wireless, Dual Channel TENS Unit
I reviewed this product a while back. If you have aches and pains, you can find relief with the Avail's microcurrent therapy. What you do is attach straps onto your area of pain and use your phone app (IOS or Android) synced to the device to control the strength of the current. Because it's wireless, you can take it with you on the go to use when needed.
Do you think your posture is causing you to have aches and pains?
The Upright Go Posture Trainer is something you stick on your upper back. It emits a subtle buzz whenever you hunch over to remind you to stand up straight. Poor posture can significantly affect your health and can cause you to feel older than you are. So many of us spend way too much time hunched over our computer or cell phone and our posture takes a toll.
Control your stress level
Stress is a major cause of illness and other medical conditions especially if you are over 50. The Spire Health Tag is a small device that you can attach to your panties or pajamas that monitor your breathing and heart rate as you sleep. It then sends the data it collects to your smartphone and gives you recommendations to improve your health. It may suggest some breathing exercises, for example. It also tells you what daily activities may be contributing to your stress level. It comes with eight tags that are machine washable so you don't have to attach and reattach them.
Stay fit to lose or maintain your weight
The Garmin vívosmart® 4 wearable fitness device is slender and will track your heartbeat, steps, energy level, stress level, pulse Ox sleep tracking, and features dedicated activity timers for walks, runs, strength training, yoga, pool swims and others. You can even send messages from the device.
Please share this image on Pinterest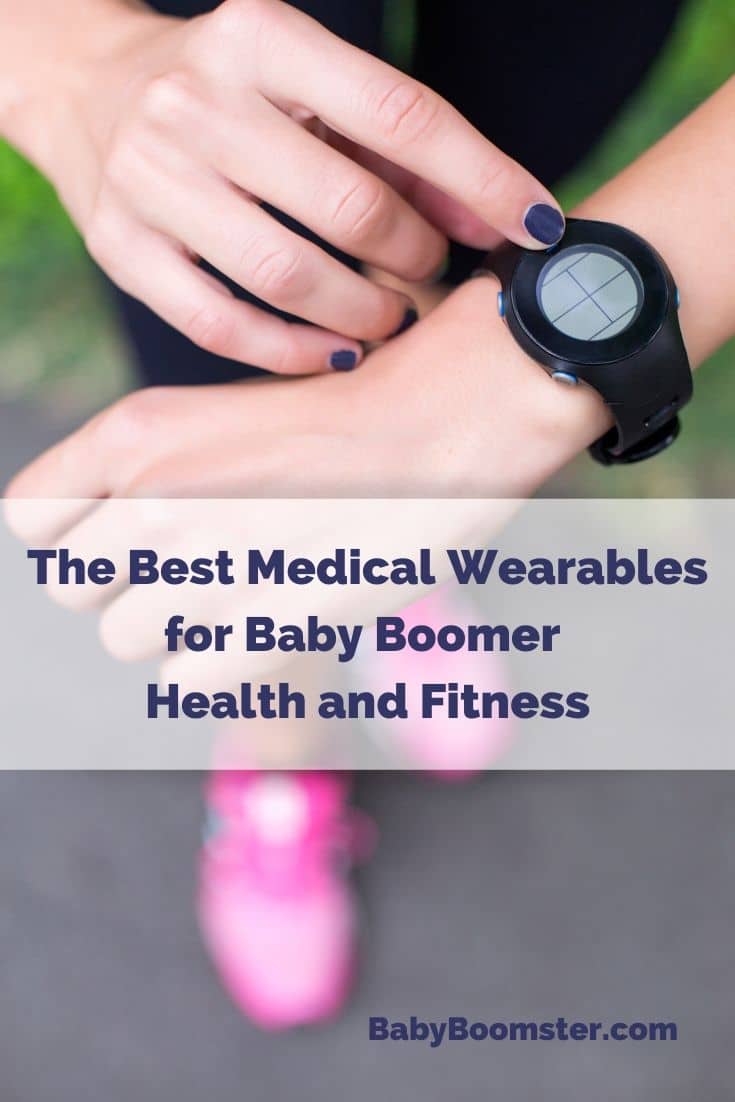 This post was originally published on 12/18 and updated on 12/21.
What medical wearables do you like to use? Please leave a comment below.