Avocado toast has been the rage for a while and it's no wonder why. Avocado is tasty in just about every form, including pudding, and good for you. This recipe for Avocado Toast with Over Easy Egg is a quick and easy way to make a nutritious breakfast. It will keep you filled up and satisfied until lunch.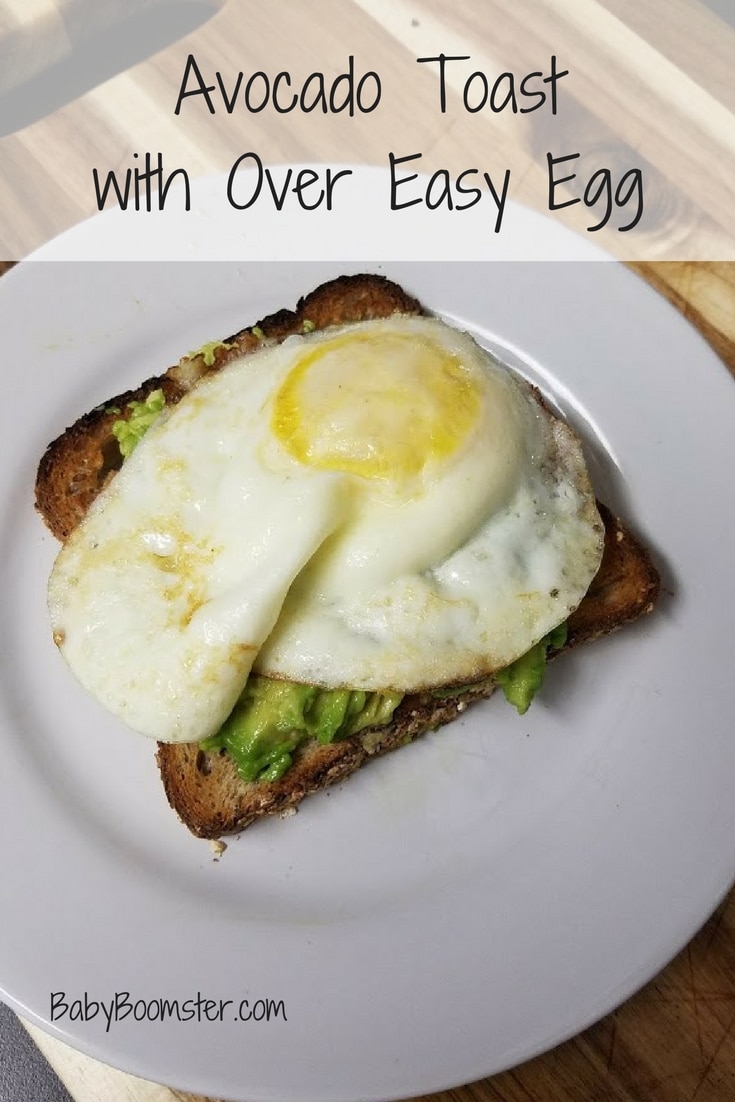 Avocado Toast with Egg Over Easy – My Favorite Breakfast Recipe
A perfect and well-balanced breakfast for women over 50.
Ingredients
1

slice

organic multi-grain bread

olive oil cooking spray

1

egg

1/2

avocado

salt

pepper, or herbs to taste
Instructions
Toast the bread.

Spray a small frying pan with olive oil cooking spray

Turn on the burner to medium heat.

Fry the egg – flip to make it over easy.

Gently smash the avocado or slice onto the toast.

Add fried egg on top.

Sprinkle lightly with salt, pepper, or herbs

Slice in half and serve.
An avocado is one of the healthiest fruits because it is full of nutrients, and a good amount of monounsaturated fatty acids, called MUFA. It also contains 20 vitamins and minerals including vitamins C, E, K, and B-6, as well as riboflavin, niacin, folate, pantothenic acid, magnesium, and potassium, and provides lutein, beta-carotene, and omega-3 fatty acids. I think of it as my multi-vitamin because I'm not someone who enjoys taking supplements.
You have to be careful not to eat too much because of the calorie count so I like to buy mini-avocados if they are available. I use half for my sandwich and I put the other half in a salad for dinner or lunch. Their small size keeps me from overeating them. But, avocado is still an extraordinarily healthy fat so eat as much avocado as you want as long as you balance whatever else you eat during the day.
Stay away from bacon cheeseburgers but go hog wild with avocado.
Eggs are said to be "the perfect protein" and are an important source of nutrients as we age. To get their full benefit, forget about just eating egg whites. (boring) Free range, organic eggs are always best. Both eggs, including the yolk, and avocado help prevent heart disease.
Find more breakfast recipes click here.
I toast a slice of organic multigrain sandwich bread and then spray natural olive oil cooking spray into a small pan and fry my egg over easy. This cuts down the calorie count and is better for you than smothering it in butter.
Smash some avocado on your toast with a fork, place the fried egg on top, and slice it in half. Avocado toast is also amazing when you sprinkle it with herbs, arugula, sliced tomato, sea salt, or other toppings. The avocado toast with egg pictured below was taken at Coffee Commissary in Burbank, California. It's made with home-baked bread and topped with egg and arugula and is freakin' amazing!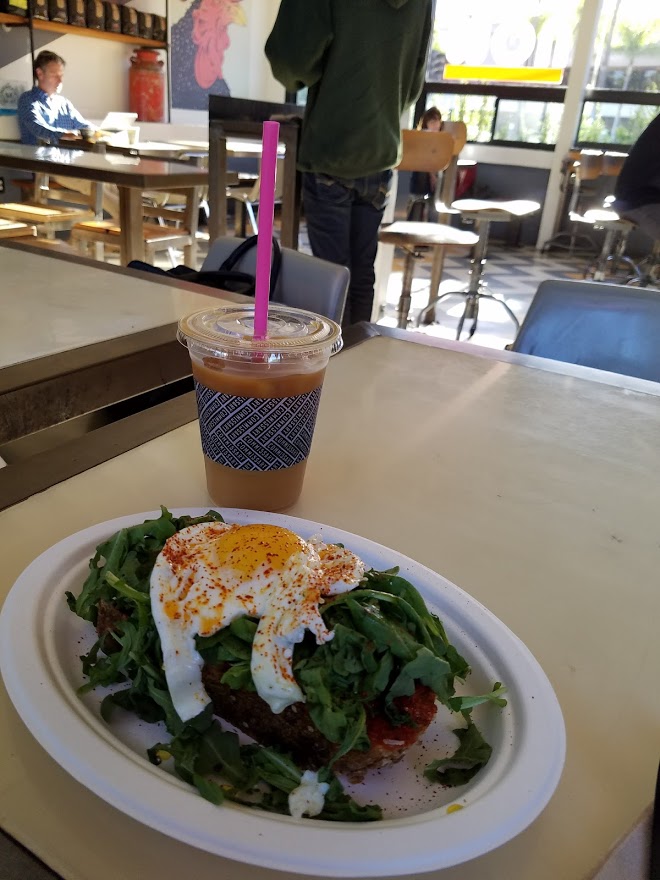 My dogs have been enjoying lapping up any runny egg that's left on my plate. If you have dogs don't give them avocado because even though it's healthy for humans, it contains persin, which can cause them indigestion.