I love pizza but unless you've been living under a rock, you've probably heard the phrases "gluten-free" or "gluten intolerant" being bandied about. About 2% of the population actually has celiac disease but some people may get indigestion when eating foods containing gluten. But what also inspired me to create these gluten-free mini pizzas is that they are seriously tasty.
Enjoy these recipes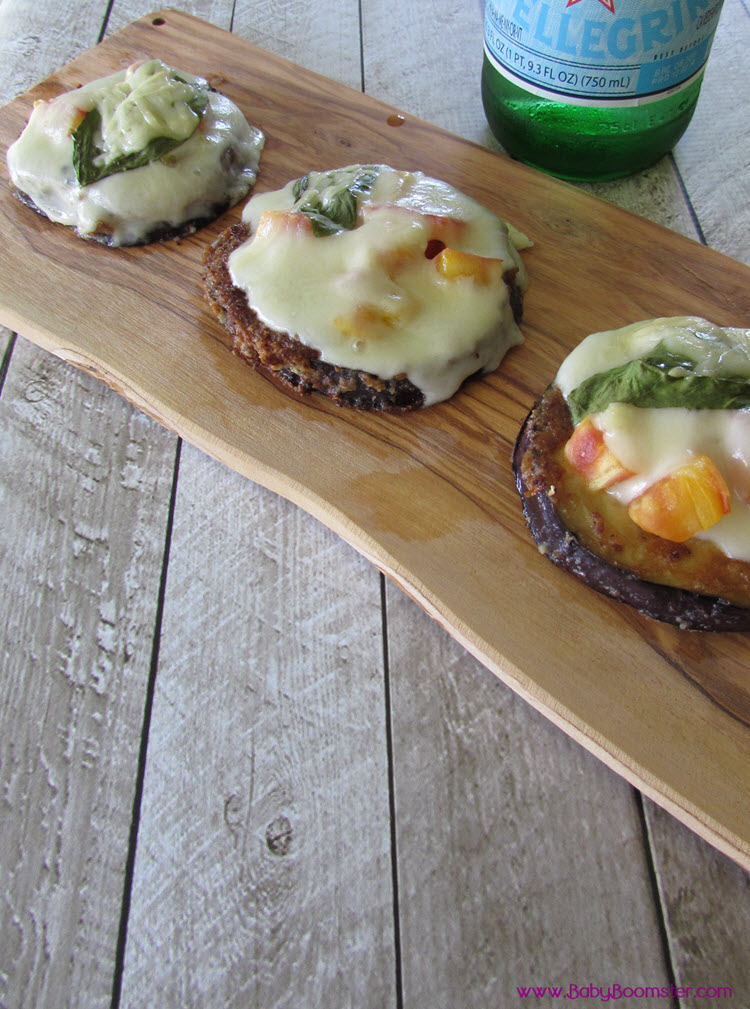 Eggplant Mini Pizzas
Gluten-Free Mini Pizza made with Eggplant slices is healthy and delicious.
Ingredients
1

egg

2

Tbsp

milk

sea salt and pepper to taste

Olive oil or grapeseed oil for frying

grapeseed has a higher heat resistance

¼

cup

of "gluten-free" flour

1

large eggplant

rinsed, trimmed and sliced crosswise into ½ inch slices

2

medium-size fresh tomatoes chopped

3

cloves

of garlic chopped

1

round of fresh mozzarella cheese

a bunch of basil
Instructions
Sprinkle each eggplant slice evenly with salt. …

Place in a colander over a large bowl or in a sink. Carefully rinse each piece of eggplant under cold water, making sure you remove all the salt. …

Transfer the rinsed eggplant pieces, a few at a time, to a clean work surface and pat dry with a paper towel. (this procedure takes out the bitterness)

In a small bowl, beat the egg with the milk and add a little salt and pepper to taste.

Pour enough olive or grapeseed oil into a skillet until there is approximately ¼ inch of olive oil.

Dip the eggplant slices into the egg mixture until they're lightly coated.

Lightly flour each eggplant slice using gluten-free or regular Shake off any excess.

Heat the oil until it's hot but be careful not to burn it.

Fry the eggplant slices a few at a time on both sides until they are golden brown.

When the slices are done, place them on paper towels to absorb the excess oil.

Arrange the eggplant on a baking sheet covered with tin foil.

Place approx 2 tsp of the crushed tomatoes on top of each slice. (depending on the size of the slice)

Sprinkle a little salt and pepper on each.

Sprinkle on chopped garlic

Place a round slice of mozzarella on top of the tomatoes.

Place a basil leaf on top of the cheese.

Sprinkle with grated Parmesan.

Bake at 350 F for 10 minutes until the cheese has melted and the eggplant slices are tender.

Serve hot.
Notes
Add any other toppings you like to your mini pizzas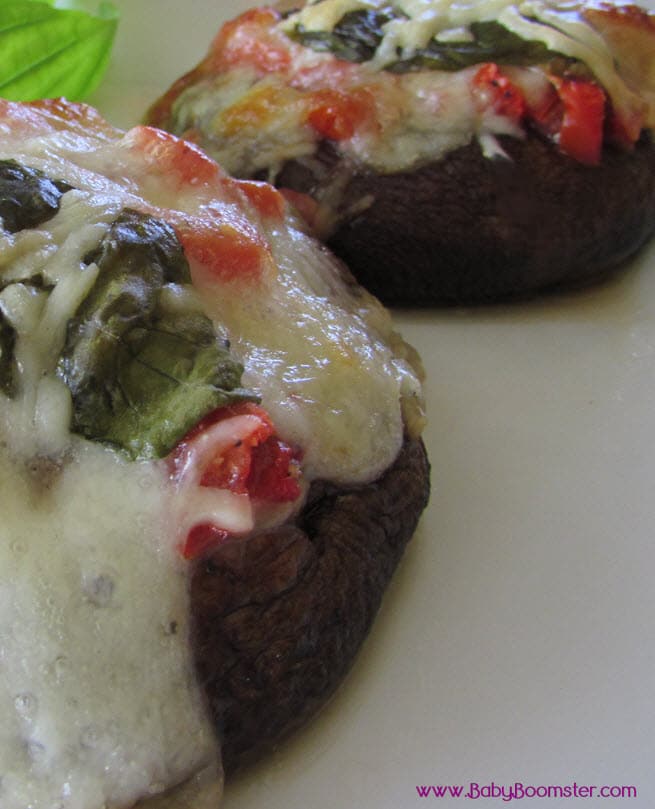 Portobello Mini Pizzas
Portobello mushroom pizzas are gluten-free and "meaty" tasting. Yummy!
Ingredients
2

Tbsp

of Olive oil for frying

2-4

large Portobello mushroom caps

2 per person

1

small can of crushed tomatoes or 2 ripe tomatoes freshly chopped

1

large ball of mozzarella sliced thinly smoked or plain.

1

bunch of basil

salt and pepper to taste

Fresh grated Parmesan cheese

chopped garlic

optional
Instructions
Heat the olive oil in a skillet – be careful not to burn it

Sear the mushroom caps on both sides for a couple of minutes each.

Drain the mushrooms on paper towels to remove the excess mushroom water and oil.

Line a rimmed baking sheet with tin foil. (mushrooms contain water and may drip when baked)

Place the mushroom caps on the baking sheet with the top side up.

Place 2 tsp of crushed tomatoes on top of the mushroom caps.

Add salt, pepper, and garlic to taste.

Place a slice or two of the mozzarella on top of the tomatoes

Place a basil leaf on top of the cheese.

Sprinkle with grated Parmesan.

Bake in the oven for 30 minutes at 350 F.

Serve hot.
Notes
Add any other toppings you love to the mini pizzas.
Why gluten-free may be a good alternative for you
So many people are giving up what we always thought of as health-enhancing grains and going "gluten-free" whether they suffer from celiac disease or not. The truth is, the flour in the US has been tampered with and you have to be careful what types of bread-making products you buy. You won't find that problem in Italy where you can eat pizza and bread until the cows come home. When I was there, I ate tons of it and never felt bloated.
Instead of bread dough, I used eggplant slices and large Portobello mushroom caps as the "crust" to make these mini-pizzas gluten-free. However, to make the eggplant even tastier, I dusted the slices with gluten-free flour before sautéing them in grapeseed oil. If you don't care whether your mini-pizzas are gluten-free or not, use regular flour. I'm not the gluten-free police. I just want to give you smart eating options.
Add any of your favorite toppings and cheeses to both mini-pizzas. However, if you want them to be "healthy" nix the pepperoni. LOL.
Bake your pizza using a pizza stone for the best results.
Don't they look yummy!
Using eggplant, mushroom tops, or cauliflower for your mini pizza crust is often a better option because gluten-free flour is often too starchy and may spike your blood sugar levels.
I hope you enjoy these mini pizzas as much as I did making them.
Do you eat gluten-free? What's your favorite way to make gluten-free pizza? Please leave a comment below.