I wanted to share what I often make for breakfast  Sometimes I can be wacky when it comes to food. When you think of egg salad you might be envisioning a creamy bowl of eggs mixed with mayonnaise and mustard. As tasty as it is, it's full of calories.
A typical "American style" omelet is usually several eggs mixed with cheese, sausage, or tiny bits of vegetables. The type of omelet I love to make is mostly vegetables with only one or two eggs. I call it my very veggie egg salad omelet. It's very veggie because I mix in whatever vegetables I have on hand. This time I threw in mushrooms, shallots, cabbage, and red peppers.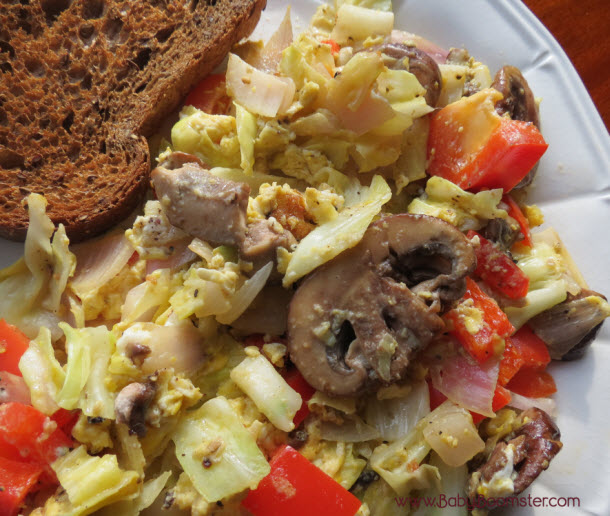 Very Veggie Egg Salad Omelet
Instead of eating a heavy and high calorie omelet, make it into an egg salad instead.
Ingredients
1

large shallot chopped

1/4

large Cabbage coarsely chopped

6-8

mushrooms sliced

1/4

Red Pepper seeds removed and chopped

2

eggs beaten

salt and pepper to taste

2

Tbsp

grapeseed oil or use a little chicken or vegetable broth
Instructions
Heat the grapeseed oil over medium high heat until it's hot (grapeseed oil can cook hotter than olive oil)

Saute the vegetables (whatever you choose) until slightly soft.

Add the eggs stirring until it starts to set.

Season with salt, pepper or add any herbs you enjoy.
Cabbage isn't something you'd think to stick in an omelet but I had some laying around and thought it would be interesting. I chopped up a large shallot knowing I'd be by myself most of the day. Onions and garlic are my favorite and I use them whenever I can. I sauteed all the vegetables in grapeseed oil, but you could also use chicken broth instead. Both are healthy substitutes for butter.
I accessorized my "egg salad omelet" with a delicious piece of dark brown whole wheat bread mixed with flax seeds that I picked up at the Farmer's Market.  (It was all-natural, non-GMO, and preservative-free)
I used to belong to a gym that had a dietitian in residence. She told me I should only eat oatmeal and egg whites for breakfast. UGH! Who wants to eat a meal that's all white?  Your food should be colorful and beautiful. Don't you think? That's why I love my very veggie egg salad omelet.
What veggies do you like to put in your omelets? Please leave a comment and let us know.