Telehealth and Telemedicine are hot topics and we are seeing new devices each day that can help the seniors in our community with their health, activities, and daily regimens.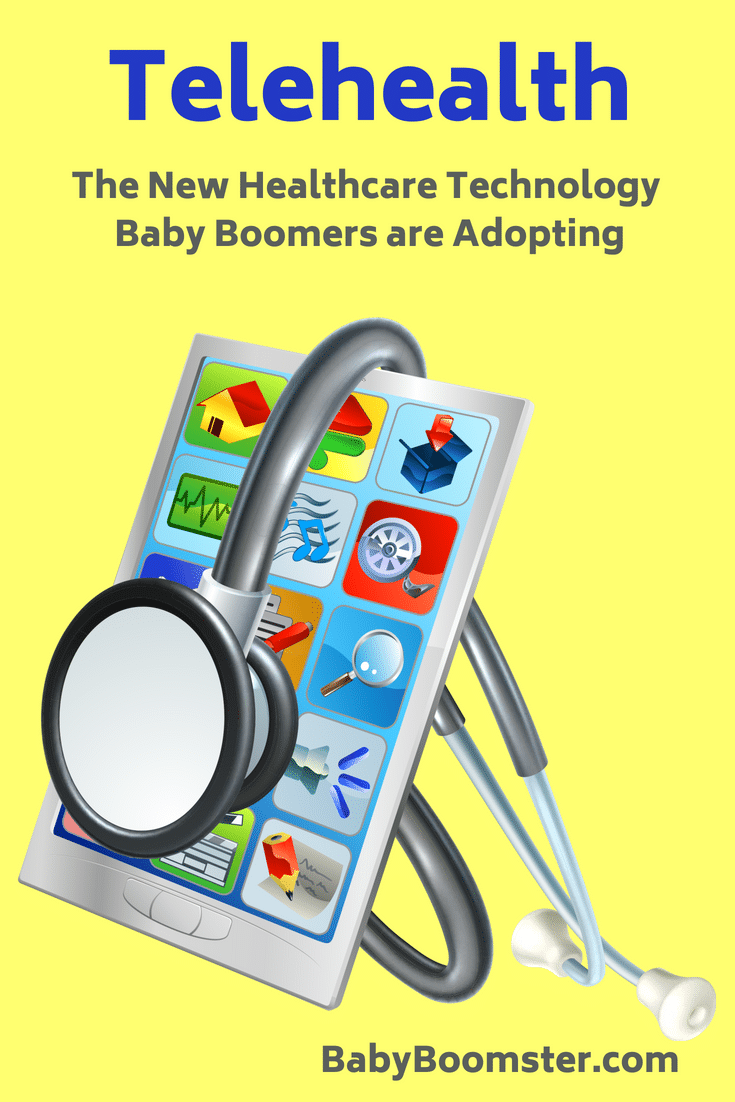 Telehealth is a broad range of technology and services that provide patient care and improve the healthcare delivery system. Telehealth can refer to a broad scope of remote non-clinical services; such as provider training, administrative meetings, and continuing medical education.
Telemedicine is a subset of telehealth that solely refers to health care services and education using telecommunications technology. Telemedicine is used for follow-up visits, management of chronic issues, medication management, specialist consultations, and a host of other clinical services that can be done remotely via a secure video and audio connection.
Technology, Medicine, and Monitoring
Many Baby Boomers are becoming tech-savvy if they are not already keeping up with the hottest electronic gadgets. Smartphones are in the hands of 40 percent of older adults, yet only 6% of seniors currently use a wearable device to track their health.
The average 75-year-old deals with three or more chronic conditions and takes five or more medications; this can be a significant amount of added doctor appointments and daily activities to sustain a person's well-being and freedom.
With advances in senior health technology, Baby Boomers can revolutionize the aging experience. There are plenty of older adults that are eager to benefit from new technology.
Digital technology, specifically the Internet of Medical Things (IoMT), has great potential to help control medical costs, and provide better elder care. There are many different tools that can assist Baby Boomers in keeping or improving their health and maintaining their independence.
Vitals-Tracking Wearables
Diabetes, cardiac ailments, and hypertension are common non-communicable diseases most seniors suffer from. No matter the disease, telehealth changes senior care.
The advances in telehealth medicine make it possible for cardiac patients to have heart monitors that can monitor ailments such as arrhythmia and can alert doctors to adverse events in real-time. This will help prevent further complications. One monitor that does this is the Omron Kardia Mobile EKG device, there are other monitors also available.
For Baby Boomers with diabetes, there are "smart" glucometers such as Freestyle Precision Neo that can transfer measured blood glucose readings to an app on a smartphone for storage, tracking, and monitoring diabetes.
The Internet of Medical Things platforms such as the one provided by Vitls can help nurses and off-campus physicians monitor a patient's vital signs continuously, without disturbing the senior.
Medication Reminder Tools
It can be easy for a Baby Boomer to forget which medications they need to take or which medications they have already taken. Missed medications can result in additional health conditions or in severe situations missing a dose could mean hospitalization.
There are products from AdhereTech, MedMinder, and Vitality GlowCaps that took on the challenge of remembering medications in their own unique ways. This is helping the healthcare industry and saving a lot of money on medical expenses.
Virtual Personal Assistants
Many Baby Boomers live alone or with their partner, who is most often elderly, and both require daily assistance as well as companionship. A virtual home assistant device like the Catalia Health's Mabu robot can serve the purpose of senior interactions via touchscreens or voice.
This robot can help Baby Boomers stay connected with their family and friends via social media platforms and video chats. Additionally, the home assistant can help patients remember to take medications, it can take notes, and remind patients about medical advice from providers'.
Another category of assistants is the voice-interactive digital assistant, like the Amazon Echo. These types of devices can be used for medication adherence, care coordination, and patient engagement. These devices can considerably save healthcare companies money in the long run.
Family and Caregiver Remote Monitoring Devices
There are some products like 3rings and Sonamba that help family members or caregivers monitor seniors remotely without contacting them directly. The 3rings smart plug will notify a family member each time the connected device is used.
If the device is connected to the refrigerator, then the family member will be contacted when the refrigerator door is opened, indicating when the routine is normal or not. Any deviation in routine will be detected and family members can reach out to seniors to ensure that their loved one is indeed doing fine.
Medical Guardian has a family guardian system that uses a 3-sensor system to keep family members updated on a loved one's health and condition.
What makes these products amazing is the way they allow caregivers to non-intrusively monitor health or activity, get alerts when a deviation occurs, and know when immediate medical assistance may be needed most.
More Than a Smart Device
There are new telehealth devices that can provide 24/7 monitoring and medication reminder alerts that notify caregivers when medication isn't taken. It is wonderful to be a part of a society that is advanced enough to make these accessible and easy to use devices, they are clearly going to improve the quality of life among many Baby Boomers.
These devices provide peace of mind to caregivers, consumers, and the children of the elderly. According to a report done by Grand View Research Inc., the United States telehealth market is anticipated to reach $2.8 billion in 2022.
Telehealth can offer the medical industry an opportunity to save money and be more efficient. The providers across the nation will need to prepare to accommodate the Baby Boomer population. Despite the clear benefits to telehealth use, there are many barriers limiting its emergence into the senior living industry.
If telehealth solutions were provided to all seniors, they would be able to have their blood pressure, weight, location, and physical activities monitored without ever stepping into a doctor's office. This would allow Baby Boomers to have more time doing the things they want and less time at follow-up appointments.
The greatest benefits to this technology, industry estimates found more than 25% of annual hospital admissions for senior residents may have been prevented through telehealth technology.
Unfortunately, the Center for Connected Health Policy's reported that "While many states are expanding telehealth reimbursement, others continue to place limitations on telehealth delivered services.
There are some who believe telehealth devices do not allow for privacy. It can be difficult for providers and staff members to balance the desires of family members who want 24/7 monitoring and the needs of the residents. When the resident has control over who can access the information they are more positive about the idea of telehealth technology.
The Future of Telehealth
It is only a matter of time until telehealth becomes the main component of our healthcare delivery system. It is difficult to look past the value of telehealth solutions; these devices can save time, money and improve the quality of life.
There are already a number of Virtual Medical Centers in an exciting pilot program to distribute the value of centralized specialists across wider geographical areas. Mercy Hospitals is at the forefront of the field with a new virtual care center in Missouri.
There is a more modest program in northern Virginia, Inova Health Systems, where telemedicine facilities are allowing a group of intensivists to deliver their services to 122 ICU beds located all over the state.
Telemedicine will eventually be the way we all receive care, this is not a matter of if, but a matter of when.