As Baby Boomers (born between 1946 – 1964) enter retirement and the Medicare system, developing chronic conditions, related to aging, is a primary concern. Even though many of us do whatever we can to stay healthy – eat well – stay active – a good portion take one or more medications. Medication adherence is key to overall health and wellness but isn't always easy.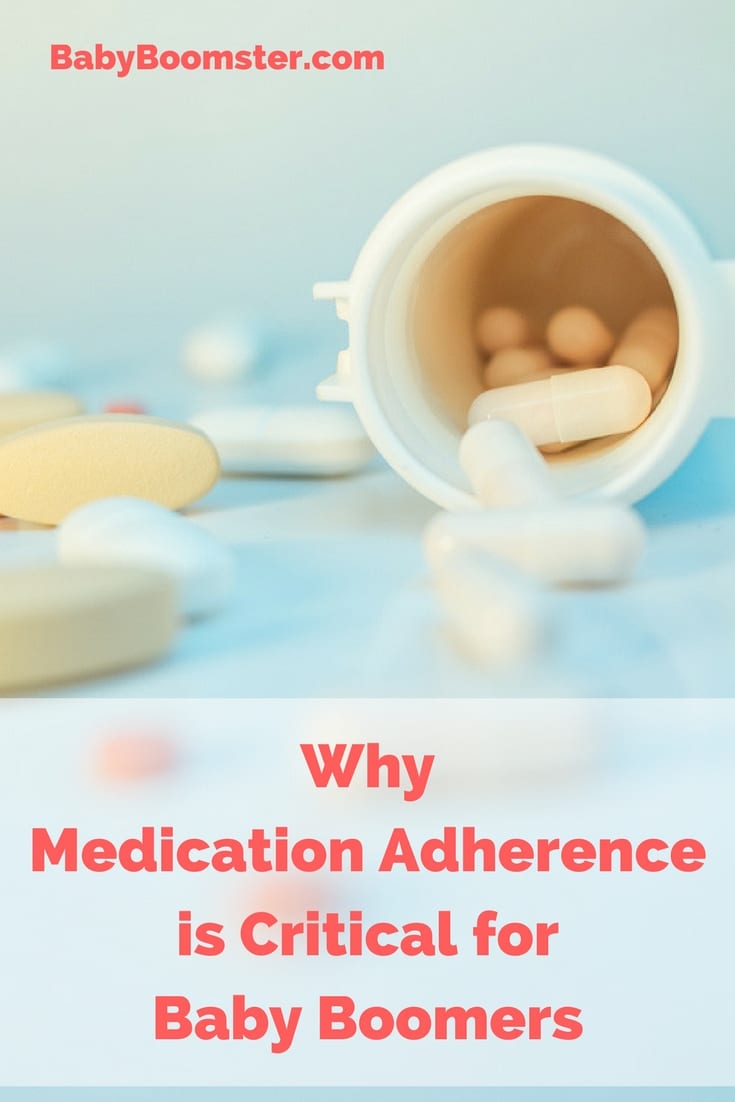 Prescription drugs and harmful side effects
We've all seen drug commercials that list endless and scary side effects. Adverse reactions are sometimes caused by the drug itself but also when certain drugs are taken together.  In some cases, drugs they become a deadly cocktail. Add alcohol or substance abuse to the mix and "Houston, we have a problem."
Healthcare miscommunication
The healthcare system is complicated and sometimes specialists don't always communicate with each other as well as they should. I noticed this when my husband was ill with brain cancer. It's important for patients and/or advocates to stay on top of it and make sure that each doctor knows what the other one is prescribing.
That's where an informed pharmacist comes in. CVS Pharmacy takes medication adherence seriously. They are America's leading retail pharmacy with more than 9,700 locations nationwide with pharmacies now in Target Stores. This comes in handy when you're traveling. You can walk into any CVS Pharmacy if you're on the road, and your medications will be in their system.
Medication adherence prevents needless deaths
Medication non-adherence leads to 125,000 deaths and 10 to 20 percent of hospital and nursing home admissions every year. We've recently heard about Baby Boomer celebrities like Prince who have died from prescription drug overdoses from opioid medications. Most opioids are prescribed for pain and are generally safe when taken in the correct dose and not mixed with the wrong formulations.
The CVS Pharmacy Scriptpath program makes it easier to organize medications so you take them correctly and at the best times.
Not taking medications as prescribed
Studies show that a third of patients do not take their medications as prescribed and nearly 50 percent of patients with chronic conditions stop taking their medications within the first year of diagnosis. They may simply forget or stop taking their prescriptions deliberately. Some choose to try a natural approach but may not realize that herbs and supplements could have harmful side effects as well. It's always best to check with your pharmacist before taking anything, especially if it hasn't been prescribed by your doctor.
Dealing with multiple maintenance medications
It's confusing for anyone who takes multiple prescriptions for chronic or temporary conditions. CVS Pharmacy helps patients organize their pills and also will help arrange a time to pick up all their prescriptions in one monthly pharmacy visit.
Food and medication
Certain foods can have adverse reactions to drugs such as grapefruit. It's always best to talk to your pharmacist about mixing foods with drugs that could compromise the effectiveness of the drug.
Allergic reactions
Doctors do their best to make sure a drug will not cause an allergic reaction but it's also a good idea to check with your pharmacist. They will alert you to potential problems you may experience and how to deal with reactions safely.
The benefits of pharmacist counseling
Research shows that face-to-face counseling by a pharmacist is two to three times more effective at increasing patient adherence than other interventions. CVS Pharmacy offers face-to-face counseling as well as phone counseling to help its members achieve better health.
For more tips on how to handle medication, click here.
Medication adherence monitoring on the CVS Pharmacy mobile app
The CVS app helps make filling and refilling prescriptions a breeze. You can also use it to set up medication reminders to alert you when it's time to take a dose.
I'm proud to be working with CVS Pharmacy to help spread the word about #BetterHealthMadeEasy, how to #FindYourHealthy and #DiscoverCVS. All opinions expressed are my own, and all product claims or program details shared should be verified at CVS.com or with the appropriate manufacturers.