World Health Day in April is about caring about your health. Learning how to handle taking medication should be something you do every day.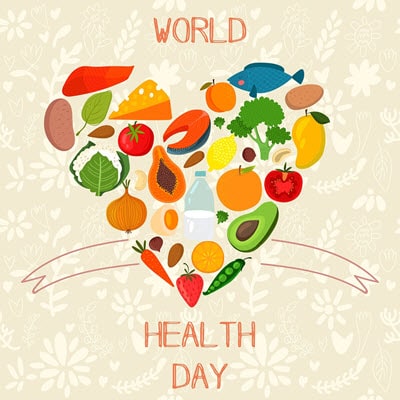 That's why I want to share the infographic below with tips on how to handle taking medication and what you should ask your doctor. Many of us over 50 are being prescribed medications for ailments that are common as we age. We're also being bombarded with ads, paid for by drug companies, on television targeted to the Baby Boomer demographic.
I advocate consuming nutritious food as a preventative method to avoid taking prescription drugs in the first place. However, sometimes you have to take drugs to stay alive.
How do you know if a drug is going to have side effects or not play nice with something else you ingest? It could be another medication or even something you eat.
For example, grapefruit is incredibly healthy and loaded with Vitamin C.  The problem is, eating grapefruit, when taking certain medications, may work against you. It's important to ask your doctor and pharmacist about it as well as do research on your own. Believe me, it's not uncommon for them to forget to tell you about it if you don't speak up.
We all know that our health care system is bogged down and disorganized. You may find yourself being referred to multiple doctors in separate locations. It's easy for a physician or nurse practitioner, who has not communicated properly with your other doctors, to make a mistake that causes a nasty drug reaction or side effect.
It's also important that you take the proper amount of medication prescribed to avoid an overdose.
Look at what happened to Michael Jackson!
His doctor was more interested in the money he was going to make that he neglected to use good judgment and now the King of Pop is dead.
The majority of doctors are not idiots like him but they're human and make mistakes.
Please share this Infographic with important tips on how to handle taking medication.
My take on the infographic:
Take your medications exactly as prescribed – Have you ever read a doctor's handwriting? Honestly, I don't know how pharmacists make sense of it. Always have a consultation with your pharmacist when you're picking up your medications. Try to pick them up yourself or have the person picking them up for you confer with the pharmacist.
Remember to follow any restrictions – Ask if you should avoid eating grapefruit, dairy, stay out of the sun, stay away from alcohol, or if there are any other contraindications? Don't risk having an adverse reaction because you weren't informed. When you bring your prescription home, put on your reading glasses, and read the fine print. Do research online about the drugs you're taking and don't be afraid to ask questions.
Store your medications properly – Check to see if any of your medication needs to be refrigerated or kept in a cool location. If you have a pet or grandchild, be extra careful not to drop pills on the floor. When my dad was alive and in his 80's, he had to take numerous pills and would often drop them on the floor or the couch. Your dog doesn't need your statin pill and it may kill it or make a child sick.
Don't share your medication with anyone else – We're not in the '60s anymore. Your medications have been formulated for you and only you.
Don't drink alcohol in excess when you're taking medication – I say don't drink alcohol in excess even if you're not taking medication! Alcohol is a drug in itself and will kill you, eventually if you overindulge. Some medications require that you avoid alcohol completely.
Don't run out of your medication – Running out of your meds may be critical to your health. Make sure when you travel to carry your meds on board and never place them in your checked luggage. You don't want your meds to end up in Timbuktu. We all know how hard it is to bring anything to carry on with TSA restrictions. but make sure you have what you need even if you have to bring a doctor's note. That includes taking extra pairs of contact lenses if you wear them. You won't enjoy your trip if you can't see it.
Take all your medication and don't stop just because you feel better – Don't risk an infection like pneumonia or even a yeast infection coming back because you left the rest of your pills in the bottle. Also, make sure to take your pills at the proper times.
Don't take medications after they've expired – There's a reason they have an expiration date. If they're old, properly dispose of them. Remember that flushing pills down the toilet may contaminate the water system and could be dangerous to fish and wildlife.
Here are a few more tips on how to handle taking medication that I'd like to add
Remember that natural herbs and vitamins can be toxic if taken in excess  – Just because they're marketed as a healthy product doesn't mean they won't have an adverse effect. Certain herbs may also cause negative reactions to prescription drugs. St. John's Wort is notorious for that. You can overdose on vitamins as well. They won't kill you but can wreak havoc on your liver and other organs. Have a blood test first to determine if you're vitamin deficient and then make up the difference by eating fresh foods containing those vitamins before resorting to supplements.
If you're allergic to certain foods like nuts, shrimp, bees, or anything else that will cause you to puff up or stop breathing, carry an epi-pen or antidote everywhere you go -It's also a good idea to carry a few Benadryl with you in your purse or pocket in case you have a reaction to something you didn't know you were allergic to. I found out I was allergic to Ibuprofen and Naproxen. I hardly ever take anything and didn't know I was allergic until I noticed a hive on my wrist and started sweating.
Avoid having to take medication in the first place by eating natural, organic, non-processed foods, drinking plenty of water, and keeping your sugar intake low.
Just like your car, medications and medical devices may be subject to recalls.
It's a good idea to have a medical alert system in the event of an emergency, especially if you have certain conditions. Medical alerts are not only for seniors and can save your life.
Questions to ask your doctor or pharmacist about how to handle taking medication:
How many tablets, pills, or liquid should I take, and how often? I suggest you write this information down immediately or record your doctor's appointment using your phone recorder. Make sure your pharmacist is telling you the same thing. If not, make sure they agree. Keep track of how much you take by using a pill organizer.
What foods or other drugs should I avoid consuming when taking my meds? Many times a doctor will not go into detail about this UNLESS you ask.
What are the risks and side effects that I may have if I take this medication and are there alternatives?
Does my medication need to be refrigerated or stored in any way particular?
How many refills do I have with this prescription and how long do I need to take it?
Will I need to have blood tests taken after I finish this round of medication? Some medications may be harmful to your liver or other organs.
How can I change what I eat and my lifestyle to avoid taking medication for this ailment in the future? (See if they can answer that)
Is the generic for this drug as effective as its name brand and what will be the difference in cost?
Does my insurance cover this drug? (Some insurance companies have restrictions on medications and if it is not covered can be expensive)
What else do I need to avoid or be aware of when taking this medication. Example: Staying out of the sun, avoiding sex, exercise, etc.
Do you have any tips that you can offer about how to handle taking medication? Please leave a comment below.