As an older woman, the next decades of your life can serve as a transformative experience. Maybe you're an empty-nester for the first time, or you've lived in your home for years without making many big changes. Whatever your circumstance, this phase of your life is perfect for self-discovery, family, and cultivating personal wellness, it could also be the perfect time to update your home.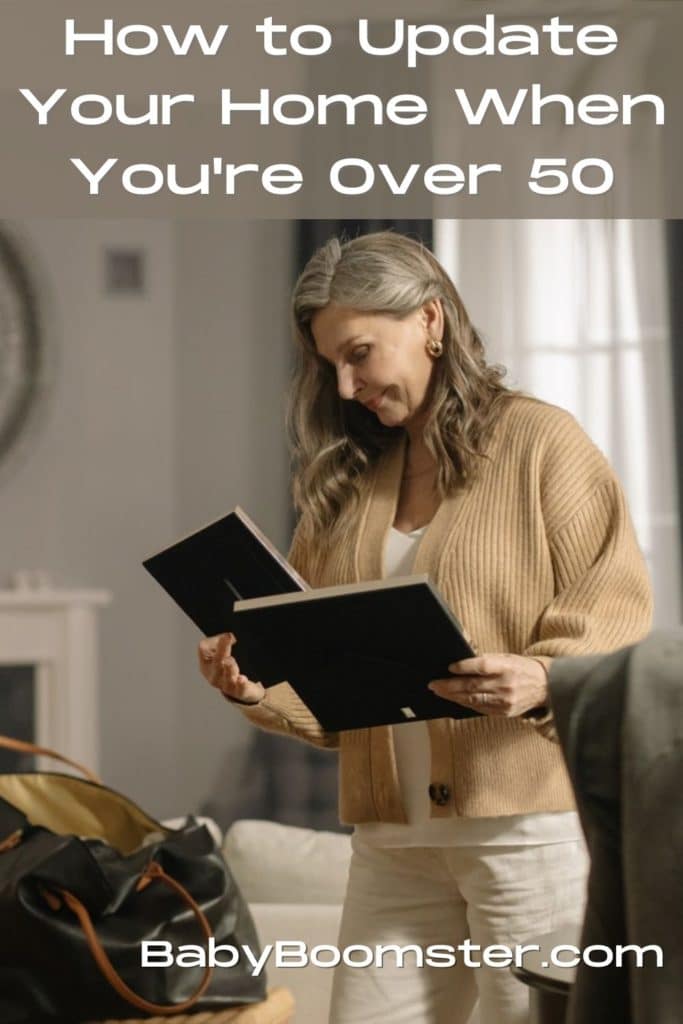 If your home feels outdated or stale in any way, you already have the perfect excuse to do some remodeling or redecorating. But, you don't have to wait for a trend to go out of style to make a few changes. Now is the time when you should be focused on who you are, who you want to be, and what you want your home to represent.
With that in mind, let's look at a few practical ways you can update your home once you've reached retirement age. Whether you want to keep things simple with decorative accents or you're ready for a complete overhaul, it's never too late to renovate!
Start outside
Spring is just around the corner. While for many that might mean indoor spring cleaning, it's also the perfect time to update your yard, add curb appeal to your home, and create your own personal outdoor sanctuary you can enjoy in the warmer months.
You don't need to be a professional landscaper to make noticeable changes to your yard. Sometimes, simple is better. Before you get started, consider your costs. One reason people tend to put off home improvement projects (indoors or outdoors) is that they're worried they might not be able to afford to get them done.
No matter the project, you can alleviate those worries by setting a budget and learning how to cut costs as much as possible. Do your research, make a plan, and DIY things whenever you can if a professional isn't needed.
Once you're ready to get started with your outdoor projects, it's okay to do the "small" things first. Some of the easiest ways to upgrade your outdoor space include:
Changing the house numbers
Decorating your porch/entryway
Cleaning and organizing
Changing the home's exterior color
Designing a garden
There are some outdoor jobs that are more labor-intensive than others, including tree removal, land clearing, and replaced walkways. If you're trying to stick to a budget, make priorities when it comes to what you really want to have done, what you can do on your own, and the things you should hire out for.
Update your home to fit your needs
As you start to age, your needs and priorities tend to change. You might want more convenience and comfort in your life than before. So, keep those needs in mind as you're remodeling your home, and think about how your space can work with you. From there, you can make design changes – big and small – to meet those needs and feel even more comfortable in your home. Those changes could include things like:
New, functional furniture
Smaller furnishings
Low-maintenance care
You might also consider reorganizing and designing certain rooms within your home. If you're an empty-nester, changing your rooms could be a good place to start. You can easily transform your children's rooms into a home office, a spare guest room, or just an extra place to relax. You could turn an extra room into a home gym or yoga space if you're making your health a priority and need a place to exercise.
If something isn't being used for its functionality or it doesn't have a purpose, think about what you can do to make it work for you. This tactic can be beneficial if you want to stay in your current home and don't want to downsize. Make use of the space you have!
Keep yourself safe
There are plenty of things you can DIY in your home, no matter your age or skill level. But, it's important to keep yourself safe, especially if you're considering significant renovations. If your home is older and you want to knock down walls or install new insulation, you should be aware of potential hazards like asbestos.
It was commonly used in building materials of older homes and needs to be removed by a professional. Breathing it in can put you at risk of respiratory issues, and even mesothelioma.
It's also important to admit when you need a professional for a specific job. A good rule of thumb is to hire out when you have to do anything with plumbing, your HVAC system, or roofing. Keeping yourself safe should be a top priority when it comes to updating your home.
Whether your home renovations include something as simple as a fresh coat of paint, you're ready for major changes, or you want to incorporate Universal design, embrace the updates you really want, go for them boldly, and enjoy the way your home reflects this chapter of your life.
Have you done or are you planning to do an update on your home? Please leave a comment below.