You've most definitely heard the saying, "new year, new me." People often use the new year as a way to reinvent and improve themselves as individuals, but can the same logic apply to one's house? It sure can! After all, what better time to redecorate or renovate your home — especially if you are in or are nearing retirement.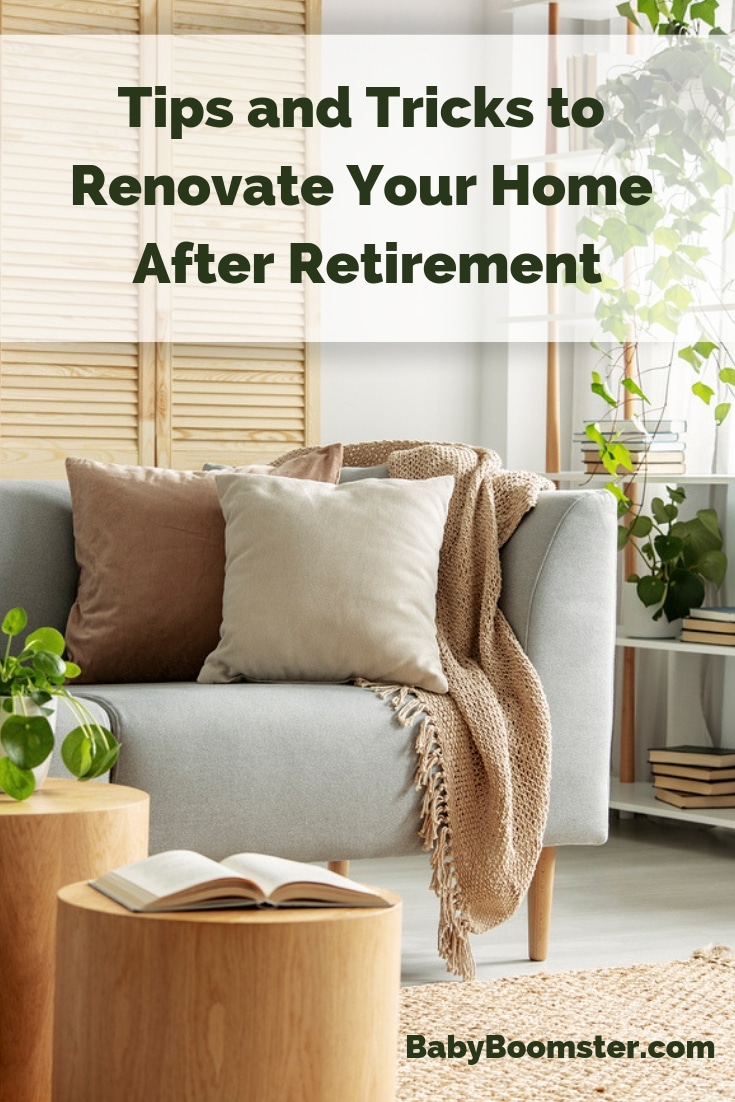 You've likely been in your house for decades, and now's the perfect time to make it feel like new again. Here are some ways to spruce up your home that are easy and doable.
Determine Your Budget
The first — and often most important — thing to consider when you renovate your home is your budget. Your budget will determine the type of renovations and upgrades you can afford. It's good to look at how much money you can spend before proceeding with any renovation or redecoration process. This way, you won't have to face a situation where you're halfway through renovating, only to find that you're falling short of money and unable to complete your renovations satisfactorily. With a budget in mind, you can start looking at options that fit within your spending range and avoid being disappointed later.
If your home needs a large-scale do-over, you might even consider a home improvement loan. As stated by experts at Fiscal Tiger, "Home improvement loans come in different shapes and forms, but their purpose is often the same: borrow money in order to make large-scale home renovations and improvements that are either needed or simply wanted to enjoy or to increase the value of your home. Regardless of your reasoning, home improvement loans are usually the best way to finance home improvements."
From replacing a roof to adding a deck to your home, home improvement loans can pay for just about any renovations you intend to make if your credit limit allows it. Once you've determined your budget, you can proceed to the fun part: the process of sprucing up your home!
Quick and Easy Ideas
Even if you don't have a big budget or the time to commit to an exhaustive home makeover, you can still give your home a new look for the year. Here are some relatively low-cost, simple decorating tips that will still change the personality of your home:
Add Accents
A surefire way to incorporate accent coloring into your living space is to accent a piece of furniture like your couch and bed. You can use different textures and prints in your color schemes, such as a crocheted throw draped over the couch, silk or patterned pillows on living room couches, or a multicolor quilt on the bed. Don't use too many elements, as things like throw pillows should be thought of like jewelry for furniture pieces — too much can lead to an overly tacky look.
When you renovate your home consider creating an accent wall to liven up a particular room. The Spruce suggests adding temporary wallpaper, wood planking, or tiles, which can all create beautiful accent walls and are quite cheap as materials. You could also use a stencil to add texture to a wall. Stencils often don't even require repainting — you can simply add color with a stenciled design for a new look.
Tidy Up
Tidying up can completely change the look and feel of your home. If you don't believe me, just watch an episode of "Tidying-Up with Marie Kondo" on Netflix, and you'll be itching to organize and reorganize your belongings! Cleaning can be fun, and adding a few organizational pieces can make a huge difference. For example, you could install some coat hooks by your door and clear up your entryway. Add a folding chair to sit on while you take off your shoes, and maybe a potted plant or two, and you have an entirely new entryway that is both clean and functional.
Revamp Floors
Many people overlook their floors as a decorating element in the home. In fact, revamping your floors is a great way to add color to a room. You don't have to necessarily tile your floors to change their look — you could simply paint them! Painting your floor a bright color looks especially nice if you have minimalistic and monotoned furniture. For instance, a brightly-painted floor might suit a bathroom that has neutral fixtures and walls. Painting one's floor also allows unique furniture to take center-stage, without being too overwhelming.
Alternatively, if a painted floor isn't your style, you could buy some textured rugs and carpets to place at the base of furniture items like beds, center tables, and tubs. Movable rugs and/or carpeting can add some depth to your living space, are easy to maintain, and can even be changed in the future without much effort.
Time-intensive Ideas
If you've got some time and money to spare, you might want to take up a more expansive home decoration project. Here are some ideas:
Create a Relaxation Room
We previously featured this idea on the blog, but it remains relevant today. A relaxation room is a perfect way to unwind after a stressful day, and creating a space to do just that will benefit you in the long run. A room where you can relax provides a sanctuary to forget about the outside world and just be at peace, in turn reducing your anxiety and improving your mental and emotional health. As we mentioned in our earlier post, a relaxation room should be uncluttered, disconnected from technology, and use mindful design techniques to create a calm space. These include choosing natural or amber-tinted lighting for increased relaxation, as well as using the psychology of color to bring a specific vibe to the room.
Start an Indoor Herb Garden
Starting an indoor herb garden is definitely a huge commitment, but can also be extremely rewarding. A flourishing garden has many advantages, one of which is having access to sustainably grown, delicious herbs and garnishes that are perfect for salads and other healthy recipes.
You can use the various windows in your home to start your herb garden. Different plants and herbs will need certain sunlight requirements, so spend some time researching what you want to grow. Find the right windows for your planting needs and start building your dream indoor herb garden. Or two.
Safety when you renovate your home
Whether you decide to go all-out and redecorate or just make some basic home improvements, safety should be a top priority. DIY projects can lead to severe injuries, and you don't want your remodeling budget to be going towards medical expenses from injuries that could have been prevented if the proper safety measures had been taken.
Be careful when you're using power tools, and take preventative measures to ensure your safety. Being aware of how things work and having extra hands on deck when undertaking a big project is key to protecting yourself while renovating and re-decorating.
Even if you've been settled in your house for several years, there are always ways of refreshing the look and making it feel new again. It's always a great time to make changes in any aspect of your life, as is retirement, and the look and feel of your house is no exception. Happy renovating!
If you decide to renovate your home, what tips from this post do you think are important to implement? Please leave a comment below.