The older we get, the more challenges we face. It's inevitable and we can't escape it, no matter how hard we try. Even if you're the luckiest person in the world you're not immune. But no matter what is stressing you out, it's important to take the time to unwind and chill out. One way to do this is to create a relaxation room in your home even if space is limited.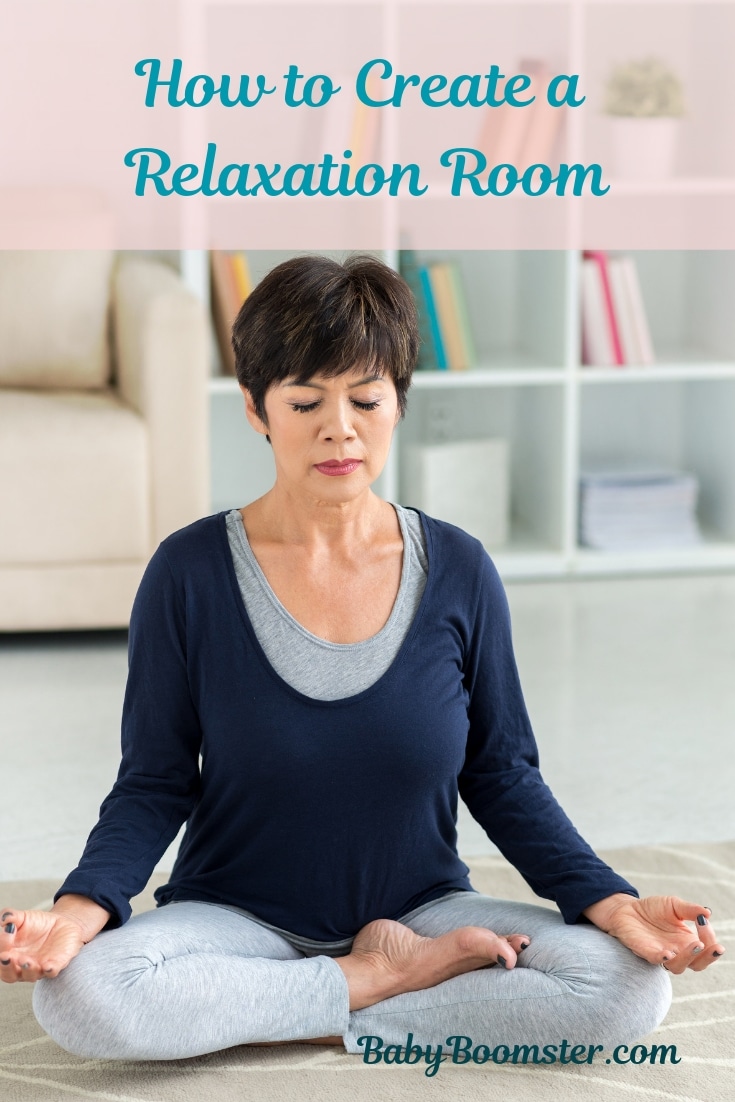 Your mental health affects your physical health
When you experience stress, it makes your blood pressure climb, your heart race, and you may even put on weight. You go into survival mode and your body doesn't know what to do other than rebel. When my youngest brother died, I suddenly got stiff all over and could barely move. Sometimes anxiety causes illnesses. We may not be able to control the challenges that come our way, but we do have power over our mental state and how we react to it.
What will make your relaxation room peaceful?
You can control how your home affects your mood and your mental well-being by creating a dedicated space to relax that reflects your personal taste and mental health needs. There are several ways to accomplish this:
Get rid of clutter
For some people, rooms filled with knick-knacks and disorganization increase levels of the stress hormone cortisol that's in your body. When you eliminate the number of items in your dedicated space and strive toward minimalism it may help reduce some of your stress.
Unplug from technology
It's important that your relaxation room be free of electronics if possible. I know that sometimes this is impossible if you live in a small apartment or room. It's easy to turn on the TV or sit in front of your computer for hours. Believe me, I have to force myself to turn off the news sometimes. You may want to designate certain times of the day to unplug. For instance, only watch TV between certain hours and then be diligent about turning it off. Play soothing music, a meditation CD,or simply enjoy the silence.
Don't be afraid to spend time alone
Being alone gives you time to gather your thoughts, get new ideas, and be creative. Even though spending time with loved ones has its own health benefits, there are other benefits you get being alone. It gives you the opportunity to renew, recharge, and find inspiration.
Use mindful design techniques to create a relaxing space
Some rooms in your home are more relaxing than others. Simply changing the color of your walls or installing less bright lighting will make it more conducive to relaxation.
Psychology of color
Each color on the spectrum can affect you psychologically and how you feel in your environment.
Neutrals are usually the best for wall colors or relaxation room furniture pieces. Use decor to bring in pops of other colors in your space set among neutral colors and furnishings.
White is a fresh color that evokes feelings of cleanliness. Use white to create a space that feels bright, open, and airy, especially in small spaces as white helps it appear to be larger.
Yellow is associated with joy and energy, but when overused can quickly become overwhelming. It makes an excellent accent color if used strategically and looks sophisticated when paired with neutral colors like gray.
Blues and lavenders are soothing and tranquil when used in a bedroom or other area meant for relaxation and are perfect for meditation.
Lighting
How you light your relaxation room can be mood-altering in a room. It's important to install fixtures that create warmth and a welcoming environment.
Bulbs with warm amber tints or natural daylight are more conducive to relaxation. Cooler tints like blue tend to be harsher but can be used in moderation. Be aware that if you use too much blue, it will interrupt your natural sleep patterns. You could also try a mood lamp.
Find a design style that works for you
Decorate your personal sanctuary in a way that suits your personality, makes you comfortable, and is cozy. Even if you can't do a full makeover, you may be able to add pretty and inspiring pillows, decorative baskets, throw rugs, and Earth objects like stones and crystals that give you a sense of peace and serenity.
Put things that create clutter into attractive storage bins made from natural materials.
Add items you can use to help you relax. You may want to display some of your favorite books, potted plants, colorful flowers, family photos, and artwork. Paintings of the seaside, forest, or other natural environments put you in touch with nature even if you live in the big city.
Choose relaxation room furniture based on comfort
When choosing furniture pieces think about how much time you'll spend relaxing in them. It always pays to invest in furniture pieces that will provide the most comfort. Mix woods with natural fabrics to add earthiness as well as comfort.
Find the perfect location in your home for your sanctuary
Depending on where you live, you will want to find a space in your home, whether it's an entire room, a section of your office, a corner of your living room, a small balcony, an attic space, or an outdoor terrace that you can call your own. Make sure it is free of distractions and will give you a break from daily responsibilities, family members, and roommates. Even a bathroom can be a relaxation room if it's the only place you're able to close the door. Just don't fall asleep in the bathtub! LOL
Your self-care is important for your health and mental being. Don't put off creating your own personal sanctuary even if it's a tiny cubbyhole.
Do you have a place to relax and reflect? What relaxation room ideas have you used? Please leave a comment below.