As we age, our hormones naturally begin to drop. Some will drop more than others and the impacts can be profound. For example, when a woman is in her late 30s, her testosterone levels are more than 50% lower than they were when she was 20. Other hormones that drop with age are estrogen and progesterone and lead to perimenopause and menopause and a whole world of symptoms.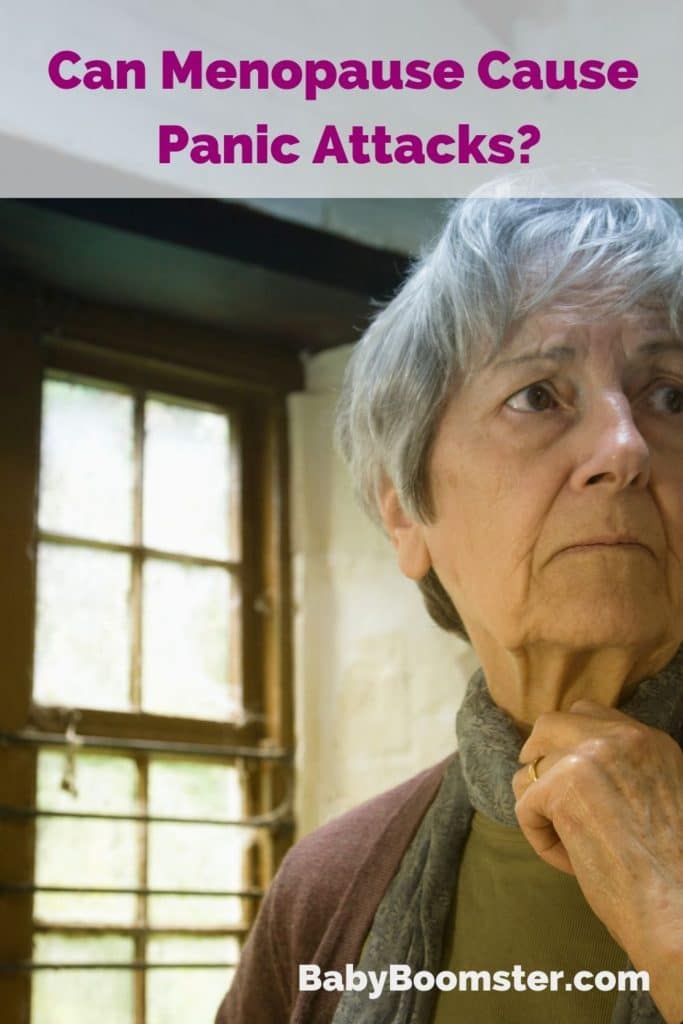 Menopause is the time in a woman's life when her period stops and usually occurs after the age of 45. Menopause, and all of the symptoms associated with it, happens because the woman's ovaries stop producing the hormones estrogen, testosterone, and progesterone. Menopause can bring on unexpected anxiety and some women will start experiencing panic attacks. Unfortunately, many women don't realize that these are symptoms of menopause.
We hear a lot about anxiety and menopause – and they are certainly interrelated – but it is important to recognize that panic attacks and anxiety attacks are not the same things. Yes, both anxiety and panic attacks are related to menopause, and the drop in hormones, and can significantly impact a woman's quality of life, but panic attacks are far more severe.
Many women will experience a panic attack for the first time around peri- and menopause. Somewhere between the ages of 35 to 58. That's a really long stretch of time where there are typically many other stressful life events and possible medical conditions that come up too.
Each person that suffers from panic attacks typically has a specific situation, or triggers, that can lead to a panic attack. Knowing those triggers is key to getting a handle on a situation that may feel out of control. Read on to find out more about menopause, and its related panic attacks and anxiety attacks, and the difference between the two.
What Are Panic Attacks?
Panic attacks typically come on suddenly and involve intense and often overwhelming fear. They're accompanied by frightening physical symptoms, like shortness of breath, racing heart, or nausea.
There are two types of panic attacks: unexpected and expected. Unexpected panic attacks are those that occur without an obvious cause. An expected panic attack is queued up by a stressor like a phobia or known trigger. Panic attacks can happen to anyone, but if you are experiencing more than one or two, that may be a sign of panic disorder.
Anxiety attacks are entirely different from panic attacks. Anxiety attacks make up a number of common psychiatric disorders and the symptoms of anxiety include worry, distress, and fear. Anxiety is usually related to the anticipation of a stressful situation, experience, or event, and it may come on gradually.
What is An Anxiety Attack?
Panic and anxiety attacks may feel similar, and they do share a lot of emotional and physical symptoms. Believe it or not, you can experience both anxiety and a panic attack at the same time. For example, you might experience anxiety while worrying about a potentially stressful situation, like riding an elevator. When the elevator arrives, anxiety may culminate into a panic attack.
Symptoms of an Anxiety Attack can be both mental and physical.
Mental:
Apprehension and worry
Distress and depression
Restlessness
Fear
Fear of dying or losing control
A sense of detachment from the world or from yourself
Physical:
Heart palpitations or an accelerated heart rate
Chest pain
Shortness of breath
Tightness in the throat or feelings of choking
Dry mouth
Sweating
Chills or hot flashes
Trembling or shaking
Numbness or tingling
Nausea, abdominal pain, or upset stomach
Headache
Feeling faint or dizzy
Differences Between Panic and Anxiety Attacks
It may be difficult to know whether what you're experiencing is anxiety or a panic attack. You may find yourself experiencing some of the attack symptoms for the first time in your 40s. Mood changes, anxiety, and general feelings of nervousness are some of the most common symptoms of menopause (3). These symptoms are often exacerbated by insomnia and fatigue. Keep in mind the following differences between the types of attacks:
Anxiety is typically related to something that's perceived as stressful or threatening.
➤Panic attacks aren't always cued by stressors. They most often occur out of the blue.
Anxiety can be mild, moderate, or severe. For example, anxiety may be happening in the back of your mind as you go about your day-to-day activities.
➤Panic attacks, on the other hand, mostly involve severe, disruptive symptoms.
During an anxiety attack you still feel some level of control.
➤A panic attack is when the body's autonomous fight-or-flight response takes over. Physical symptoms are often more intense than symptoms of anxiety.
Anxiety attacks can build gradually.
➤Panic attacks usually come on abruptly.
➤Panic attacks typically trigger fears about having another attack. This can affect behavior, leading people to avoid places or situations that might bring on the risk of a panic attack.
Causes of Panic Attacks
Unexpected panic attacks have no clear external triggers and come on suddenly. On the other hand, expected panic attacks and anxiety can be triggered by specific, common triggers include:
A stressful work situation or school,
Driving, and or flying,
Social situations,
Phobias. There are a lot to choose from, but some of the most common include:

Claustrophobia: Fear of being in constricted, confined spaces.

Aerophobia: Fear of flying.

Arachnophobia: Fear of spiders.

Driving phobia: Fear of driving a car.

Emetophobia: Fear of vomiting.

Erythrophobia: Fear of blushing.

Hypochondria: Fear of becoming ill.

Things that serve as reminders or memories of traumatic past experiences,
Chronic health problems such as heart disease, diabetes, irritable bowel syndrome, or asthma, pain,
High levels of caffeine,
Medication and supplements, and withdrawal from drugs or alcohol.
Risk Factors
Anxiety and panic attacks have similar risk factors that include experiencing some type of trauma, either as a child or an adult which can include a death, divorce, or another type of loss. Other less obvious risk factors include chronic stress (work or school), and conflict in your family or finances. Dealing with your, or a loved one's, chronic health conditions can also be very stressful. Drugs and alcohol only make the stress and likelihood of attacks worse. If you have a close family member with anxiety or panic disorder, or you suffer from depression, your chances are higher to have panic attacks. And just to be clear, people who experience anxiety are at an increased risk of experiencing panic attacks, but having anxiety doesn't necessarily mean you will experience a panic attack.
Managing Panic attacks
Irrespective of the cause for the panic attack, managing them will be similar regardless of age or gender.
The first step is to control the breathing. Hyperventilation is a common symptom of a panic attack. Take slow deep breaths. When you feel your breath quickening, focus your attention on each inhale and exhale. Feel your stomach fill with air as you inhale. Count down from four as you exhale. Repeat until your breathing slows.
Some prescriptions including antidepressants medications, anti-anxiety and benzodiazepines can help manage panic attacks and can work to provide relief within about 15 minutes.
The decrease in hormones with menopause can lead to panic attacks, so hormone replacement therapy (HRT) may help to prevent attacks from occurring in the future.
Lifestyle Changes
Lifestyle changes can certainly help to prevent anxiety and panic attacks, as well as reduce the severity of symptoms when an attack occurs. Simple changes include:
Reduce and manage sources of stress in your life.
Learn how to identify and stop negative thoughts.
Get regular, moderate exercise. Some say at least 30 minutes a day.
Practice meditation or yoga, and breathing exercises.
Talk to others about how you are feeling. There are support groups available.
Limit your consumption of alcohol, drugs, and caffeine.
Summary
Many of the psychological symptoms that we notice as we age are directly associated with hormonal changes that take place during menopause. The easiest way to reduce anxiety and panic attacks is to manage the physical symptoms which can help alleviate some psychological symptoms. For example, hormone surges that wake you at night can cause night sweats and insomnia and leave you feeling tired, anxious, and vulnerable the next day. Hormone replacement therapy (HRT) has been shown to be the most effective way to reduce hot flashes and night sweats.
Know that you are not alone on this journey. Menopause anxiety is very common and often one of the most difficult symptoms to cope with during menopause. Feeling overwhelmed, sad, and anxious does not have to be your new normal. There are effective ways to bring your hormones back to youthful levels, and reduce the anxiety and panic you may be feeling.