I know you can buy vodka sauce in a bottle, but homemade just really takes it home. The recipe below is creamy but not enough to be dangerous. The best way to make it is by using garden-grown tomatoes or canned tomatoes from Italy like Cento San Marzano.
Enjoy this Shrimp Feta and Rotelli Pasta with Homemade Vodka Sauce recipe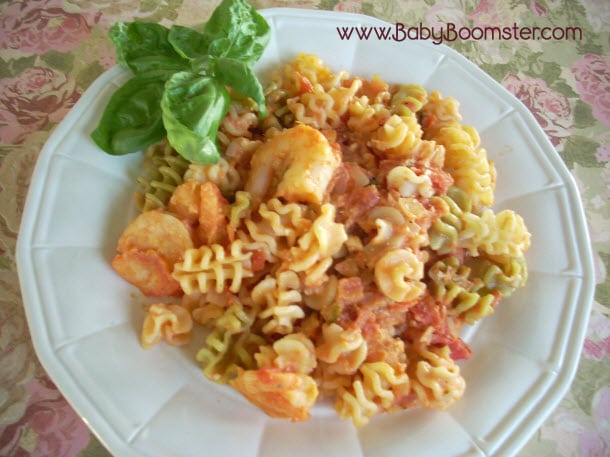 Shrimp Feta and Rotelli Pasta with Homemade Vodka Sauce
Homemade Vodka Sauce is delicious with shrimp and feta over Rotelli pasta.
Ingredients
2

cloves

garlic chopped

1

large shallot chopped

1/4

yellow onion chopped

2

Tbsp

extra virgin olive oil

28

oz

can whole Italian peeled tomatoes and juice drained

Cento San Marzano tomatoes are good.

3

medium size Tomatoes fresh

chopped

1

tsp

crushed red pepper flakes

1/2

cup

heavy cream

1/4

cup

vodka

1/2

cup

feta cheese crumbled

1

Tbsp

basil fresh

chopped

1

Tbsp

all-purpose flour

if necessary for thickening

1

Lb

shrimp peeled and deveined. I used a package of flash-frozen shrimp

1

Lb

Rotelli pasta or pasta of your choice
Instructions
In a saucepan, brown garlic, shallots, and onion in oil for about 5 minutes

Add canned tomatoes, fresh tomatoes, and red pepper. Mix, breaking up the tomatoes and let cook on medium-high for 10 minutes, stirring occasionally.

Add the heavy cream, vodka, feta, and basil. Let it cook for 10 minutes. If the mixture doesn't thicken, quickly stir in 1 Tbs of flour.

Add the shrimp and cook until heated (or if raw until pink) Keep the vodka sauce heated until ready to serve.

In the meantime, boil water in a pasta pan and cook 1 lb of multi-colored Rotelli until done (according to package directions) Or use the pasta of your choice.
Here's the homemade vodka sauce simmering in the pot. Yum!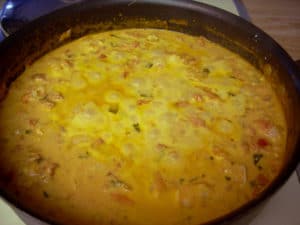 Here are some interesting facts about the benefits of eating shrimp.
Shrimp is a perfect source of protein with vitamin D, vitamin B3, and zinc.
Shrimp contains astaxanthin, a carotenoid that gives it a pink color. It acts as a potent antioxidant and protects the skin from premature aging.
Shrimp also is a good source of selenium. Several population studies suggest that the risk of death from cancer, including lung, colorectal, and prostate cancers, is lower among people with a higher intake of the trace mineral selenium.
As shrimp contain no carbohydrates, its Glycemic Index rating is 0.
And then, of course, there's the vodka. The alcohol evaporates when you cook it but it adds to the delectable flavor of the sauce.
For more pasta recipes click here.
What's your favorite pasta sauce? Please leave a comment below.