Peace, love, and granola! People who make fun of Baby Boomers often associate our generation with hippie communes, back to nature, and organic foods. We drove the popularity of foods like granola, bean sprouts, and brown rice in the 1960s. Those of us who are interested in good health and quality longevity as we age are still concerned with what we put in our bodies. Granola is an excellent source of fiber and protein necessary for healthy aging.
Unfortunately, most of the granola that is available in markets is highly sweetened, and not nearly as healthy as it looks. So why not make it from scratch so you can control what's in it.
My sister, Janet Leroy, who is a Southwestern feather artist shared her recipe for homemade granola and it is not only easy to make but yummy as well.
Enjoy this recipe!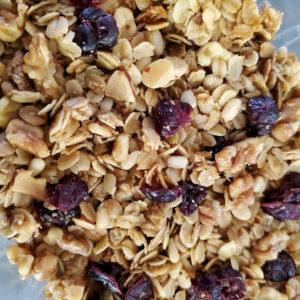 Homemade Granola
Make delicious granola from scratch using nuts, seeds, and dried fruit
Ingredients
4

cups

Old Fashioned Rolled Oats

1 1/2

cups

raw nuts and seeds (walnuts, almonds, sunflower seeds, pumpkin seeds, etc.

1

tsp

sea salt

1/2

tsp

cinnamon

1/2

cup

olive oil

1/2

cup

maple syrup (or honey)

1

tsp

vanilla extract

2/3

cup

dried fruit (cranberries, blueberries, apricot, etc.)
Instructions
Preheat the oven to 350 degrees.

Line a large rimmed baking sheet with parchment paper

Combine the oats, nuts, seeds, salt, and cinnamon in a large bowl. Stir.

Pour in oil, maple syrup (or honey) and vanilla. Mix well.

Place the mixture in the baking pan and use a large spoon to spread it.

Bake for about 21-24 minutes stirring halfway and pressing the granola down.

Let it cool completely. (about 45 minutes)

Add the dried fruit and mix well.

Store the granola in the freezer and use as needed.
Notes
Eat this delicious granola as a snack, or for breakfast with cream, oat milk, or another favorite plant-based milk, yogurt, ice cream, or any other way you enjoy it.
This granola recipe is sweetened a bit but with real maple syrup or honey rather than high fructose corn syrup or other unhealthy sugars. You can also add dried fruit for extra antioxidants. I made my granola using dried cranberries but you can use whatever you like such as dried blueberries, apricots, mango, banana, or whatever else is available.
Granola is a healthy snack and is fabulous for breakfast with your favorite milk or yogurt. My sister loves hers with oat milk. It's also delicious on top of ice cream for dessert.
Some of the health benefits of homemade granola are that it provides fiber and protein, especially from nuts, and micronutrients such as iron, vitamin D, folate, and zinc from whole grain oats and seeds. For extra protein, I suggest mixing it with Icelandic yogurt as it has more protein than any other type of yogurt.
You can be assured that if you make it yourself, your granola won't contain certain trans fats and sugars that store-bought versions may have. Just be careful what you put into it. You can add goodies like dark chocolate but be careful not to muck it up with too many sweet additives. Granola is also calorie-dense so stick to 1/2 cup portions if you eat it as cereal.
You can easily store your granola in the freezer and use it as needed.