The Hippie culture still exists in certain parts of Los Angeles if you know where to look. Yoga pants, peace signs, and free spirits abound in nooks and crannies around the Southland. Some modern-day hippies are Baby Boomers who never gave up the lifestyle and others who are young and artsy. I traveled to several Hippie hideaways in the Los Angeles area to see what I could find.
I lived in somewhat of a Hippie conclave up in the hills near Box Canyon. It's a short jaunt over to Spahn Movie Ranch, where Charlie Manson and his "family" hid out in the late '60s. Although we don't want to remember them with nostalgia those horrid events were a part of our youth.
Most of the ranch buildings burned down in 1970 when a California wildfire consumed them. I went up there a while back when I was helping a friend shoot a documentary called "Sample This" about The Incredible Bongo Band. One of the musicians had been up there with Manson while he was living there and said it was spooky.
On Woolsey Canyon in the West San Fernando Valley above Chatsworth is a rock formation with time capsule writings on it. "Free Manson" "Witches Den" "No More Nukes."
Click on images to view full size.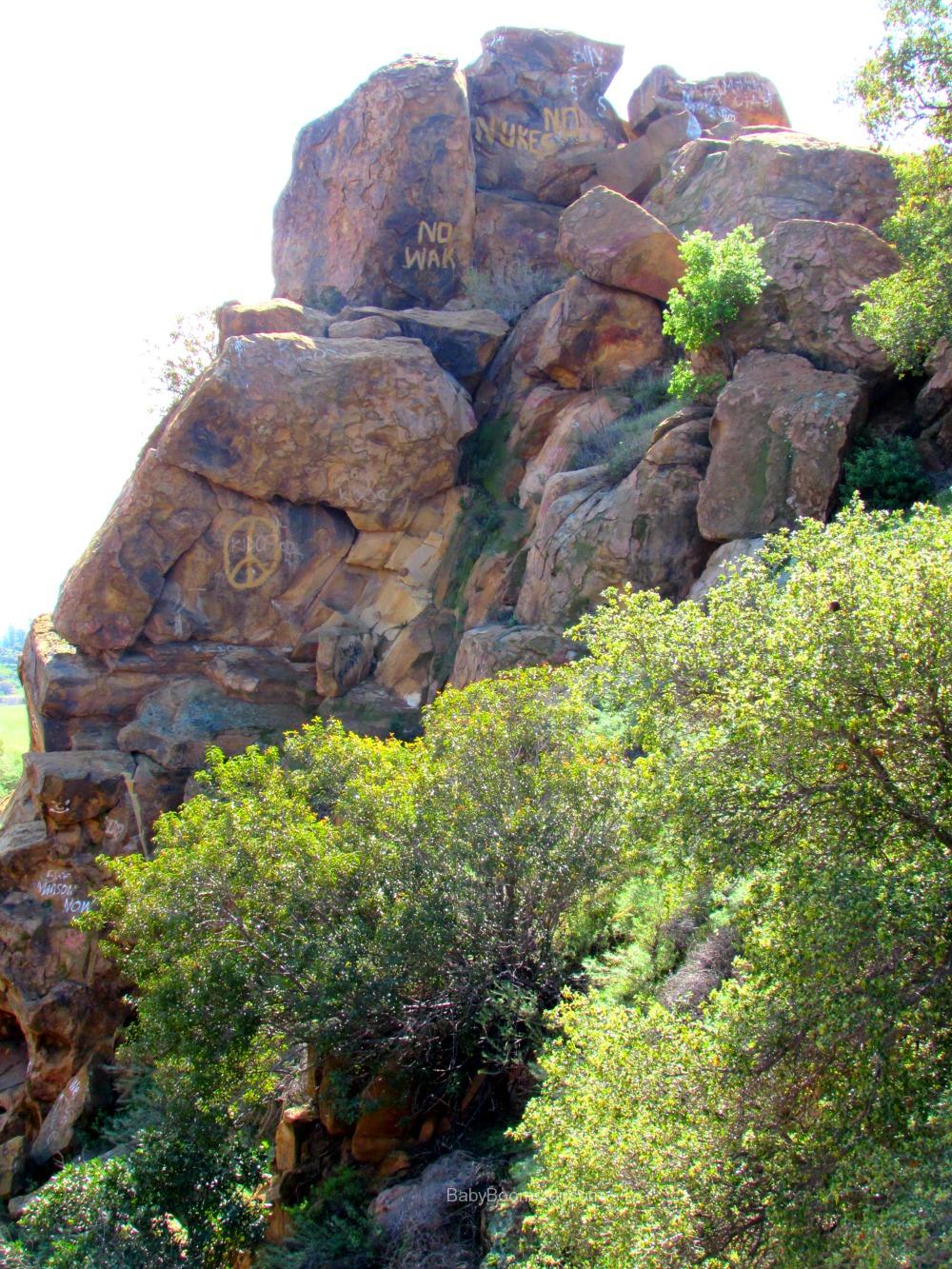 Topanga Canyon hippies are still a thing
I drove up Topanga Canyon toward the sea to check out the flower child atmosphere there It's one of LA's quintessential hippie hideaways with vintage clothing shops, bohemian art galleries, ramshackle shacks, outdoor Shakespearean theater, and organic eateries. Other than the occasional threat of fire or floods, it's a heavenly place to hang out.
Click on images to view Full-Size in a gallery.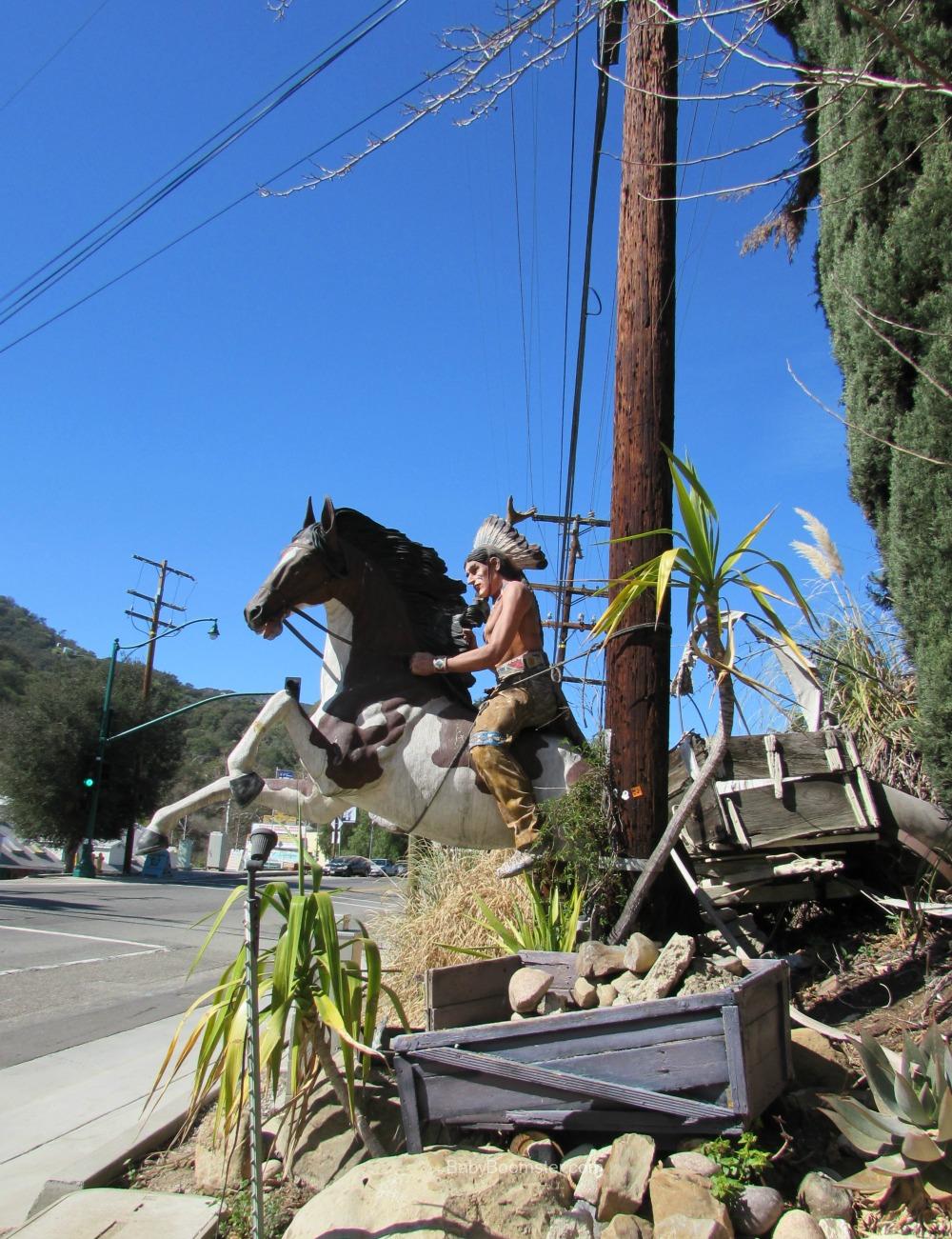 Old Topanga Road is even more rustic. From the valley, it winds around horse and farm properties ending at the Inn of the Seventh Ray, a bastion for foodies who favor organic California cuisine as well as vegetarian/vegan meals.
Meditate and Renew at the SRF Lake Shrine in Pacific Palisades
I continued south on PCH (Pacific Coast Highway) to Sunset Blvd and turned right a few blocks to the Self-Realization Fellowship Lake Shrine in Pacific Palisades. The organization was founded by Swami Paramahansa Yogananda who opened the Lake Shrine in 1950.
It's a serene environment to relax, meditate, and commune with nature set on a glistening lake surrounded by tall trees, colorful foliage, and waterfalls. Swans, ducks, giant carp, and tortoises play happily in the water. The Court of Religions near the entrance recognizes and reveres all religious preferences.
As you walk around the lake you'll see the Windmill Chapel, Golden Lotus Archway, Houseboat and Landing, Sunken Gardens, and Gandhi World Peace Memorial. It's an ideal setting to spend a few hours getting away from it all to regroup and de-stress.
Click on images to view full size.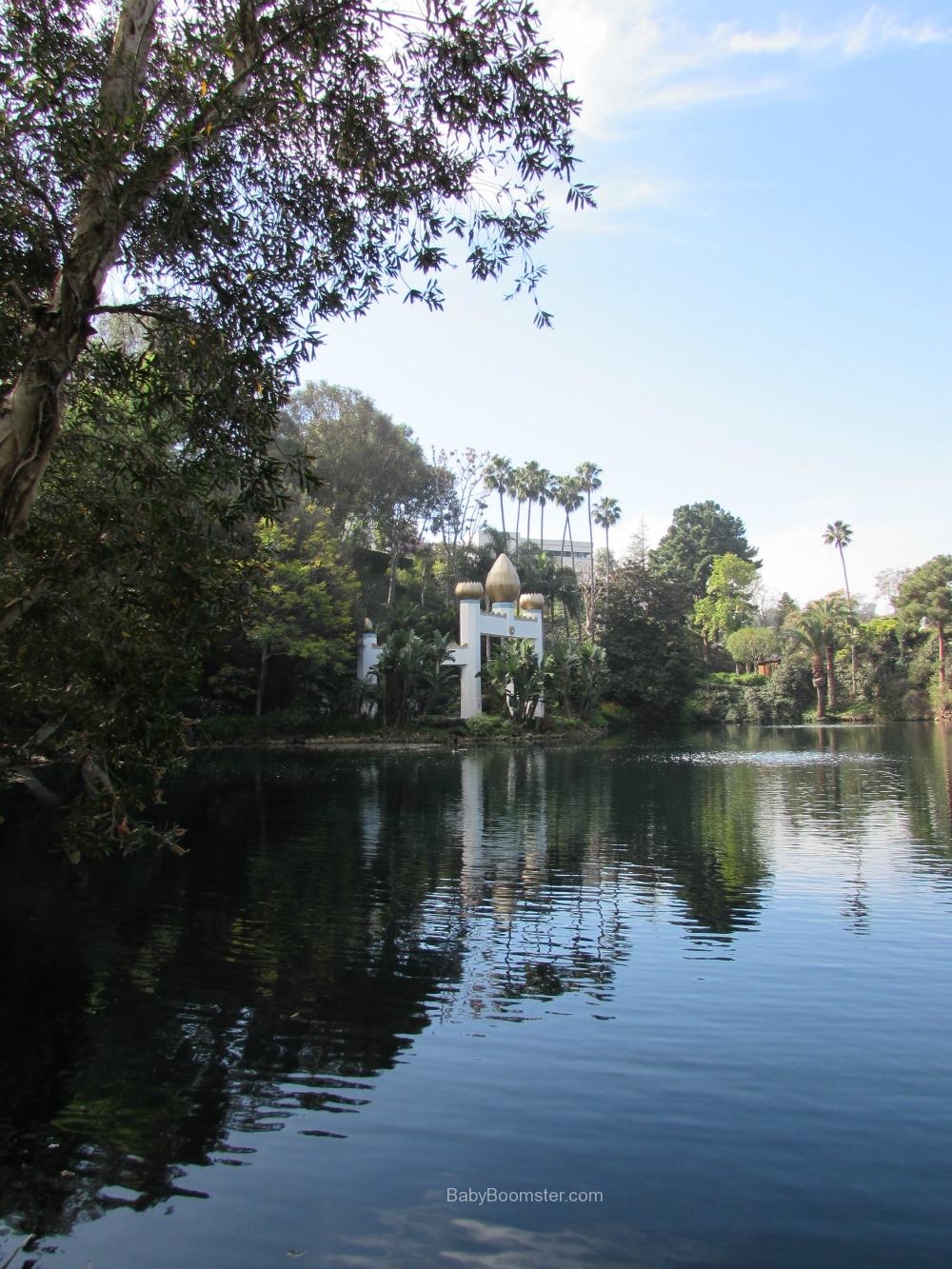 For those who are serious about meditation, the Self Realization Center Temple holds lectures and meditation services for adults and children. There's also a retreat center that offers classes and weekend programs led by monks and nuns of the SRF monastic order.
The Self-Realization Fellowship came into being in 1920 to "introduce truth-seekers of all races, cultures, and creeds scientific techniques of meditation for attaining a direct and personal experience of God."
Back up the canyon to the valley
On my way back home I stopped for a bite at the Waterlily Café in the heart of Topanga Canyon for a fresh organic salad. Then I walked into a nearby clothing store with items that looked like I'd never stepped out of the '60s. You've gotta love it!
Find fun things to do in Los Angeles by clicking here.
Visit The Mother Center at the top of Mt Washington
Mt. Washington just 5 miles from Downtown Los Angeles is an old, mostly unheralded neighborhood that was established in 1909. It was a conclave for artists, free thinkers, other bohemian types, and a few hunters. When you drive through its steep hillsides you will see a variety of old Victorian and Craftsman homes. But, at the top of the hill is the Self Realization Fellowship International Headquarters called The Mother Center.
It's smaller than The Lake Shrine but still beautiful and a lovely place to meditate and enjoy nature.
Don't you love old bugs?
This is what I found in Black Canyon in the Santa Suzanna mountains just west of Chatsworth, California. So groovy!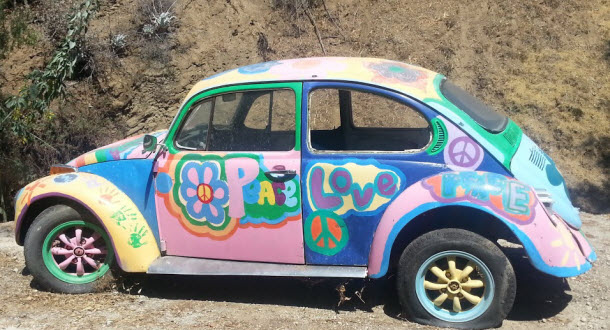 This page was first posted in 2016 and updated in 2022.
Go Bohemian and find unique "hippie" clothing, accessories, and home decor on Etsy!
What hippie hideaways do you know about? Please leave a comment.