There's a trending eating style that makes more sense than any "diet" I've ever heard of especially for those of us over 50. It's called "eating clean." The concept isn't exactly "new." Before humans learned how to process food, most of our food was clean, with the exception of a worm or two.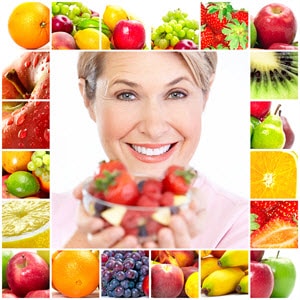 If you get into the habit of eating clean, you can enjoy the best that nature provides without ever having to diet and won't have to take supplements, or do a cleanse. You'll also live longer and stay healthier.
Baby Boomster is all about smart eating, which is the same thing as "eating clean." The cleaner you eat, the better you feel. Your health, mind, and appearance are the culmination of what you've been putting into your body for the last 50, 60, or 70+ years. The good news is – it's never too late to clean up your act.
Eating clean isn't complicated. Avoid eating processed foods and sugar, eat lots of fresh vegetables, fruits, healthy fats, lean protein, complex carbs, fermented foods, and drink plenty of water.
Clean foods have only one ingredient.
A blueberry is simply a blueberry. It doesn't have anything else added to it. You pick it off a bush and pop it into your mouth. A blueberry Pop-Tart, on the other hand, may not even contain blueberries. It's a chemical concoction, that has little to no nutrition and is"flavored" with artificial ingredients.
Eating clean doesn't mean you have to eat one food at a time. You can combine a mixture of "one ingredient foods" to create a fabulous meal.
The wonderful thing about eating "one ingredient foods" is that you can eat more without gaining weight. Processed food has most of its water and fiber removed. Salt, sugar, artificial flavorings, preservatives, etc., are added to trigger your appetite so you'll crave more. Thus, the extra calories.
Frankenstein Food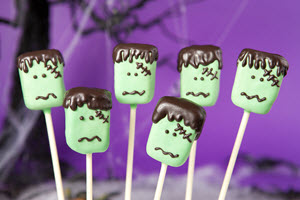 Here's how a "single-ingredient food" can go from healthy to horrible.
A fresh ear of corn that's been grown in an organic environment is so tasty on its own you don't even need to add butter. A food company takes corn and makes it into Tortilla chips. I'm sure you love dipping your Tortilla chips into a yummy bowl of guacamole, right? Who doesn't? But most tortilla chips are fried with trans-fat and sprinkled with a hefty serving of salt. We don't know where the corn came from and there's a chance it may be genetically modified. (GMO) Corn Flakes, the popular breakfast food, has had most of its nutritional value taken out during processing. It doesn't taste even remotely like fresh organic corn.
When we have the best intentions of eating healthy
Carrots are a nutritious "one ingredient food." They help improve our vision. It's easy to grab a bag of baby carrots that have been pre-cleaned and are the perfect portion size. The problem is; packaged baby carrots are actually big carrots that have been whittled down to the nub, losing most of their goodness and are often bathed in bleach to make them last longer. It's better to take a fresh, organic carrot, scrub the outside of it, leaving the skin intact, and then cook it or eat it raw.
It's hard to pass up convenience.
Pre-cut and easy to serve bagged lettuce lets you make a salad in minutes, but it may also be bleached, so be careful where you purchase it from.
Another way you can "eat clean" is to eat foods that contain helpful bacteria. The idea of eating bacteria may sound gross, but fermented foods (with healthy bacteria) are good for you and help extend longevity. Plain yogurt, kefir, sauerkraut, pickles, miso, tempeh, Korean Kim Chi, and sprouted rye bread contain good bugs (probiotics) that keep bad bugs in your tummy from giving you a belly ache. Some of these foods may contain unhealthy additives like sugar, so be careful.
Where's the beef?
If you love eating red meat make sure to buy grass fed instead of grain fed if it's available. I picked up a pound of hamburger meat from Target the other day that was "grass fed." It's nice to know that stores are catching on to the trend of eating clean.
Somewhere over the rainbow . . .
. . . there are vegetables of many colors. Eat a rainbow of vegetables every day.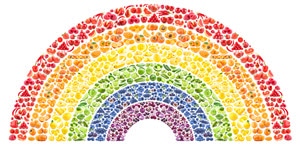 If you eat food that isn't processed, eat mercury-free fish and grass-fed meat, fermented "probiotic" foods, and lots of veggies, you can eat more during the course of a day and still lose or maintain your weight. It's usually best to eat 5-6 small meals throughout the day, rather than the "3 Square" we grew up with, depending on your metabolism. It's also important not to skip any meals. Eating more often, in smaller portions will boost your metabolism. Skipping meals will make your metabolism go into survival mode, and then you'll want to eat more to make up for it. It also zaps your energy.
Drink plenty of water throughout the day to stay hydrated. You can also drink antioxidant-rich coffee and organic tea.
High-quality fats like extra virgin olive oil, nuts, seeds, and fish help you burn fat. They protect your immune system and prevent heart disease. Other foods that will boost your metabolism are tomatoes, low-fat plain yogurt, garlic, onions, and greens.
The advantages of eating clean
You'll never have to diet.
You'll never have to detox.
You'll burn fat and develop a leaner body.
You'll be healthier overall.
You won't feel hungry or deprived.
You won't spend money on diet foods and supplements.
Your skin, hair, and nails will glow.
Your immune system will be stronger.
You'll have plenty of energy.
You'll live longer and healthier.
So why not join the "Eating Clean Revolution?" It's a no-brainer and will help you feel younger.
Enjoy this infographic below and please share it.