My daughter and one of her girlfriends took a trip to Costa Rica and had a typical meal that is often served there. It inspired her to recreate it. It was a mix of shrimp and chicken with mango served on a plate with salsa and beans. Costa Rican food is one of the reasons, the island is a longevity hotspot.
Enjoy this recipe!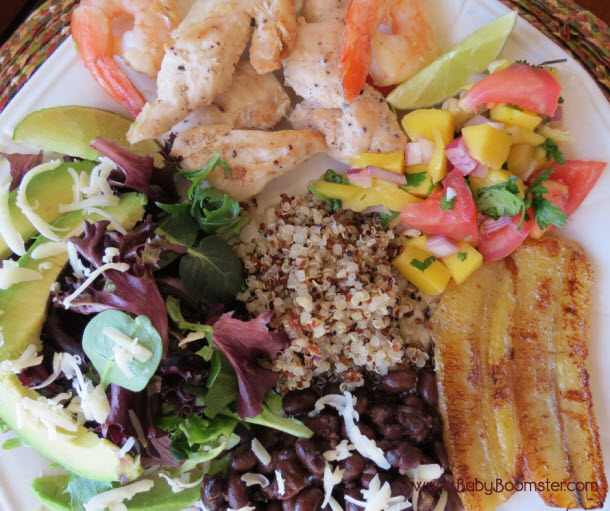 Costa Rican Style Shrimp and Chicken with Mango Salsa and Beans
Costa Rican food is healthy and flavorful. This recipe was inspired by a trip there.
Ingredients
Mango Salsa
1

medium tomato chopped

1/2

cup

purple onion chopped

2

cloves

garlic minced

1

Tbsp

Cilantro fresh

chopped

1/2

mango peeled and chopped

1/2

tsp

serrano pepper chopped

salt and pepper to taste

1

juice of lime
Chicken and Shrimp
1 – 1 1/2

lbs

chicken tenders skinned

with no bones

2-4

shrimps per person – cleaned and shelled with tails on

or get a package of frozen shrimp and thaw

Sliced Banana or Plantain if available

vinegar of choice

to taste
Rice and Beans
1

cup

cooked rice

1

can of black beans
Garnish
mixed salad greens with your favorite dressing

1/2

avocado sliced
Instructions
Mango Salsa
Mix the tomato, purple onion, garlic, cilantro, mango, serrano pepper, lime juice, salt, and pepper and set aside.
Chicken and Shrimp
Heat the butter in a skillet on the stove. Saute the chicken for a couple minutes until it is slightly browned. Turn over and saute until cooked through. (about 5-8 minutes total depending on the thickness of the chicken) Season with salt and pepper.

When the chicken is almost done, add the shrimps to the skillet and cook, tossing occasionally for about 2-3 minutes until it is cooked through and slightly browned.

Add the sliced bananas to the skillet and saute on each side until slightly browned. (keep warm)
Rice and Beans
Cook the beans (see recipe above or just use canned black beans with seasonings)

Boil the rice with 2 cups of water for 15 minutes (or follow package directions)

Serve the meal with salad greens (with oil and vinegar), sliced avocado, chicken and shrimp, mango salsa, rice, beans, banana, lime slices.
Costa Rican Food
The food in Costa Rica is known for its simplicity, as well as its reliance on tropical fruits and legumes. It's unpretentious, healthy, and simple to prepare.
Part of the reason Costa Ricans stay healthy is that they are active most of the time and don't eat in excess. Their most important meal of the day is lunch and like other Latin countries, schools and businesses shut down for a couple of hours so that people can have leisurely lunches at home with their families.
Rice and beans are a staple but in particular, they consume a dish called Gallo Pinto. (Spotted Rooster) It consists of black beans at a 3 to 2 ratio to rice, bell pepper, onion, garlic, Salsa Lizano, and cilantro. It's often served with scrambled eggs for breakfast.
I love the way Latin Americans eat breakfast as I also found when I traveled to Mexico City. Their breakfasts are hearty and filling.
Even though seafood is plentiful it's also expensive so many of the residents eat chicken, pork, beef, and organ meats.
And being a tropical island, there are plenty of fruits and plantains.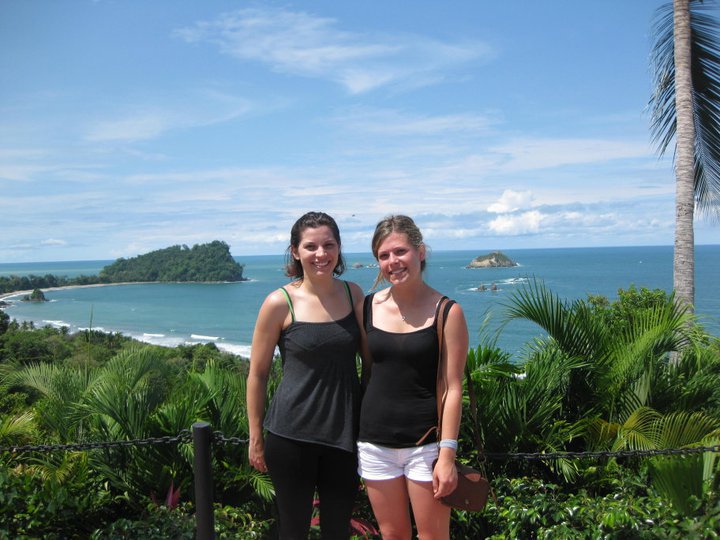 On their trip, my daughter and her friend drove all over the country in a car, stayed in several hotels, and even went white water rafting.
For more authentic recipes purchase the book, "Gallito Pinto: Traditional Recipes From Costa Rica"
Have you been to Costa Rica or would like to go? Please leave a comment below.