My daughter and I took a short 2 night visit to Mexico City before leaving for San Miguel de Allende for an additional 2 nights. It was a quick stay in the sprawling capital city of Mexico, and we made the most of it.
As a Californian, I love going to Mexico. When I was a teen and young adult, we would often drive down to TJ, Ensenada, or sleep on the beach in San Felipe. My boyfriend and I enjoyed a timeshare in Puerto Vallarta, and my daughter and I took a trip to Los Cabos a few years ago. However, I had never been to Mexico City and was excited to go. My daughter had already been there twice before and knew the lay of the land.
We flew business class on American Airlines. (approx. 3.5 hours from Los Angeles) When we arrived, we had to walk long corridors in the airport to get to Customs. I tried to keep up with my daughter's fast pace but I was getting winded which was weird because I had been walking for miles every day at home in hilly areas.
I found out later that Mexico City is 7,382 feet above sea level and is much higher than Denver. If you are affected by high altitude, make sure to pack accordingly and bring headache medicine if you need it. I was fine but knew I had to pace myself.
Note to self for Customs: Bring a pen to fill out forms. We had to borrow one from another passenger, which was awkward because we were traveling 18 months after the COVID pandemic lockdown.
Masks are mandated both indoors and outside in Mexico. Temperature checks are taken before entering hotels, restaurants, and most buildings. Hand sanitizer is also available in all public spaces. That was comforting. Only 14% of the population has been vaccinated because Mexico doesn't have access to the vaccine like we do in the states. The majority of Mexicans who are vaccinated in Mexico are over 40. At this time, I only recommend traveling to Mexico if you are fully vaccinated.
Mexico City is Uber-ful
Once we made it out of the airport, we called an Uber. It arrived in about 2 minutes. We had the same experience everywhere else in Mexico City. Uber service in the city is fast, cheap, and contact-free. Some Uber drivers have clear plastic barriers to separate them from their passengers. A trip across town is only a few bucks, unlike the States where Uber and Lyft have become unaffordable.
The Four Seasons Hotel
My daughter had a gift certificate to the Four Seasons Hotel on Paseo de la Reforma through her work. It's located conveniently near Polanco, which is considered to be the Beverly Hills of Mexico City and not too far from Centro Historico, the heart of the capital.
Our room was on the 8th floor overlooking a lushly planted patio area on the ground floor that comes alive at night with lights and activity. It was elegant, as expected with a Four Seasons property and comfy. I was excited there was a Bidet in the bathroom and still don't know why they are so rare in the US.
Oh, those crazy sidewalks
Mexico City is a huge maze-like city, with streets laid out in all directions. It's easy to get lost so I was glad to have a millennial with me to navigate where we were going.
As a person over 60, I want to warn travelers in my age group that the sidewalks in Mexico City are bumpy with large cracks, random holes, and plenty of steps. You can easily fall on your ass if you aren't careful. Wear comfortable and sturdy shoes with treads and don't try to be a glam queen.
The summer is often rainy which can add to the danger. We were lucky it only sprinkled the first evening we were there which made the cracked-up sidewalks even more treacherous. I had to keep my eyes on the ground and watch each step to keep up with my speedy daughter. It didn't help that my mask kept fogging up my glasses, but I was glad to be wearing it.
Gorgeous parks and doggies
The city is extremely dog-friendly. Well-groomed pooches of every size and variety were everywhere, especially in the gorgeous parks we saw as we rode through the city. They weren't stray dogs like you often see in Baja. Many were being walked by dog walkers or housekeepers. Walking trails and bike paths are everywhere and well used by active residents.
It's all about the food
We ate dinner that evening at a restaurant called El Parnita in the Chapultepec district.
El Parnita is locatied at Avenida Yucatan 84 Local E2. Col. Roma Norte, Mexico City 09520 Mexico
It's known for its great food and casual vibe. We had our first Mescal Margarita there and it became our drink of choice throughout our trip.
Tequila is made with blue agave from the state of Jalisco but Mescal can be made from any of the 30 distillable types of agave available throughout Mexico. It is cooked in a pit lined with volcanic rock, topped with trimmed pinas, agave leaves, and earth for several days. Mescal has a smokier and more savory taste than tequila.
After dinner, we walked a few blocks to a tiny bar that my daughter had been to on a previous trip called La Clandestina.
La Clandestina is located at Avenida Alvaro Obregon 298 Col. Condesa, Mexico City 06700 Mexico
She surprised me by ordering a bowl of fried crickets with 3 shots of different flavored mescal. I took one look at those bugs and just couldn't go there. I've eaten escargot but the thought of eating bugs with legs made me squirm. The mescal shots were great, though. We took it easy so we didn't get drunk, disorderly, or get in trouble.
Morning space out
Just before dawn the next day we took an Uber to Polanco so my daughter could work out at OrangeTheory Fitness, a gym she belongs to in LA. Even though it was barely light outside, I set out to look for a coffee house. But first, I snapped a photo of the street signs so I could remember how to get back. Most of the coffee houses didn't open until 8 am but I found a Starbucks and hung out there for a while.
I tried using my Google Maps app to find my way back but it kept sending me around in circles. My daughter texted wondering if I was dead because I wasn't back when her class ended. We met up at the Pottery Barn but now I feel like I need a chaperone whenever I travel. I'm going to have to bone up for solo travel if I expect to survive. LOL
Fabulous breakfast
As you may be able to tell, our trip here was food-centric. Authentic Mexican cuisine is so much better than what we have here in the states. It's healthier, more flavorful, and not tampered with. We took another Uber to Nico's Restaurant on the Northwest side of town. We chose it because it was heralded as the best place to have breakfast in all of Mexico City.
Nico's is located at Av. Cuitláhuac 3102 Clavería, Azcapotzalco, Mexico City, 02080
It's sort of plain inside, but the critics are right. The food there is outstanding! I had Enchiladas Nicos with chicken, salsa verde with cream, and grated cheese and my daughter had chilaquiles. We topped off our meals with homemade guacamole made at our table. You can watch my Instagram reel of how it's made below.
Centro Historico
After seeing the film Roma, which won the Academy Award in 2019, I wanted to visit Centro Historico because it's the colonial heart of the city. The Zócalo is the main plaza and is touristy but the 18th and 19th-century buildings surrounding it are monumental. To me, it's on the same level of splendor as Rome or Madrid.
On one end of the Zócalo is the Metropolitan Cathedral which is the seat of Mexico's Archbishop. Construction began in 1562 and was completed in 1813. I've been to some incredible Cathedrals in Spain and Italy, but the Metropolitan Cathedral rates up there with the best of them. It's spectacular!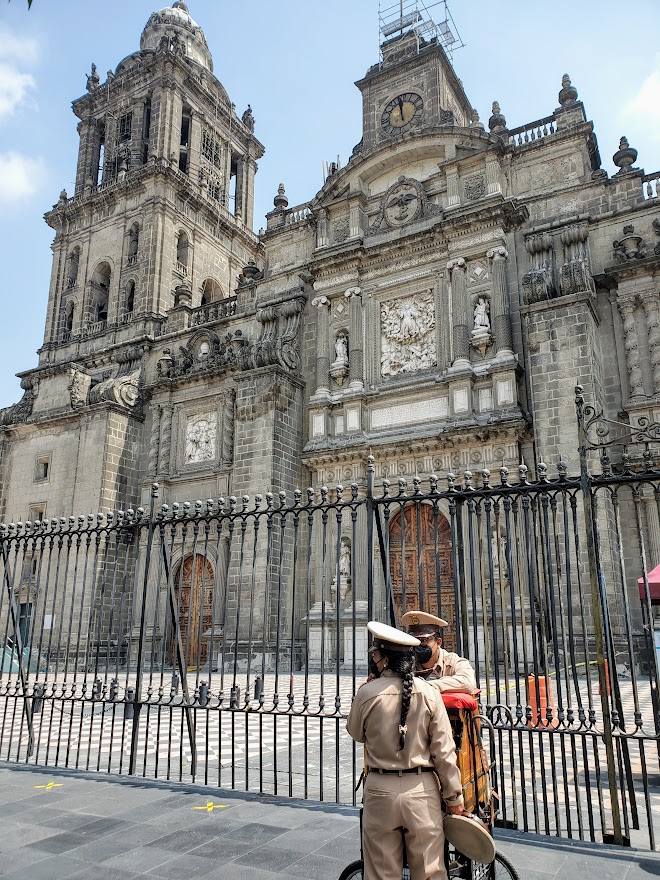 Several people dressed in Aztec attire were offering their services outside the cathedral gate to cleanse spirits of evil. They were shaking some heavy incense and it was tempting but we passed on having it done ourselves.
We walked miles along the streets surrounding the Zócalo because each street and alleyway is compelling. Art is everywhere, on walls, planters, and in playgrounds.
Vendors and street urchins are abundant selling their wares and asking for pesos.
I wish we had more time to spend at the Zócalo but our feet started screaming at us. We also had reservations for a fabulous dinner later in the evening so we went back to our hotel to chill out and relax.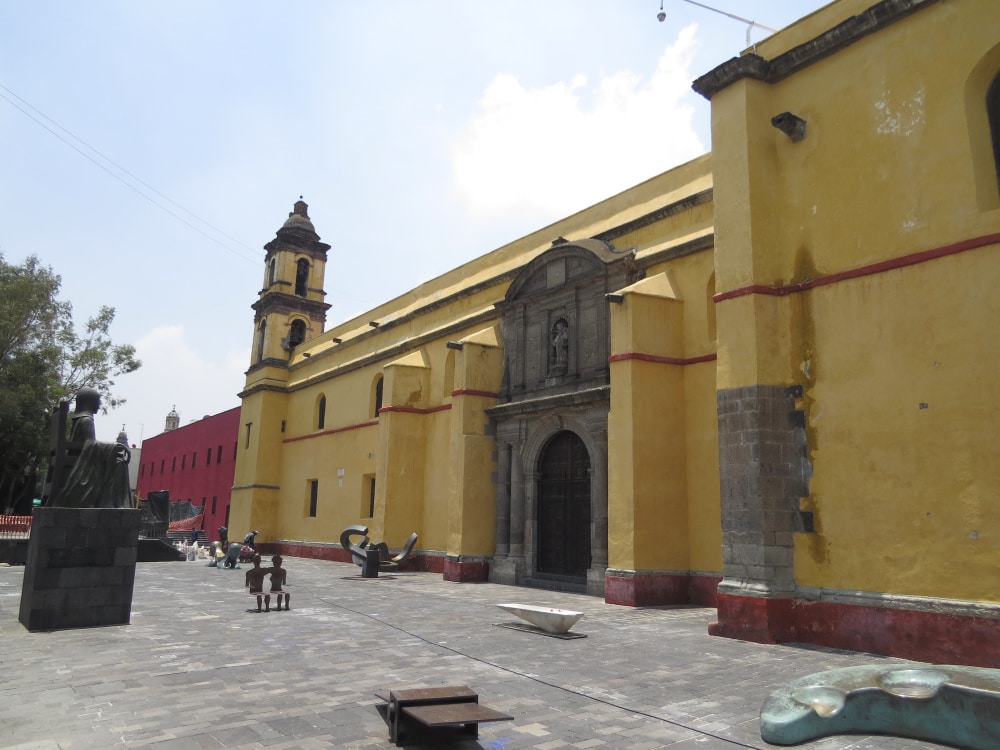 Dinner at Pujol
My daughter is a foodie like me, and she booked an Omakase Taco Tasting at Pujol in Polanco. Pujol was rated #12 out of the 50 best restaurants in the world for 2019. You have to make reservations months in advance. It's also featured on Chef's Table on Netflix, Season 2, Episode 4.
The restaurant inside is chic, high tech, and upscale but has a charming outdoor patio where you can take your time and relax while you dine.
Pujol is located at Tennyson 133, Polanco IV Sección, C.P. 11550, CDMX, México
We were seated at a bar inside with a plexiglass divider separating us from other diners as a precaution because of COVID. Throughout the evening we were served 8 separate taco offerings that included ingredients like cauliflower, octopus, scallops, and mushrooms. The cuisine by Chef Enrique Olvera combines authentic Mexican ingredients displayed in a completely creative way. The mole Madre alone has been aged over 2,400 days.
Here are some of the tacos we sampled although the menu may change at any time:
Kampachi taco, avocado, seaweed
Tostada campechana
Taco de coliflor, encacahuatado, xnipec
Crab sope, kohlrabi kimchi
Octopus taco, hoja santa
Mole madre 2,441 días, mole nuevo
Chileatole
Nicoatole de fresa,helado de yogurt, frambuesas.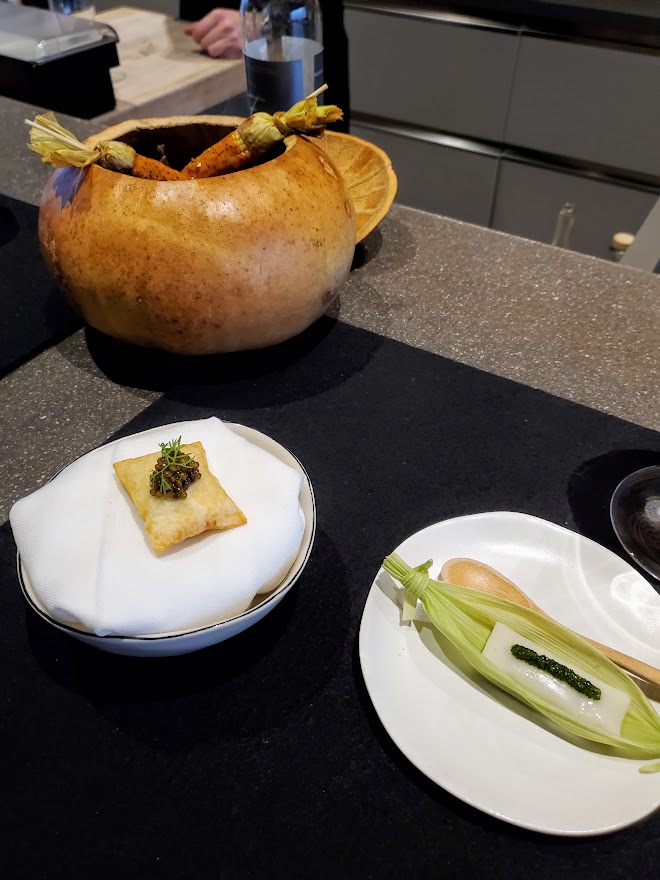 After watching the Chef's Table episode, I realized I ate ground-up ant mayonnaise in the corn we tasted but it was one of our favorite dishes so I guess I'm now a bug eater. I'm glad I didn't realize that at the time or I would have chickened out. Now, I wish I would have eaten the crickets.
We happily downed our tastings with a chilled glass of Spanish white wine. Later we were led outside to the outdoor patio to enjoy a palate-cleansing aloe vera dish and dessert.
As you can imagine we left Pujol happily stuffed and went back to our hotel to get ready to drive to San Miguel de Allende the next morning.
But first, another breakfast
Our driver was booked to arrive at 11 am so we took an Uber to Maison Belen. It's a charming French-inspired outdoor cafe in Polanca. We started off with a cappuccino and I ordered chilaquiles con Pollo. The café is known for its excellent French-inspired pastries. Of course, we ordered one to take along with us on the road.
Maison Belen is located at Emilio Castelar 31 Polanco, Mexico City Mexico
Tips for visiting Mexico City for travelers over 50
Wear sturdy and comfortable shoes for walking. It's best if they have a tread. You may want to look glamorous, but you won't feel that way if you fall into a hole or trip on a crack on the sidewalk. I wore my Ryka sneakers during the day and my Therafit sandals in the evening. If I had known more about the sidewalks beforehand, I would have brought a sturdy pair of ankle boots.
Shorts are considered gauche in Mexico City. It's best to stick with jeans, a long skirt, or a mid-length to long dress. You should also carry a light jacket or windbreaker in summer as it can get cool in the evening or rain.
The weather is fairly temperate. January is the coldest month and averages about 57 F. April and May are the hottest months but it usually doesn't get warmer than 80 F.
Take a walk in one of the parks. They are glorious. Bosque de Chapultepec, Parque Lincoln, Parque Luis G Urbina, Park España, and Parque México are recommended.
Take Uber to get around. It's cheap, contact free, and easy.
Drink bottled water and brush your teeth with it, just to be on the safe side. Avoid ice cubes and lettuce.
Don't tell people "No." It's an insult. Shake your finger back and forth in a "no" gesture instead.
Enjoy eating authentic Mexican food because it's amazing! Read reviews online first. If you want to try street food, which is abundant in Mexico City, and often good as well, look for vendors who have long lines to assure it's safe.
Ask to have hot sauces and spices served on the side in case they are too hot for your taste.
Tipping is somewhere between 10 – 15%. The currency is pesos which can be obtained at ATM machines. Most restaurants and stores take credit cards but you may want to have some pesos on hand for street vendors and tips.
The safest neighborhoods in Mexico City are Roma, Condesa, Coyoacán, and Polanco.
If you are there longer than 2 days, take side trips to places like the Xochimilco Canals (45 minutes away) which is colorful and festive or the Pyramids at Teotihuacán (1 hour away.) Just be aware the pyramids are difficult to climb unless you are in great shape.
The reason the sidewalks are so cracked up is that Mexico City often experiences large earthquakes. The city has alarms that will go off city-wide 20 seconds before an Earthquake hits. If you can, go outside but it's also a good idea to make sure that your accommodation has been retrofitted.
Unlike when we used to go to Hussong's Cantina in Ensenada in the 70s, cocktails are meant to be sipped and not shot like a Frat boy.
Buy travel insurance before you go. I bought mine online at Visitor's Coverage. They aggregate multiple companies to find you the best deal for your needs.
Travel is a physical sport and you have to be in good shape to deal with it. In 5 days I did 60,502 steps.
Mexico City is metropolitan, artsy, edgy, and sensual. There are dirt-poor sections but there are also modern, colorful, monumental, quirky, scenic, and elegant places to visit and have fun. If you are on a budget, Mexico is a fabulous destination to enjoy on the cheap.
Have you been to Mexico City or Mexico? What were your favorite things to do there? Please leave a comment below.