San Miguel de Allende, founded in 1542, is located in the state of Guanajuato in Central Mexico and is a popular destination for expats and American tourists. It's known for its colorful 18th and 19th-century colonial architecture and is a hub for artists, bohemians, food lovers, and retirees.
My daughter and I spent 2 nights in Mexico City and then headed to San Miguel de Allende for 2 more nights. After hearing about it from several friends, I was thrilled to finally visit.
We hired a private driver to take us on the 3 and 1/2 ride from Mexico City through the green and lush Mexican countryside to our hotel in San Miguel de Allende. You can also fly into Guanajuato International Airport which is only one and 1/2 hours away but flights from the U.S. are limited.
We met some tourists while we were there who live in San Diego. They drove to the border in Tijuana, took an Uber to the TJ airport, and hopped on a plane to Guanajuato.
San Miguel de Allende got its name from two notable residents. Juan de San Miguel was a 16th-century friar who later became a martyr during Mexican independence. Ignacio Allende was born in San Miguel in 1769 and became a captain in the Spanish Army. He fought for independence, was taken in for subordination, and executed becoming a National hero in Mexico. Because of his bravery, the town was renamed San Miguel de Allende and was the first area in Mexico to gain independence from Spain. Allende's childhood home still stands in the historic center of town.
In 2008, San Miguel de Allende became a UNESCO World Heritage site.
The silver boom
Silver was discovered in Guanajuato during the 16th century and because San Miguel de Allende was along the main road that miners and merchants passed through, the town became a cultural melting pot. Silver mining also brought enormous wealth to the region and by the 18th century was the home of rich hacienda owners who built mansions, churches, and prosperous businesses.
The town fell into disrepair after the ore was depleted and the Mexican Revolution and Spanish Flu reduced the once-robust population to a mere 7,000 residents.
A burgeoning art colony
American artist Stirling Dickinson moved into a former tannery nearby in 1937. He helped turn San Miguel de Allende into an attractive destination for artists and expats looking for a better life.
He, became co-founder and director of the fine arts school Escuela de Bellas Artes in 1938 at the former home of an old convent.
Artists and creatives began to arrive, including notables like Diego Rivera, husband of Frida Kahlo. In the ensuing years, San Miguel de Allende became a bastion for bohemians like Jack Kerouac and Alan Ginsberg, hippies, and foreign expats.
Restoration
As the town began to thrive again the beautiful colonial buildings in town were restored and most are still owned by ancestral families from hundreds of years ago. The vivid colors of the buildings in the historic section of town are only allowed to be refreshed with the same original dye made with natural fruits and vegetation. Only certain colors may be used to retain the historical and cultural roots of San Miguel de Allende.
The Rosewood Hotel
We stayed at the luxurious Rosewood Hotel that sits at a perfect viewpoint to take in the beauty of San Miguel de Allende. It opened in 2011 but was crafted by local artisans to reflect the look and feel of the town.
We arrived 18 months into the COVID 19 pandemic and masks were required both inside and on the street. Our temperatures were checked each time we entered the hotel. When we arrived, we were taken into a beautifully appointed office to check-in and were offered a lovely cup of herbal iced tea with cucumber slices.
The Rosewood was designed to resemble a magnificent hacienda.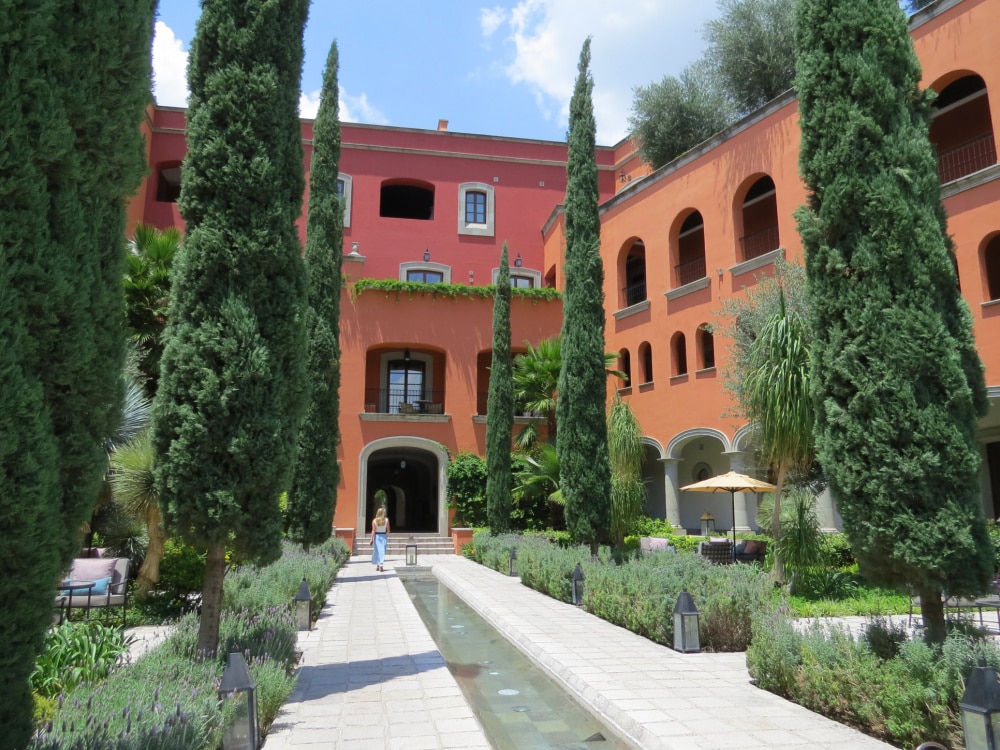 Our greeter took us on a personal tour of the premises and led us to our room that had a long balcony overlooking dense green foliage and flowering plants.
The management was so welcoming and helpful it was almost hard to leave the grounds to go out and explore.
Wandering to El Jardin
Narrow streets lead to the main square called El Jardin in the historic section of San Miguel de Allende. You can't miss the tall Mexican Gothic spires of the rose-colored sandstone Parroquia de San Miguel Arcangel cathedral.
Because of COVID, visitors had to pass through temporary entry gates that squirt mild disinfectant before entering the square. It was almost refreshing after walking the cobblestone streets after a while. But, I had to remember to put my lens cap on my camera so it wouldn't get misted.
There are uneven sidewalks on each side of the narrow streets above the cobblestone. There was always someone walking in the opposite direction or hanging out by a doorway and cars were whizzing by so manuevering them was tricky. It's challenging for old knees and ankles but I managed pretty well.
I have an obsession for old doors that started when I first went to Europe. It's mesmerizing to walk by the fanciful portals that lead into hotel courtyards, restaurants, small businesses, and residences.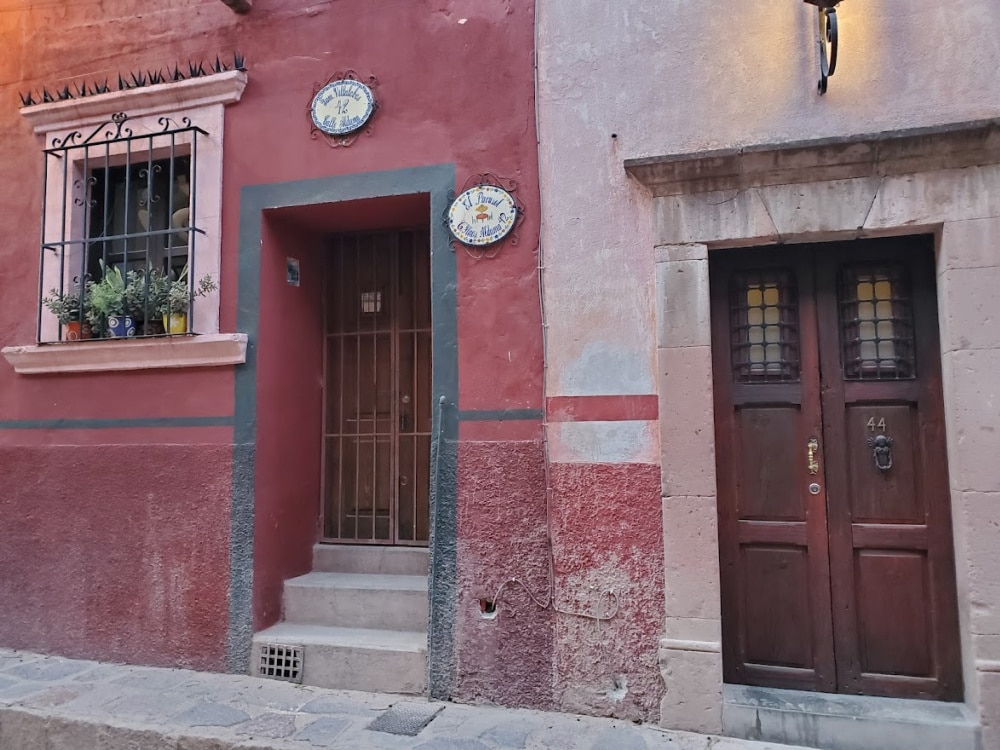 Rooftop views
We had arrived in San Miguel de Allende in the late afternoon, and as soon as we were settled, went for a short walk to explore the town. Afterward, we came back to enjoy the view, have some appetizers and mescal cocktails at the Rosewood's rooftop Luna Tapas Bar.
At dinnertime we walked back to El Jardin to eat at La Posadita, another rooftop eatery that was recommended by our hotel. We watched the sun go down over the Parroquia which was spectacular.
I ordered what turned out to be a large piece of pork on the bone. It melted in my mouth, and I had to stop myself from downing the whole thing. We enjoyed our meal with another mescal cocktail and were more than ready to turn in after our long day of travel.
La Posadita is located at Cuna de Allende 13, Cento San Miguel de Allende, Guanajuato, Mexico, San Miguel de Allende 37700 Mexico
Breakfast and coffee on the roof
The next day was Sunday. We woke up early and were ready to find a coffee house and have breakfast. The early morning is a perfect time to walk the streets of San Miguel de Allende because there aren't many tourists, and the light makes the bright colors of the town come alive.
The coffee house we originally headed to was closed on Sundays, so we randomly wandered and found Ki'bok Coffee. It turns out it's one of the most highly rated coffee houses in town. The place is tiny but you can climb up flights of narrow stairs to sit in their adorable roof garden. We both had a cappuccino and I enjoyed a delightful omelet. It amazed me how the waitress could bring plates and coffee up the steep stairs without dropping anything.
Ki'bok Coffee is located at esquina con, Diez de Sollano y Dávalos #25, Cuadrante #1, Centro, 37700 San Miguel de Allende, Gto., Mexico
Walking, walking and more walking
Because San Miguel de Allende is so gorgeous our plan was to spend the day walking and exploring it. Why leave heaven, right? I wanted to find gifts for my roommates and peek into some of the shops and galleries.
I almost blew it trying to shoot a video for Instagram while walking the cobblestone streets. As I was backing up, I tripped but luckily managed to catch myself before falling on my ass. From now on, I will only shoot videos standing still. It isn't worth killing myself to show off on social media. LOL
We wanted to go inside La Parroquia, but Sunday mass was being held so we passed on going inside. We'll have to come back someday and see it on a weekday. I'm ready to go back now! LOL!
We walked for hours peeking into various shops but knew we had a food tour booked for later in the evening, so we headed back to the Rosewood to clean up and relax. Cobblestones are tough on your feet after a while. I wore my sneakers and highly recommend wearing comfortable shoes to walk around San Miguel de Allende. Some women in the street were wearing heels and I don't know how they managed.
It's not a town for strollers, canes, or wheelchairs, that's for sure. Most retirees and expats live on the outskirts of town away from the tourist areas. That makes sense. The green farmland surrounding the town is serene and I can see why expats have flocked to this "in the middle of nowhere" destination in Mexico.
A quick snack
Our food tour was set for 6 pm but it had been a while since breakfast, so we had a light snack and mescal cocktails at Atrio, another rooftop restaurant that was recommended by our hotel. It's located in a large courtyard with other shops inside. We climbed a set of stairs to get to the roof. Atrio is highly rated so you must have reservations to get in. Our hotel concierge was able to score us a spot.
Atrio is located at Calle Cuna de Allende 3 Centro, San Miguel de Allende 37700 Mexico
Covid Test
US Citizens must present a negative COVID test at the airport before boarding a plane back to the states. The Rosewood set up our tests and walked us behind the hotel where a registration area and van were set up for testing. It was quick and easy, and we received our results within an hour. Both of us were negative.
Our food tour and a huge surprise
Before arriving in Mexico, I booked a Taste of San Miguel de Allende food tour that I found on TripAdvisor. We were to meet our guide at the Beelia in Hotel Hacienda De Guadalupe near El Jardin. It's a boutique Spanish Colonial hotel that was a former convent 400 years ago.
Our guide, Chef Leslie met us at the door. My daughter and I were the only two booked for the tour, so we sat down for a welcoming drink. We got to talking and I found out that I went to high school with Chef Leslie 50 years ago in Costa Mesa and we had been friends. Wow! Small world, right? I was totally flabbergasted!
He has been living in Mexico for 18 years with his wife and had a pastry shop in La Paz for many years before settling in San Miguel de Allende. They live outside of town and he is one of the resident tour guides for Taste of San Miguel.
His food tour focuses on authentic Mexican cuisine that uses locally-sourced ingredients. He also mentioned that he went from 260 lbs to 165 lbs following a Mexican diet that focuses on Mexican traditional food culture.
Hotel Hacienda de Guadalupe is located at Hidalgo #4, Zona Centro, Centro, 37700 San Miguel de Allende, Gto., Mexico
Our first appetizer was at a rooftop restaurant called La Azotea. We tried a shrimp taco made with a Jicama tortilla, fried leeks, chipotle mayo, and tamarind BBQ sauce. I loved the jicama tortilla and our taco was tasty!
La Azotea is located at Umarán 6, Zona Centro, 37700 San Miguel de Allende, Gto., Mexico
Next, we walked over to Andanza @TheBelmond for corn truffle and squash blossom fillings.
The Belmond is a hideaway hotel housed in a building that combines 16th, 17th, and 18th-century colonial architecture. It's one of San Miguel de Allende's oldest and most luxurious hotels.
The Andanza @TheBelmont is located at Umarán 6, San Miguel de Allende 37700 Mexico
The first two stops were appetizers, but our main course was at El Pegaso. We were served a Poblano Chile with Beef Mincemeat filling topped with a creamy walnut sauce and Pomegranate.
This intimate restaurant felt like we were sitting in a residential dining room. Our Poblano Chile was truly an authentic Mexican treat.
El Pagaso is located at Corregidora 6, Centro, San Miguel de Allende 37700 Mexico
Our last stop was for dessert at La Mezcaleria where we were served a decadent double chocolate mousse.
Warning: Be careful eating it. I accidentally snorted the cocoa powder and blew dust all over the table. My daughter couldn't stop laughing. It reminded her of The Cinnamon Challenge on YouTube. Snorting cinnamon is not something you ever want to try but the mousse was to die for.
La Mezcaleria is located at Calle Correo # 47-A Col. Centro, San Miguel de Allende 37700 Mexico
We were stuffed after our food tour and had to say goodbye to Chef Leslie. At the end of the day, I put in over 18,000 steps. Not bad for an old broad.
Saying goodbye to Mexico
4 nights in Mexico is never enough. On Monday we were scheduled to be picked up at 9 am to be driven back to the Mexico City airport. The driver who had brought us to San Miguel de Allende drove an old sedan but the guy who drove us back to Mexico City had a large fancy van that separated us from the cab. It was great because we didn't have to wear our masks during the long drive. We also stopped at a clean baño (bathroom) at the halfway point. On our previous ride, the clean bathroom was closed, and we had to use a toilet that didn't flush and had no toilet paper.
Trying to check in for our flight
Could they make it more complicated? I already had the American airlines app installed on my phone but when I went to check in the night before it asked me to download another app called VeriFLY. I'm pretty savvy with apps so I downloaded it. It asked me to set up a pass for "A Trip to the USA." I did that and after bungling around, managed to upload my COVID test verification from my phone.
I'm not sure how anyone who isn't tech-savvy could figure that out.
When I went to check in again using the American airline's app and clicked that I had downloaded VeriFLY, it sat there frozen. My daughter, the millennial, couldn't even get that far because the people who processed her COVID test messed up her birthday.
We gave up and checked in at the airport. My daughter had booked business class, so we went quickly through the line. They told us we could wait in the Admiral's Club Lounge until we had to board. We had arrived at the airport 3 hours early so that was nice to hear.
We found the lounge, which was mostly empty, and enjoyed comfort and a glass of wine away from the crowds waiting at the gate. Mexico City International is a nice airport and much more together than LAX which is currently undergoing massive construction.
Travel tips for travelers over 50 who are visiting San Miguel de Allende
Please read my Mexico City post and travel tips here.
In addition to those tips, these are more specific to San Miguel de Allende:
Many bloggers say 2 days is enough time to spend in San Miguel de Allende. I say it's not enough. We could have stayed at least 2 more days. Take your time, relax, maybe have a wellness treatment, spend time in art galleries, the park, and botanical gardens, and help the local economy by purchasing souvenirs at cheap Mexican prices.
Staying at the Rosewood was worth every penny. Although, in truth, my daughter paid for it. She has a real job, unlike her bum mom. It has a stunning view and is comfortable, elegant, and luxurious. You can be assured of its cleanliness and COVID compliance. There are cozy hostels, small boutique hotels, and hotels in historic buildings in El Jardin that are also well worth staying at as well, or, at least having drinks in.
Please don't be an ugly American. San Miguel de Allende attracts many American tourists and has a large population of expats so you can usually find residents who speak English. However, in Mexico City and San Miguel de Allende, many only speak Spanish. There is nothing worse than an obnoxious gringo tourist. Please be respectful of the Mexican culture and be kind.  
Mexico has been diligent in its COVID compliance. It's the law that you must wear masks inside and outside as they do not have as high of a vaccination rate as we do in the states. Don't visit Mexico unless you are vaccinated and don't complain about temperature checks, disinfection, and other COVID protocols.
Be prepared to walk on plenty of cobblestones. Wear sturdy shoes with treads. Leave your heels at home.
San Miguel de Allende is 6,234 feet above sea level. It's lower than Mexico City but higher than Denver. If you are not used to high altitudes, make sure to take it easy as there are plenty of hills.
Take a tour and learn about the history of the area. It's fascinating.
Eat authentic locally sourced Mexican food. It's soooooo good!
Water is supposed to be sanitized in San Miguel de Allende but be on the safe side and drink bottled water.
My Verizon phone plan covers Mexico and Canada. Make sure your plan doesn't have roaming charges.
Don't lose your departure card when leaving to head back to the US. Keep it with your passport.
Purchasing trip insurance is ultra-important, especially for older travelers. I bought mine at Visitors Coverage. They aggregate multiple companies so you can find the best and most affordable plan for you.
Have you been to San Miguel de Allende or Mexico? What are your favorite things to do there? Please leave a comment below.