We spent 3 weeks in Italy during the months of November and December. Our first stop was Rome, where we stayed for 4 nights before heading to Tuscany, Sorrento, and the Amalfi Coast. Then, we embarked on an 11-day cruise of the Mediterranean on the Queen Elizabeth that ended in a 2-day stay in London. 
Our Italian-run hotel
To soak up the atmosphere and authenticity of Rome, we booked a room at the Hotel Lirico next to the Opera House. It's conveniently located within walking distance to the Termini train station and a bit set aside from most of the hustlers.
It turned out to be a perfect choice and we started each morning there with a quick breakfast of cappuccino and homemade pastries.
Hotel Lirico is located at Via del Viminale, 31 – 00184 Roma +39 06 48906230.
A food lovers paradise
I'm a die-hard foodie and the first thing I did when we arrived in Rome was to book a food tour with Walks of Italy for the very next day.  As soon as we landed and walked a few streets, I knew I was in a food lover's heaven.  There were restaurants on almost every street and the scent of Italian cooking wafting through the air called my name whether it came from an outdoor cafe on a big Piazza or a tiny trattoria tucked into a tiny alleyway.
In fact, our first night there, we lucked out and found a small eatery with mostly Italian clientele behind one of those alleyways, that turned out to be the best restaurant we ate at on our trip. That's saying a lot because they were all incredible. It was called La Forchetta d'Oro and I highly recommend it.
It's located at Via di San Martino Ai Monti 40, 00184 Rome Italy.
While we waited for it to open, we walked over to Basilica di Santa Maria Maggiore, originally constructed in the year 432 AD and completed in 1743. It is well worth a visit and is stunning inside.
Food tour with Walks of Italy
The next morning, we took a taxi to meet up with our tour group for the Rome Food Tour: Pizza-Making, Markets & Tastings. Our meeting place was at the statue of Giordano Bruno, located in the center of Campo di Fiori, an open-air market. We were a little early so while we were waiting we wandered around the market.
Our tour guide was Julia, a 30ish young Brit who has been living in Rome for over ten years. She turned out to be a complete delight.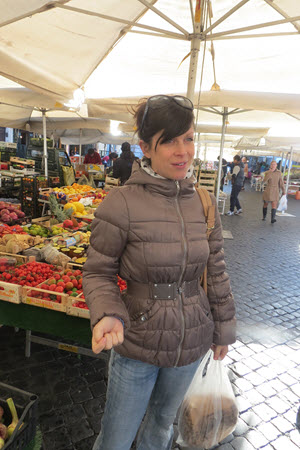 She took us to sample olive oil and balsamic vinegar with crusty bread and some uniquely Italian liqueurs.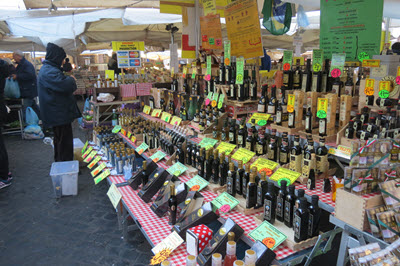 Next, we walked over to the Antica Norcineria Viola meat shop in a building near the market. We went into the back of the shop where the shop owners treated us to plates of Italian cold cuts. We washed them down with a bottle of wine that Julia had provided.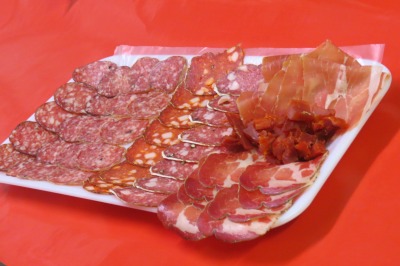 Be warned: This isn't a tour for people on restricted diets, vegans, or gluten intolerant. Italians, like many other people in Europe, love their pork and bread. I couldn't get enough of it. And, you never know what you'll find in a meat shop. A pair of donkey balls were hanging out to dry in the photo below. Italians don't waste any part of an animal. We didn't try any, thank God.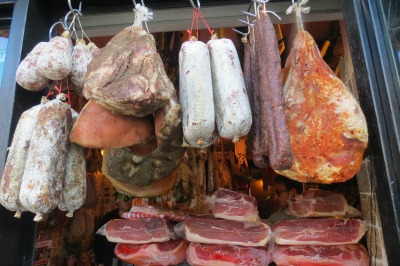 After we porked out on pig meat, we moved on to the Latte Cisternino Cheese Shop. Again, we were taken to the back of the shop where we sampled mozzarella, hard cheeses, and a dessert cheese made with lemon. We washed that down with another bottle of wine. (by this time we were getting tipsy)  I'm a cheesehead so I was in cheese heaven.
Our final stop was the Bomba Ciccia Pizzeria where we sat down at a table with more wine while the staff prepared a large table for us so we could learn to make pizza.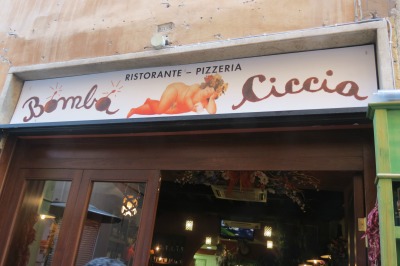 Pizza in Italy is thin and light. You can eat an entire round by yourself and not feel full. We rolled out the dough using wooden dowels.  Then we swirled fresh tomato sauce on top making sure the sauce didn't touch the edge.
Each of us had the option to add cheese, artichokes, roasted zucchini, peppers, eggplant, olives, and fresh sausage to our liking. Then we shoved our creations into the fire for a short bake.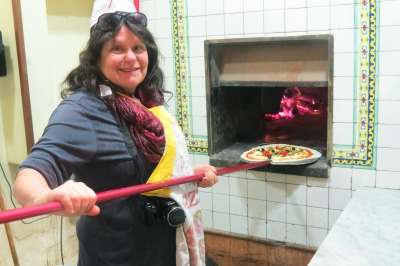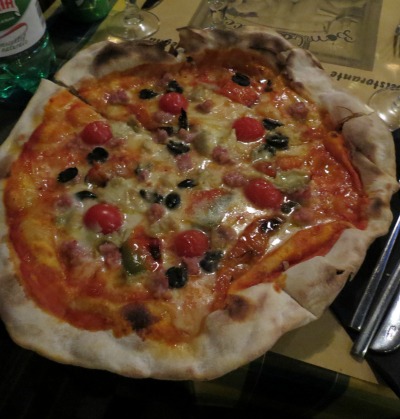 Walks of Italy's Rome Food Tour is a fabulous way to get to know the people who work at the market and adjoining shops, learn about Italian cuisine, and meet fellow travelers.
If you're a foodie like I am, you won't want to pass it up.
The monumental city of Rome
You could spend months in Rome, Italy, and never see all its wonders. From gargantuan ancient monuments to winding alleys filled with garlic-scented trattorias. The city bombards you with an array of street vendors and characters, but at the same time, is sophisticated and serene.
When in Rome for the first time, you want to see as much as you can
While we were there we also explored the Vatican, went into the Colosseum, strolled the Ancient Forum, and toured Cinecittà Film Studios, where Frederico Fellini shot his films.
We also found time to spend an evening at the Teatro Salone Margherita, an opera dinner theater circa 1898, where we enjoyed a sumptuous meal while watching a terrific production of La Traviata.
The Hop on Hop off Bus was our main mode of transportation and we did a lot of walking. In between sightseeing we ate and ate and ate until we nearly burst because the food was beyond our wildest dreams.
You have to dodge maniacal drivers, avoid riff-raff in the train station, but it was all worth it. Rome is a magnificent place to visit and one of the most historically rich cities in the world.
Rome in photos
Click on any of the images below to view them full-size. Please share any of them you like on social media.
Check out top things to do in the area here.
Have you been to Rome or plan to go in the future? Please leave a comment below.