There are so many ways to make pasta and a favorite for me is my recipe for Chicken Farfalla with Goat Cheese.  I love goat cheese and it's much easier to digest than cow's milk for humans. In this garlicky creation, I have also added Kalamata olives giving it a Greek-style twist.
Enjoy this recipe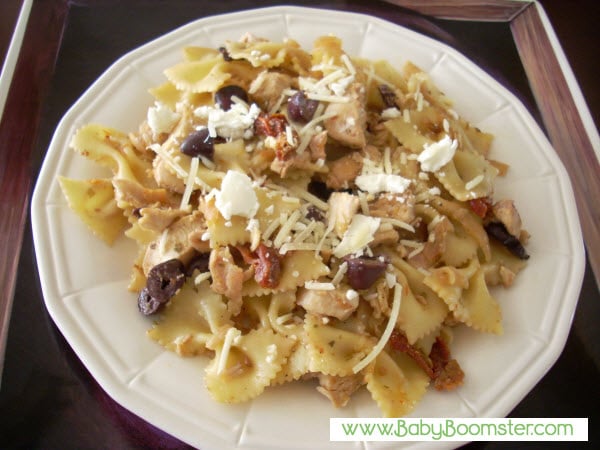 Chicken Farfalla with Goat Cheese Pasta Recipe
A healthy and delicious pasta dish that's easy to make
Ingredients
1

Tbsp

butter

3

Tbsp

extra virgin olive oil

4-6

chicken breasts boneless with skin removed

1/2

large onion sliced thinly

1/2

cup

sun-dried tomatoes drained from jar

2

cloves

garlic finely chopped

10

Greek Kalamata olives chopped

1

Tbsp

fresh parsley chopped

1

lemon freshly squeezed

1/2

cup

dry white wine

4

oz

Goat Cheese crumbled

2

Tbsp

parmesan cheese grated

salt and pepper to taste
Instructions
In a skillet, saute the skinless and boneless chicken breasts in butter and olive oil over medium/high heat until lightly browned and cooked through. Chop into bite-sized pieces and set aside.

Add sliced onion to the skillet. Saute over medium heat until translucent. (about 10 minutes) Add a little more olive oil if necessary.

Add sun-dried tomatoes, garlic, parsley, lemon juice, white wine, and salt and pepper to skillet. Cover and saute on low for 15 minutes.

In the meantime, cook the farfalle in a pot of boiling water according to package directions al dente.

When the pasta is done drain it and add to the skillet. Toss to mix in ingredients and sauce.

Add to serving plates and top with crumbled goat cheese and parmesan.
A little about farfalla
Farfalla, which looks like tied little bows originated during the 16th century in the Lombardy and Emilia-Romagna region of Italy. It was invented when some housewives used some leftover pasta dough after making filled Cappelletti. It became a habit and whenever there is leftover dough, they turned the remainder into bows.
Why goat cheese?
Goat's milk is the #1 most-produced milk in the world, although most of us in America and the West use cow's milk products. In India, the Middle East, the Caribbean, the Mediterranean, and African regions, it's much cheaper and easier to start a goat farm. Goats are very gentle and are often seen in the village resident's backyards. Small children are able to help care for goats because they're not as big and dangerous as cows. When I was in the Caribbean, goats were everywhere.
Goat cheese became popular in America in the mid-'90s when the Mediterranean diet became popular and was promoted as one of the healthiest diets in the world. Goat cheese and milk are lower in fat, will lower cholesterol, and is a great substitution for those allergic to cow's milk. Because of the way, it's produced, it's usually hormone and antibiotic-free unlike cow products produced in the States.
What are your favorite pasta shapes and ingredients? Please leave a comment below.