What if you could slow down aging or ward off disease, simply by spraying a liquid antioxidant on your body? I interviewed Dr. Nayan Patel, author of The Glutathione Revolution: Fight Disease, Slow Aging, & Increase Energy. As we are not getting any younger, why not?
Dr. Patel is a sought-after pharmacist, health expert, and thought leader in the wellness space. He is regarded as the foremost go-to global expert on absorbable forms of glutathione and holds the patent on transdermal glutathione. His book covers all aspects of this powerful antioxidant and how it can benefit your health.
New York Times Best Selling Author Mark Hyman, MD wrote in 2010 that "glutathione is the secret to prevent aging, cancer, heart disease, dementia, and more, and necessary to treat everything from autism to Alzheimer's disease." That's heady stuff.
Our bodies naturally produce glutathione as opposed to other antioxidants like vitamin C. However, it decreases as we age so it is necessary to replenish it.
The ease of using a spray to slow the aging process
I'm not a person who likes to take supplements, but a liquid version of a beneficial substance is certainly attractive. Unlike expensive IV Glutathione treatments, Dr. Patel has developed a spray called Glutaryl that you can use in the comfort of your home.
IV treatments can be expensive, running anywhere from $150 to $400 per treatment. To start, some patients have IV therapy 1 – 3 times a week and then move on to maintenance, making this a costly and unaffordable treatment for many. The effectiveness of IV treatment relies on the consistency of treatment.
In comparison, a transdermal glutathione supplement like Glutaryl costs $119 for 150 ml. With a recommended 2 sprays per day, a 150 ml bottle will last a month, equating to roughly $4 per day. The cost savings are substantial. 
To learn more about transdermal glutathione in-depth, watch my video interview with Dr. Patel by clicking the player below.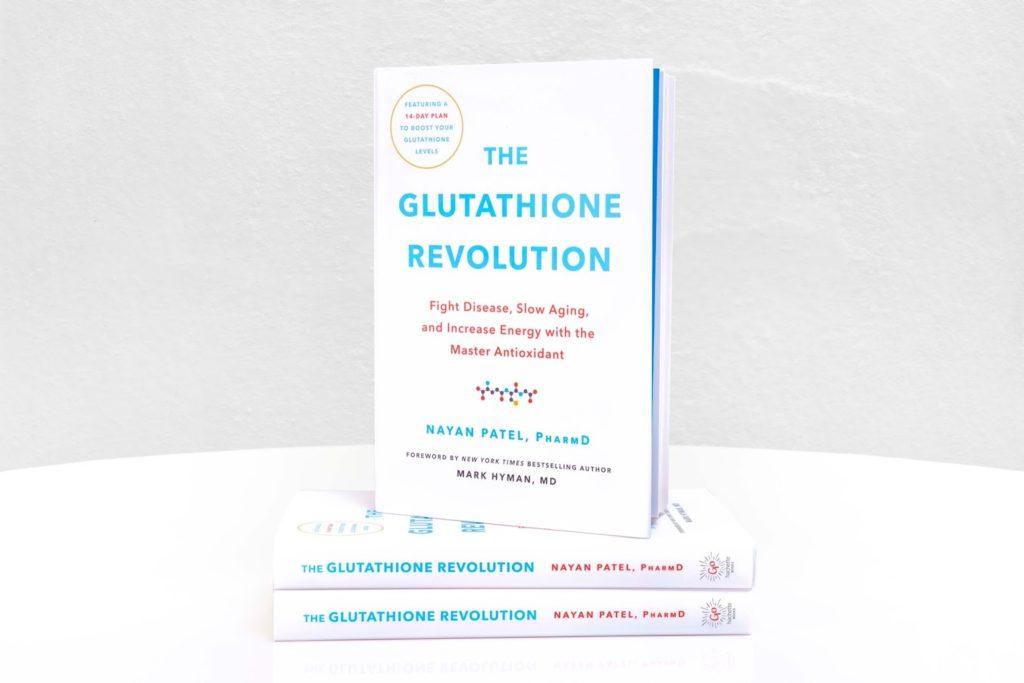 You can purchase his book on Amazon by clicking here.
What is glutathione?
Your cells contain glutathione made from three amino acids in your body – cysteine, glutamate, and glycine. Together, they fight the free radicals that damage your body's cells over time. When your levels decrease with age you may be more prone to cancer, HIV/AIDS, Type 2 Diabetes, Hepatitis, and Parkinson's Disease.
You can boost your glutathione levels by eating foods that are high in amino acids such as unprocessed meat, garlic, broccoli, asparagus, avocados, and spinach. However, foods do not easily absorb glutathione and that is why supplementation helps.
Some people describe glutathione as the fountain of youth because it detoxifies the body, boosts immunity, helps regulate blood sugar, and protects the skin.
Integrative health
Dr. Patel works with integrative doctors to give them advice on what to prescribe for their patient's wellness care. Most functional doctors focus on curing disease rather than preventing it. That is why integrative medical care is so important. An integrative doctor will treat your body holistically by taking into account your lifestyle habits to improve wellness.