This recipe reminds me of when I was back in Spain sipping Rioja and eating tapas which are side dishes served on small plates. There are all sorts of varieties of Spanish side dishes including salads. My trip there inspired me to create a Spanish Tapas Salad made with ripe tomatoes and Spanish olives.
Enjoy this recipe!
Spanish-Style Tapas Salad
A delicious Spanish-style salad that can be served as tapas and great with a little Sangria!
Ingredients
2

Tbsp

Spanish Sherry can substitute red wine vinegar

5

Tbsp

extra virgin olive oil Try a Spanish Brand

1

Tbsp

capers pickled in brine

1

clove

garlic finely chopped

1

tsp

paprika

4

medium tomatoes ripe

diced

12

whole Spanish Olives stuffed with pimento

anchovy or garlic

1/2

cucumber peeled and diced. With Persian or hothouse you can leave the skin on

2

shallots finely chopped

mixed lettuce or chicory
Instructions
Whisk together the sherry, olive oil, garlic and paprika in a small bowl. Season with a little salt and pepper and set aside

In a large bowl place the tomatoes, cucumber, shallots, and capers.

Pour the dressing over and toss lightly

Line individual bowls with lettuce or chicory leaves. Spoon a serving size into the center of each bowl and serve.
Eating Tapas in Spain
Lunch is the major meal in Spain and during "fiesta" workers often take a long lunch either at home, in the park, or at their local tapas bar. Dinner is served after 9 or 10 pm but the tavernas are always busy serving tapas including small bites of meat, fish, vegetables, and salads.
In open markets like Mercat de la Boqueria in Barcelona, you can find fresh vegetables, fish, meat, and eat tapas at counters inside.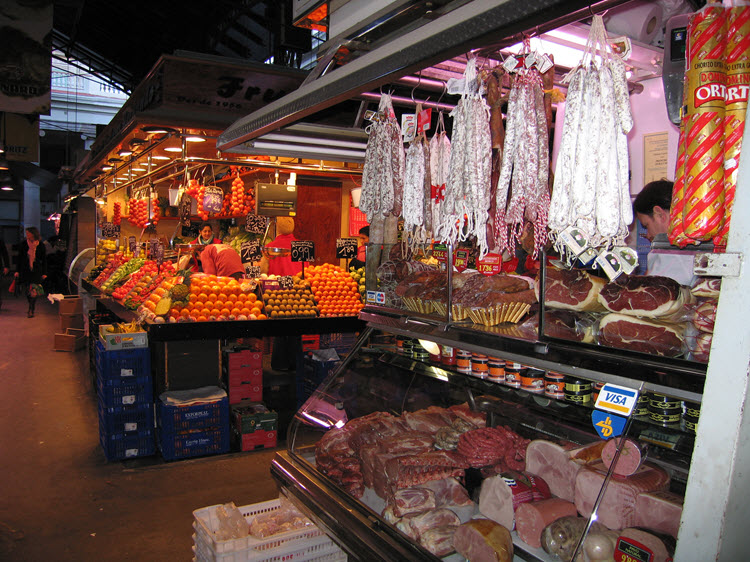 Here are some of the varieties of Spanish salads and small bites we found at Plaza Mayor in Madrid.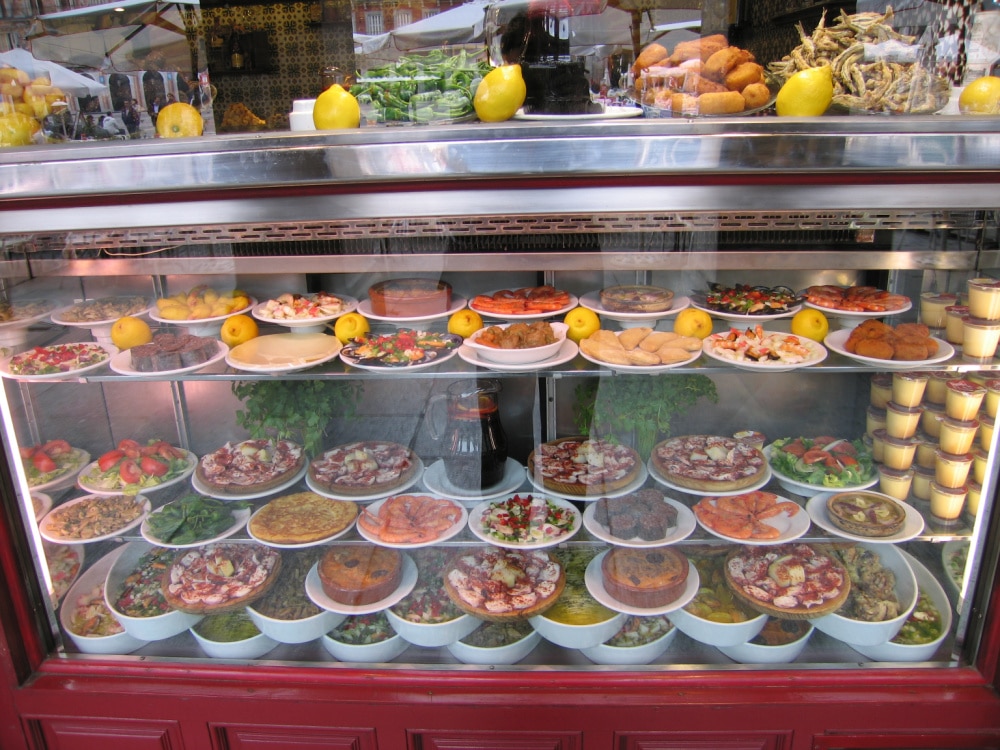 Spain was my first trip to Europe and we spent 3 weeks there and believe me we frequented tapas bars everywhere we went. We started in Barcelona and then took trains to Valencia, Seville, Torremolinos, Granada, and Madrid. It was all good but always different depending on the region we were in.
Tapas originated in the Southern province of Spain called Andalucia. It could be as simple as a piece of Jamon (ham) or a bowl of olives. Spanish king Alfonso the 10th, the Wise wasn't feeling well and had to take small bites of food when he drank wine as a snack between meals. He made a decree that inns couldn't serve wine without something to eat.
These small bites are typically served at Tavernas where people gather throughout the day to socialize with business partners, family, and friends. That way they don't get drunk during the day because the Spanish love to drink wine any time of day.
Traditional Spanish salads are most often made with tomatoes, olives, onions and sometimes include fish or eggs.
Have you eaten Tapas? Please leave a comment below and let us know.