Suzanne Friedman was diagnosed with Parkinson's at the age of 47. She has the genetic component (LRRK2) that causes it and it runs in her family. At first, she had very mild symptoms. At her annual checkup, she mentioned to her doctor that she had been feeling a slight tremor in her leg for several months. The doctor thought it was probably a pinched nerve but gave her a referral to see a neurologist just in case.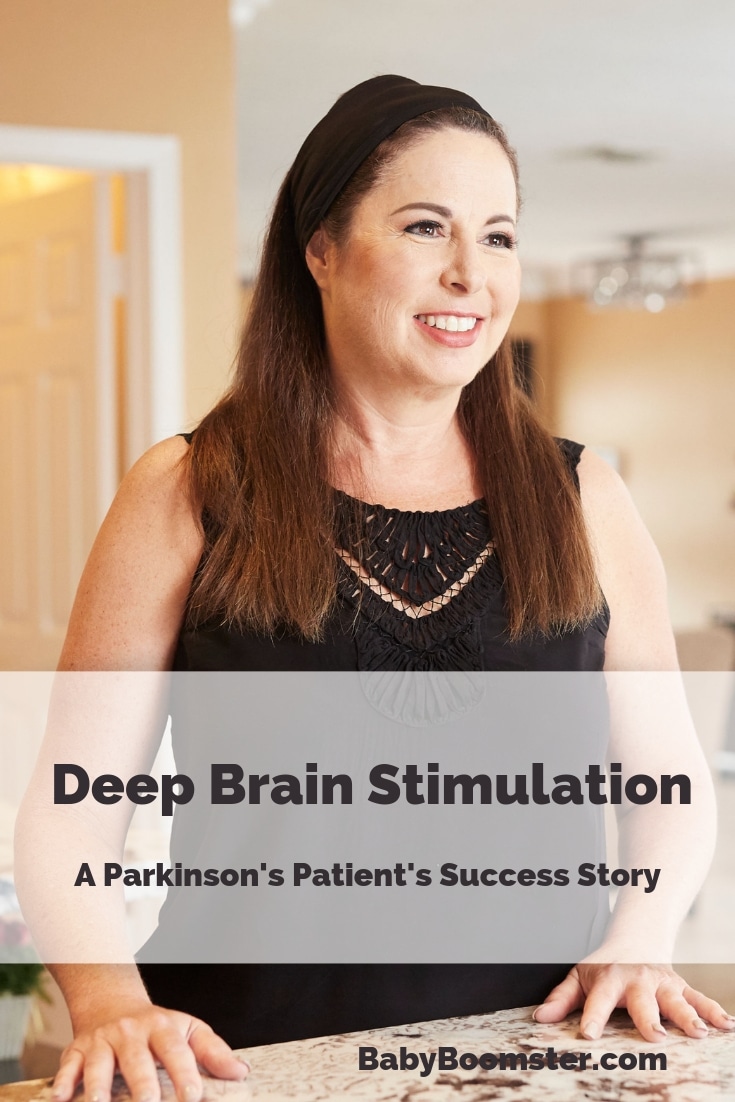 The neurologist asked her some questions and told her, without doing an exam, that she had Parkinson's disease. Suzanne freaked out at the news and was especially alarmed when she went online to do research. As the mother of two young teenagers and a wife, she thought her life was over.
Her symptoms were light at the time so she was able to put off taking medications for 3 years. An avid exerciser, she worked out every day because that's what she'd always done. Her doctor stressed doing exercise because it's one of the only ways to slow the progression of the disease.
The disease progressed
For the first year, Suzanne suffered from depression until she made the decision to live her life the best way possible for as long as she could. One of her dreams was to travel and she wanted to be able to do it until she became too debilitated. She asked her husband if he was "in" on her plan and he said he was.
He family, including her two teenage children, traveled to Africa and Peru. During that time Suzanne was able to keep up, despite her disease. After 3 years, her symptoms became more noticeable and she had to start taking medicine to ease her symptoms. It took a toll on her. At 6 years in from her diagnosis, she started feeling like her life was going downhill. She had to time when she ate and took her meds, and then suffer from the side effects. More drugs were ordered to combat the side effects and they, in turn, caused new side effects.
Her research uncovered new possibilities
Suzanne is a member of several Facebook groups for Parkinson's patients. Some members commented about the success they had with deep brain stimulation surgery. (DBS) The next time she saw her doctor she asked him about it. He told her he wasn't a proponent but if she wanted to do it, it would have to be up to her. He preferred that she hold off because new drug protocols were going to be available soon.
By that time she was 53-years old and felt like she was wasting her time sitting around hoping for a better cure. The drugs she was taking made her feel horrible and she didn't want to live that way. It spurred her to do research to find out as much as she could about deep brain stimulation.
Her Facebook friends, who had done the surgery told her it was a game changer for them. It's not a cure and patients still experience signs of the disease, but it vastly improved their overall wellbeing.
Deep brain stimulation surgery
During surgery, electrodes are placed in the left and right sides of the brain through small holes in areas that cause Parkinson's symptoms. They are connected by lead wires that travel from the neck to a battery-powered stimulator implanted in the chest.
Suzanne said that deep brain stimulation surgery is a major operation. However, that didn't stop her from going through with it because she so badly wanted her life back.
There's a process to become eligible for deep brain stimulation surgery. The surgeon must be convinced that it will actually help ease the symptoms before attempting the surgery. The patient must go in for a consultation with their doctor and take a 3-hour cognitive test. If any signs of dementia or Alzheimer's are found the procedure won't work. The next step is to discontinue meds to determine the patient's real symptoms. Medications are then resumed again to make sure they actually help. If not, it's too late for DBS.
Suzanne's surgery
The purpose of Suzanne's first surgery was to insert the electrodes and lead wires into her brain. Then, a second surgery was done to implant the Boston Scientific stimulator into her chest and hook it up. She had to wait 2-3 weeks after surgery before the device was turned on to wait for brain swelling to subside. Once it's down, the stimulator is turned on to make sure everything works the way it's supposed to.
Most surgeons do the surgery while the patient is awake in a twilight sleep so they're able to talk. The reason for that is that the stimulator is turned on during surgery. While Suzanne was on the operating table she looked down and saw her legs shaking. Once the shaking stopped, her surgeons could tell the device was implanted correctly. The only real pain Suzanne felt was a slight headache after recovery.
The aftermath of DBS surgery
Before her surgery, Suzanne had been taking 5 different meds for her Parkinson symptoms. Now, she's completely off all of them. She knows people who have had the stimulator implanted successfully for as long as 10 years.
Suzanne's back to her regular activities and tries to exercise at least 6 days a week. She also participates in a program for Parkinson's patients called Rock Steady Boxing to help control symptoms. Recently, she went on a 10-mile bike ride near her home in Florida.
She and her family took another vacation to Prague, Budapest, and Austria shortly after her surgery. She walked the streets at night, which is something she would have never done a year before.
The Boston Scientific stimulator
There are several deep brain stimulators on the market but one advantage of the Boston Scientific device is that it's smaller than the others. The larger ones show a visible bump in the chest, while the Boston Scientific is hardly noticeable. Another advantage is that its technology is always kept up to date.
The battery is rechargeable and it's easy to do. Suzanne charges it every week to 10 days by placing a light collar on her chest while she's watching TV. She can see if it's done by looking at the controller. The implant will last 15 years before it will need to be surgically removed and replaced.
Deep brain stimulation surgery is FDA approved and covered by most insurance.